Looking for this years trends? Check out a few of the clients associated with Shine Media PR.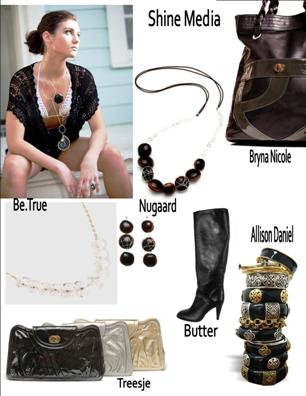 While growing up in NYC Allison Moses saw both the challenges and rewards of pursuing a life doing what she loves "creating". At the tender age of 10 she began making and selling beaded jewelry: it was then she realized that this passion could become her life.

Her precollege experience at the prestigious Rhode Island School of Design gave Allison the confidence to believe in herself and her work, ultimately enabling her to pursue her dream. While pursuing a graphic design degree at American University, Allison also attended the Fashion Institute of Technology during summer breaks and traveled to Florence, Italy for six months to study art history.
Working only when she is truly inspired, Allison's designs reflect her inner beauty. Having the ability to foresee her creation before dipping her paintbrush or sketching a design is what makes her such a gifted and talented artist.
Gin started making jewelry as a way to give personal and unique gifts to friends and family. What was once a hobby has become a full time passion. In 2004, Gin's line was launched and she began working full time on her jewelry line in Columbus, Texas. Now on an average day, it's quite normal to find jewelry designer, Gin Bartlett in a t-shirt and jeans working diligently, with precious gemstones with gold and silver or sketching designs on a pad of art paper in her new design studio in Houston, Texas.
Each piece of jewelry Gin designs is produced individually by hand. She works with only the finest materials, and uses an endless array of precious and semi-precious gemstones to create her designs.
The use of semi-precious stones and metals in her designs reflects a sense of femininity and contemporary style. She is meticulous and passionate about each of her designs. Her inspiration stems from her affection for art, travel, and fashion. Each hand made feminine jewelry adapts to any occasion, from a high-end fashion event to a casual day of style.
Bryna Nicole Hubbs was born and raised in the San Francisco bay area. After graduating from UCLA, her interest in fashion was stronger than ever and she moved to San Francisco's marina district and enrolled in the Fashion Institute of Design and Merchandising (FIDM). She started working as a stylist and fashion consultant at a popular women's clothing boutique.
Bryna was able to cultivate her passion for putting the perfect outfit together and offered her services to many high-end clientele in the area. She found, however, that the perfect outfit was never complete without the perfect accessories. Adding jewelry, hats, and shoes was the best part, not to mention topping it all off with the essential look-completing handbag. This bag, unfortunately was hard to find, thus the first collection of Bryna Nicole handbags was created.
Butter combines classic silhouettes with modern day sexiness to create a truly feminine collection that is one of a kind. Just like each and every woman wearing our shoes, each Butter style has its own special story. From the Marilyn inspired peep toes to the ever so popular bows with charming perf details; all Butter shoes are handmade in Italy of the finest materials and richest leathers. A special signature cushioning, featured inside the foot bed of each shoe, promises to keep you comfortable everywhere you go - day and night! And the best part? For once you can purchase an Italian made designer shoe without giving up your rent. Butter's collection retails below $200. The debut Spring 2007 collection is already creating quite a stir amongst both the press and fine retailers across the country and abroad. It won't be long until Butter hits the wardrobes of the most stylish women worldwide, promising to be a true favorite for many years to come.
Nugaard Designs is the passion of Erica and Alessandra.
Friends first, business partners second, the Brazilian girls have been turning heads everywhere they go with their creative jewelry designs, innovative materials, and a dynamic entrepreneurial style.
By combining their talent for creating gorgeous jewelry, working with colors and exquisite textures, a solid business background and a lifelong passion for fashion they have created the coolest jewelry around.
Most of all, the N
gaard girls bring to the fashion industry a breath of fresh air with a jewelry line that is stylish, fun, and original.

Treesje, the California-based company began when designers Laura Darrah and Sheila Nazarian met as bridesmaids for a mutual best friend's wedding. Creative designers right from the start, the two were inspired to capture femininity and originality in every piece created.
Poised for collaboration, the two launched Treesje's first collection in January of 2005. There use of luxurious leathers, hardware and sophisticated color sense make their accessories must-haves. Together the two combine their different influences to design unique and incredibly detailed accessories, while maintaining function-ability in every collection.
No doubt previous customers will become returning fans and Treesje's bold product will be showing up in the flashbulbs of paparazzi on both coasts. Celebrity customers include Kate Winslet, Sarah Jessica Parker, Drew Barrymore, Courtney Cox, Kristen Bell, Katie Holmes, Brittany Murphy and many others.