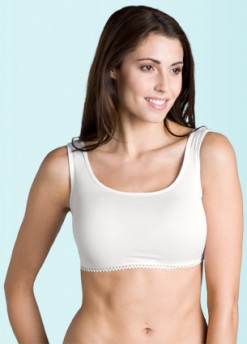 What do you do when the perfect dress needs a little more coverage? Second Base TM, a new line of cropped camisoles from Santa Monica manufacturer JL Horn Apparel, provides the answer with coverage where it matters most - the cleavage area, but not where it can cause bunching and bulk - in the waistline. This smart, lightweight design is intended to wear 'over a bra' as a second basic layering piece providing coverage under wrap dresses, low-cut tops or even button down shirts. The demi-camis TM are about the length of a regular sports bra but made with a Siro Micro Modal/spandex blend that allows for comfortable, seamless and breathable layering - not found in regular and long length camisoles.
Jennie Horn, CEO and founder of Second BaseTM, created the collection after years of working as a designer in a corporate work environment. As much as she enjoyed her job, the conservative culture clashed with her love of trendy dresses and tops. After countless days of facing the same wardrobe dilemma, inspiration struck and the first Second BaseTM half-cut camisole was born. "I wanted to look stylish and professional without having to re-invent my wardrobe," says Horn. "I realized that a camisole with less fabric would allow me to wear my favorite pieces at work without feeling self-conscious or dealing with the extra bulkiness of a regular camisole."
The collection consists of four styles:

Sarah: Similar to a classic camisole, this cami has thin 1/4" adjustable straps, providing flexibility in the amount of coverage for that classic finish on virtually any outfit.
Meredith: The perfect solution for covering up those pesky bra straps when you don't want them display. The Meredith cami has wide straps, just like a tank top, with a higher back for even more coverage.
Marlo: Designed to emulate the men's undershirts so many women have adopted as their own, the Marlo is a ribbed tank top tailored to work under most dresses and tops. And just like men's tank tops, the Marlo may reveal the straps and sides of your bra for a sexier look.

Brittany: Like the classically-designed Sarah, Brittany offers the adjustability of
" straps but with a sweet lace trim at the neckline for added styling.
The Second BaseTM collection launches at retail this fall at select specialty retailers like La Petite Coquette and The Town Shop in Manhattan. Price points range from $29.00 - $31.00. Sizes range from X-small - X-large, with a new plus size offering of 1X, 2X, 3X and 4X for Fall '09. In addition to basic color ways of Black, White, and Ivory, each style is available in new color indents of Red, Brown, Charcoal, Navy and Violet. Each camisole is sold with a matching drawstring bag for easy portability.
Second BaseTM was created in May 2009 by Jennie Horn, CEO and founder of JL Horn Apparel, LLC of Santa Monica, California. The entire Second BaseTM collection is Made in the U.S.A., and sold at select specialty stores nationwide and online at www.shopsecondbase.com.
Follow Apparel Search on Twitter