Three, one-off Maurice-lacroix Pontos Decentrique GMT timepieces designed by three of the world's most prolific designers, are now up for auction on both the www.mauricelacroix.com and www.wallpaper.com websites.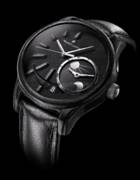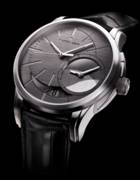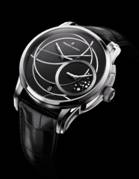 The designers in question sourced by Maurice Lacroix and in cooperation with Wallpaper* are French designer Gwenal Nicolas, multi-platform creative Arik Levy and fashion designer Neil Barrett. Unveiled at Baselworld watch fair in March, the three designs a dark metallic take on the five continents from Nicolas, a multi-layered offering by Levy and a superfine, leather covered creation from Barrett were received with near rapturous response.
All proceeds from the auction which closes on 19 June 2010 - are to be donated to a charity of each designer's choice. Arik Levy has nominated Sinjiya-ton, a charity dedicated to the aid of Malian street children, Nicolas will be donating to human aid organisation, Medicins Sans Frontieres, and Barrett to world aid charity, Oxfam.
You may also have interest in reading the following article:
Maurice Lacroix official partner of the What's Your Issue? project - A global youth initiative and competition Maurice Lacroix is the exclusive watch partner of the US non-profit What's Your Issue? project, a global youth initiative and competition, encouraging the next generation of leaders and social entrepreneurs. The project is outreaching to 200 million young adults to engage in issues and propose local solutions to front-burner issues, submitted digitally via three-minute videos. In 2010, What's Your Issue is inaugurating a new Young Entrepreneur Award, sponsored by Maurice Lacroix. The It's Time for Leadership award will be awarding a special edition watch to the youth winner.
Fashion Article Posted March 2, 2010
If you read a language other then English, you may wish to read today's fashion article from below.
---
Drei Einzelstcke der Maurice Lacroix Pontos Decentrique GMT, gestaltet von drei der derzeit kreativsten Designer der Welt, stehen jetzt auf den Websites www.mauricelacroix.com und www.wallpaper.com zur Versteigerung bereit.
Bei den drei Designern, die in Kooperation mit Wallpaper* von Maurice Lacroix for das Projekt gewonnen werden konnten, handelt es sich um den franz'sischen Designer Gwenal Nicolas, das Design-multitalent Arik Levy und den Modedesigner Neil Barrett. Die drei Kreationen wurden im Mrz im Rahmen der Uhrenmesse Baselworld vorgestellt ein dunkler Ausblick in Metallic auf die fnf Kontinente von Nicolas, ein mehrschichtiger Vorschlag von Levy und eine superdnne, lederbedeckte Kreation von Barret. Die Modelle wurden mit geradezu strmischer Begeisterung vom Publikum aufgenommen. Die Einnahmen aus der am 19. Juni endenden Versteigerung werden jeweils for einen wohlttigen Zweck gespendet, den die Designer im Vorfeld festlegten. Arik Levy mchte seine Untersttzung der Hilfsorganisation for malaiische Straenkinder Sinjiya-ton zukommen lassen, Nicolas spendet den Erl's den rzten ohne Grenzen, whrend Barret die weltweit ttige Hilfsorganisation Oxfam untersttzen wird.
---
Trois exemplaires uniques de la Pontos Dcentrique GMT de Maurice Lacroix, dessin's par trois des plus talentueux designers au monde, sont actuellement mis aux enc
res sur les sites www.mauricelacroix.com et www.wallpaper.com.
Learn more about Maurice Lacroix.