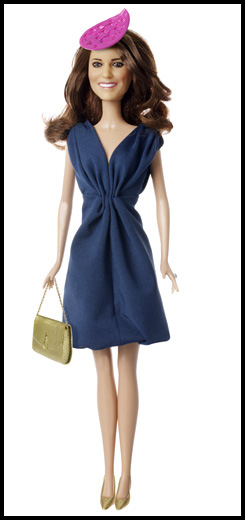 A host of leading British designers have come together to fly the flag for British fashion with the creation of an exclusive and highly collectible toy, the Princess Catherine Doll.

Launched in Hamleys on Thursday April 7, 2011, the Limited Edition Princess Catherine Engagement Doll uniquely celebrates Champions of British Style™ – and showcases the very best of authentic British fashion and design.

Fashioned to resemble Catherine "Kate" Middleton, right down to the Eaton clutch bag, fascinator and shoes, the Princess Catherine Doll oozes British style and highlights a nation's intrinsic attention to detail.

And upholding a true British custom, a donation from sales of the toy will go to the charity, Help for heroes. For every Princess Catherine Doll sold, Champions of British Style™ will donate £1 to Help for Heroes.

Of course, some might say that the Princess Catherine Doll is a touch eccentric or even kitsch, but such quirkiness are also a great British tradition!

With only 10,000 dolls being produced, it's predicted that the Princess Catherine Engagement Doll will be a must-buy for Royal Wedding collectors.

There is also little doubt that children will clamour for a toy doll that can be dressed up to look like a real-life princess.

The Princess Catherine Engagement Doll, which has won the respect of Hamleys, is sold in leading toy stores as well as online at www.arklu.com

Lucie Follett, a spokesperson for Arklu, said: "Since being catapulted into the limelight and following the announcement of her engagement to Prince William, Kate's every outfit have come under scrutiny in the fashion world.

"The catwalks this season show a feminine and elegant trend that is very much in keeping with that of Kate Middleton.
"Some commentators think we are seeing the beginnings of "The Kate Effect", which could prove a huge bonus in promoting the best of British fashion and style to a global market."

She added: "We have been thrilled by the enthusiasm and support of our designers and each in their own way has embodied the ethos of great British style in the creation of the Princess Catherine Doll.

"Now we also have the full support of Hamleys, which will offer the perfect showcase for the launch of the highly attractive collectors' item and toy."


Princess Catherine Doll: Attention to detail and a truly luxurious British style

Seven British fashion and design leaders have dressed and accessorised the Princess Catherine Doll, which will retail at £34.95, and sell at Hamleys, Harrods, The Entertainer, Amazon, Play.com and all major toy stores as well as online at www.arklu.com

For every Princess Catherine Doll sold, Champions of British Style™ will donate £1 to Help for Heroes.

Designers Pussy Willow, of London, have created The Catherine Dress in keeping with their design philosophy of simple and elegant cuts that are sculpted to the body.
The blue, dress has a cinched waist, ruched pleating at the shoulders, and a deep "V" at the front and back. The dress also boasts a bespoke Pussy Willow couture label in vivid pink.

The Bucklebury Fascinator is exclusively designed by award-winning Katherine Elizabeth Millinery and is named after the Berkshire village and home of Catherine "Kate" Middleton. With its bright fuchsia color and intricate lattice-work effect, it reflects Kate's well-documented passion for wearing fascinators at Society events.

The dazzling and fabulously blingy Princess Catherine Doll ring pays homage to Kate Middleton's engagement ring, which was originally Princess Diana's. The doll's Io Ring boasts a purple Amethyst central stone and is made from sterling silver, plated with rose gold and set amongst 24 brilliant-cut diamante cubic zirconias. It has been created by award-winning British jewellery designer Babette Wasserman.

Catherine Middleton's love of the Eaton Clutch Bag is clear and she has been spotted many times with this delightfully artisan accessory, which is produced by the emerging new British luxury goods brand Aspinal of London. The Eaton Clutch Bag is an exact replica and with its distinctive gold mock snake leather effect, curvy, horseshoe clasp and gold chain adds to the Princess Catherine Doll's authentic styling.

The intricate detailing, including the buckle, pale gold color and glitter effect - on the Princess Catherine Doll high-heeled slingback shoes is evocative of leading British shoe designer Beatrix Ong's signature style. Beatrix Ong shoes are recognised worldwide for being innovative yet elegant, versatile yet classic and always very wearable. The doll's shoes boast a miniature Beatrix Ong label on the insole.

Louise Constad is the make-up artist of choice for many of the world's most beautiful women and high-profile celebrities, so who better to add the finishing touches to the beautiful Princess Catherine Doll?

It was in Scotland that Prince William met his Princess. In recognition of this occasion, the inner print on the Princess Catherine Doll box is of Harris Tweed, a luxury Scottish cloth that boasts of a rich tradition of craftsmanship and has long been loved by royalty. Indeed, Kate Middleton has often been seen wearing Harris Tweed jackets, so it's clearly a favourite of hers too.
The importance of fashion – and hence the Champions of British Style – to the British economy: A 'Value of the UK Fashion Industry' report, commissioned by the British Fashion Council (September 2010), defines the industry and analyses the true breadth and economic value of the UK fashion industry. This report reveals that fashion is one of the UK's most important industries and is worth more than £20bn to the economy

Arklu Ltd, which has launched Champions of British Style™, is based in Chelsea, London, and is focused on innovative and exciting toy development.
Have you heard of the real princess of fashion?
---