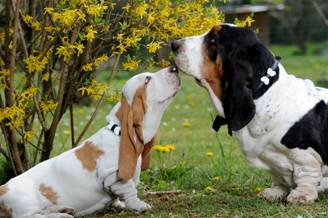 Moschino's creativity meets the virtual store yoox.com for a limited edition capsule collection of leashes and collars, MOSCHINO PETS. Available exclusively on yoox.com, the collection will be online in the PETS area starting at the end of May 2011.
All proceeds from the MOSCHINO PETS project will go to the "National Disaster Search Dog Foundation", a non-profit organization dedicated to training rescue dogs to become search dogs. Once trained, these dogs are partnered with firefighters and other first responders to assist in finding people after natural disasters. In particular, the project supports the rescue activities conducted after the recent earthquake in Japan.
Since no collection is complete without the perfect model, our ambassador for this project is a champion known worldwide for his grace and elegance. As World Champion 2006 and father of the current World Champion 2010, Woferlow Single Malt (better known as "Rocco") is a legend amongst dogs and humans alike. Thanks to his adorable puppy eyes, this six-year-old tricolor basset hound is the ideal mascot to represent the savoir-fair of the exclusive MOSCHINO PETS line.
Irony and playfulness depict themselves through the exclusive MOSCHINO PETS styles: the "Fioccosso" ("Bow-bone") collar in black leather with golden details and a white resin bone-shaped bow attached to a leash, which also features the ironic bow. For more romantically-inclined four-legged friends, there is the "Cuori" ("Hearts") collar. Featuring a reinterpretation of the iconic Moschino heart, the collar and leash set comes in brown punched leather with golden hearts. MOSCHINO PETS is available in three sizes and is sure to satisfy all styles and tastes.
Learn more about
pet fashion
here on Apparel Search.
yoox.com
yoox.com, established in 2000, is the leading virtual store for multi-brand fashion and design in the world. Thanks to long-standing direct relationships with designers, manufacturers and official retailers worldwide, yoox.com offers a never-ending selection of products that are hard-to-find elsewhere, including: an edited range of end-of-season clothing and accessories from the world's most prestigious designers, exclusive capsule collections, eco-friendly fashion, and a unique assortment of home design objects, rare vintage finds and art books.
yoox.com is "Powered by YOOX Group", which has offices and operations in the United States, Europe, Japan and China, ensuring an exceptional level of customer service: over 1 million orders per year in 67 countries; delivery is rapid and reliable, returns are fast and easy and customer care is best-in-class.
Moschino
Moschino has earned a prominent place within the international fashion context, thanks to its history, coherence and continuity. With the Moschino, Moschino Cheap and Chic and Love Moschino lines, the hallmark of Moschino remains its creative mixture of irony and elegance in the reinterpretation of classics.
Since 1994, Rossella Jardini has been the creative director of Moschino, responsible for the image and style of the brand.
Search Dog Foundation
Founded in 1996, the National Disaster Search Dog Foundation (SDF) is a non-profit, non-governmental organization based in Ojai, California. Their mission is to strengthen disaster response in America by recruiting rescued dogs , training them to become search dogs so that they can be partnered with firefighters and other first responders to find people buried alive in the wreckage of disasters. They offer professionally trained canines and an ongoing training program at no cost to fire departments. There are currently 74 SDF-trained Search Teams located in California, Florida, Nebraska, New York, Oklahoma, Texas, and Utah, acting on the national and international territory.