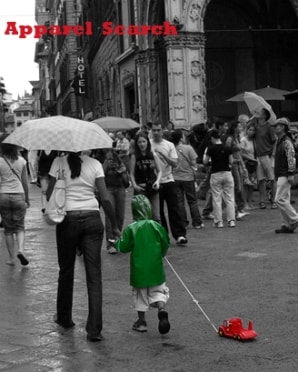 If you are looking for children's raincoats
you can try large online clothing retailers like Amazon where you can find Boys Raincoats
or Girls Raincoats
in many styles and brands.
Just Kids Clothes : Justkidsclothes offers children's raincoats in a variety of "fun and functional" styles. The next time it's raining "Cats and Dogs", your little ones won't mind stepping in a "poodle"! Your little ducks will "quack up" when they see their Duck raincoat from Puddleduds, and any little frogs will jump at the chance to wear a Frog raincoat by Puddleduds, as well. Check out children's raincoats at Justkidsclothes.
---
Wear Me Out Kids Kids raincoats to warm your body and heart with great dress-up styles for their big imaginations. All raincoats made of the best quality. A Very Unique Children's Boutique.
---
Yellow Turtle Childrens rain coats, kids rain boots, umbrellas and backpacks in lots of designs for boys and girls. Fireman raincoats and rainboots. Fun children's rainwear designs including frog, bumblebee, kitty cat, butterfly, ladybug, horse and dog. Camoflage rain wear for boys. Matching kids rainboots and kids umbrellas. Girls raincoats and rainboots. Boys raincoats and rain boots. The Yellow Turtle site, featuring children's clothing and skiwear for kids of all ages. Their specialists have chosen a wonderfully unique selection of kids' products from outerwear, fleece and turtle fur to clothing for babies to big kids.