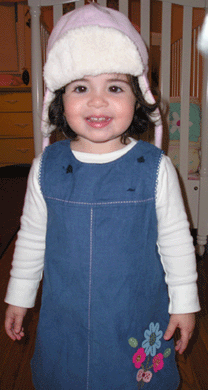 Kids Fashion Store Categories:
Children's Used Clothes Stores
More About Children's Clothing
Children's Clothing Store Directory

Angel Covers: Squeaky shoes for infants and toddlers. Fun for kids and great for parents to keep track of children. Fleece blankets for all ages. Address: P. O. Box 6891 Broomfield Colorado 80021 USA Phone: 303-438-1016 or 790-723-8606 Email: webangel@angelcovers.org Contact: Lynn Fillmore
Store Type: Online
Retailer Retail Category: Shoe
---

Assunta Anichini (Italy): Fine custom tailored children's clothing in Florence, Italy. From 1912 made all by hand and to measure high quality, elegant apparel for girls, boys and newborns. Flower-girls, page-boys for weddings parties and any special occasions!
---

Carter's (The William Carter Company): Carter's, Inc. is the largest branded marketer in the United States of apparel exclusively for babies and young children. Carter's markets its Carter's and OshKosh B'Gosh brands, two of the most recognized brands in the marketplace. These brands are sold in more than 4,000 department and national chain stores and through more than 376 Company-operated stores. The OshKosh B'Gosh brand is also sold in more than 30 countries worldwide. Carter's Child of Mine and Just One Year brands are available at Wal-Mart and Target, respectively. OshKosh B'Gosh's Genuine Kid's brand is sold at Target. Carter's is headquartered in Atlanta, Georgia.
---

Children's Place : The Children's Place Retail Stores, Inc., is a leading specialty retailer of children's merchandise, ages newborn to ten years old. The Company designs, contracts to manufacture and sells high-quality, value-priced merchandise under the proprietary The Children's Place and licensed Disney Store brand names. As of October 28, 2006, the Company owned and operated 851 The Children's Place stores and 331 Disney Stores in North America and its online store. Current fashion trends in a broad color palette are offered as coordinated outfits specifically designed for children. Each shop is clearly identified and dedicated to serving the needs of Girls and Boys (sizes 4-14), Baby Girls and Boys (sizes 6 mos.-4T) and Newborn (sizes 0-12 mos.). Display racks and shelves are neatly arranged to distinctly separate each department and provide easy viewing of the latest collection available.
---

Crembebe Retail store located in the East Village in Manhattan (NYC). They sell children clothing and accessories from age 0 to 8. Their clothing line includes Jean Bourget, IKKS, Nolita, Tea, Granny Takes the Strip, Appaman, Shrnk, Trunk and more. The actual store is open 7 days a week and the online store is available to shoppers at any time day or night. Address: New York, NY
---

CWD Kids for a great selection of brand name children's apparel. Children's Wear Digest mailed its first catalog in 1987, but its roots in the children's clothing business go back much further. In 1911, Julius W. Klaus, grandfather of CWDKids' founder Philip W. Klaus, Jr., helped start the Richmond Dry Goods Company, which sold clothing and linens from brands like Buster Brown and Fieldcrest to retailers throughout the South. Philip Klaus Sr. purchased Richmond Dry Goods in 1956 and it has been a family enterprise ever since. Since the launch of CWDkids.com in 1997, shopping has gotten even easier. Whether you want to call your order in or place it online, you can view all of their merchandise 24 hours a day, 7 days a week. CWDKids strives to bring the best in quality, service, and style to their customers. The catalog features brand name vendors, such as Polo Ralph Lauren, Lilly Pulitzer, Mulberribush, Sweet Potatoes and Sara's Prints, with outstanding reputations for durability and comfort. Their goal is that customers can find fashions for their kids that will stand the test of time. Before you know it, kids are all grown up and off on their own. So while they are kids, CWDKids will help you dress them like kids in unique styles for all occasions.
Next Page of Children's Clothing Stores
More About Children's Clothing
Guides:
Apparel Industry Events:
Children's Clothing Trade Shows
Education:
Shopping
Boy's Apparel at Amazon
Girls Apparel at Amazon
If you own or manage a children's clothing retail store, please let us know the details about your children's clothing store. It will be our pleasure to add your store to our retail clothing store directory.