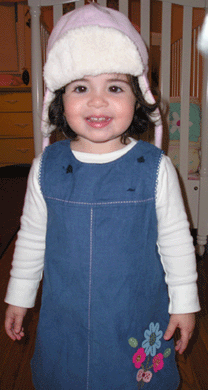 Kids Fashion Store Categories:
Children's Used Clothes Stores
More About Children's Clothing
Children's Clothing Store Directory

Angel Covers: Squeaky shoes for infants and toddlers. Fun for kids and great for parents to keep track of children. Fleece blankets for all ages. Address: P. O. Box 6891 Broomfield Colorado 80021 USA Phone: 303-438-1016 or 790-723-8606 Email: webangel@angelcovers.org Contact: Lynn Fillmore
Store Type: Online
Retailer Retail Category: Shoe
---

Assunta Anichini (Italy): Fine custom tailored children's clothing in Florence, Italy. From 1912 made all by hand and to measure high quality, elegant apparel for girls, boys and newborns. Flower-girls, page-boys for weddings parties and any special occasions!
---

Baby Boy Style: Baby Boy Style specializes in designer clothing, accessories and gifts for infant and toddler boys 0-4T. Baby Boy Style offers customers a variety of high quality and sophisticated clothing options for boys ranging from traditional looks by Hartstrings and Le Top to more modern looks by Deux Par Deux and Tea Collection. Address: PO Box 3973 Antioch, CA 94531 Phone: 866-808-5493 (toll free) Email: lnr1@sbcglobal.net Contact: Lisa Ratchford
---

Baby Candy : Baby Candy offers designer and customized baby and toddler t-shirts in 100% cotton. Their shirts come in a variety of unique styles, personalization options and candy colors. All items are made to order, uniquely wrapped like fancy candy and sealed with a nutrition label. Baby Candy currently has several lines including The Candy Collection, Customized Candies and various holiday lines. Their candy-themed designs are available in a variety of candy colors including blueberry, cotton candy, sour apple and bubble gum. Please contact them for wholesale pricing and drop ship opportunities. Address P.O. Box 461292, Aurora, CO 80013 Phone 1-800-491-7908 ph Fax 1-800-491-7908 fax E-mail olivia@BabyCandyStore.com Contact: Olivia Omega Logan
Retailer of Children's Clothing

Wholesaler of Baby's Clothing
---

Baby clothes- Infant Toddler Clothing (Slovakia): Infant toddler clothing is an online kids boutique offers name brand clothes for boys, girls, infants. Their cool baby and toddler clothes and infant boy, girl clothing make your baby looking trendy. Address: 58 Skovrankova, Svodin, 94354 Slovakia phone: +421907488056 e-mail: henry@infanttoddlerclothing.com contact: Henry Mangult
Children's Clothing Retailer
---

Baby's Language: Lisa, the creator of Baby's Language explains how her idea came to her. Her daughter Demi would Coo and Aahh with expressions of need. It was this need that inspired her for knowing what her daugther was wanting. A passion for communicating with Demi is what encouraged her to write down what her daughter was saying. Lisa translated what each Ooo and Aahh meant and an idea was born. Her concept was to create a shirt with specific terms that her baby used. Giving a defenition to each rattle with the inspiration of helping other parents. Ever wonder what your baby is saying? All the coo's, maa's, ahh & boo's? Well wonder no more. Baby's Language is here as a translating/educational tool with fun colorful designs that can be used as a clever learning tool in the early stages of word association.
---

Bellakids.com
: children's Internet boutique, features high quality European and domestic apparel, shoes, bedding, furniture,toys and gifts for children(0-12yrs). They specialize in quality brands such as Babybotte, Aster,Cakewalk, and Zutano. They offer free shipping. With a click of the mouse access "the very best for your child". Address: 22 W. 23rd Street New York, NY 10010 USA Phone: (212) 620-4090 Email:
Tara@bellakids.com
Contact: Tara Rey-Operations/relations Manager
Gender: Baby / Children
Store Type: Online Retailer
Retail Category: Specialty
---

Bon E's Original D'signs: A New Label Designer of Classic Fashions! One-of-a-Kind, Classic Apparel, Personalized Gifts for Women and Children of all ages! Exceptional quality and service. Wholesale as well! Special orders welcome like home decor, pageant wear or individual clothing needs for "Little People".... SEE BonE'ful "WHERE YOUR OPTIONS ARE ENDLESS!" Address: 4879 S. Amherst Highway Madison Virginia 24572 USA Phone: 434-846-4446 or 434-665-9234 Fax: 434-665-9234 Email: sales@boneful.com Contact: Bonnie Degnan
Gender: Woman and Children's
Retail

Category: Specialty
---

Brianna Babywear Inc.: clothing retailer of babywear. collections of fine baby clothing feature for example, little ruffle skirts with built-in shorts to go with a tank top or a short sleeved Pima tee. The 100% Peruvian Pima cotton collection includes onesies, ruffled pants and shorts, hats both knitted and Pima, blankies, bibs, dresses with and without ruffles, booties, rompers and kimonos. As a family - owned business the most important concern they have is that their customers feel really happy with their products. Please feel free to give them feedback, ideas, suggestions, or any helpful hints. They hope you enjoy their designs and their luxuriously soft pima cotton as they enjoy it for their little ones.
---

Brothers: Brothers is an online clothing store for boys. Brothers is a division of Justice (girls clothing store). Brothers sells boys clothing online only! A great product and deals like Justice ... but for Boys! Mom's everywhere can now shop for their boys and girls in one place! (when shopping online)
Boy's Clothing Store (online)
---

Bunny Creek: Bunny Creek offers affordable clothing for babies and children sizes Newborn through Toddler. Their quality, name-brand clothing is offered at up to 70% off of retail. They are an online-only retailer striving to offer the lowest prices and best customer service. They hand pick their inventory and offer low shipping rates. P.O. Box 140782 Broken Arrow, Oklahoma 74014 USA Phone: 888-383-4825 Fax: 888-383-4825 Email: customercare@bunnycreek.com
Gender: Boy's and Girl's Baby and Children's Clothing
Store

Type: Online Retailer
Retail

Category: Specialty
---

Cap n Go: specializes in children's hats and caps for all seasons along with matching tops. The children's caps range in size from infant, toddler, to youth. Alicia's first daughter was born, she wanted to work at home. Alicia started sewing at a young age, so making a business from sewing seemed only natural. She began making children's hats and selling them at a local craft faire. The response was tremendous. From the beginning, Alicia's desire was to create a business that would benefit other stay-at-home Moms.
---

Carter's (The William Carter Company): Carter's, Inc. is the largest branded marketer in the United States of apparel exclusively for babies and young children. Carter's markets its Carter's and OshKosh B'Gosh brands, two of the most recognized brands in the marketplace. These brands are sold in more than 4,000 department and national chain stores and through more than 376 Company-operated stores. The OshKosh B'Gosh brand is also sold in more than 30 countries worldwide. Carter's Child of Mine and Just One Year brands are available at Wal-Mart and Target, respectively. OshKosh B'Gosh's Genuine Kid's brand is sold at Target. Carter's is headquartered in Atlanta, Georgia.
---

Children's Place
: The Children's Place Retail Stores, Inc., is a leading specialty retailer of children's merchandise, ages newborn to ten years old. The Company designs, contracts to manufacture and sells high-quality, value-priced merchandise under the proprietary The Children's Place and licensed Disney Store brand names. As of October 28, 2006, the Company owned and operated 851 The Children's Place stores and 331 Disney Stores in North America and its online store. Current fashion trends in a broad color palette are offered as coordinated outfits specifically designed for children. Each shop is clearly identified and dedicated to serving the needs of Girls and Boys (sizes 4-14), Baby Girls and Boys (sizes 6 mos.-4T) and Newborn (sizes 0-12 mos.). Display racks and shelves are neatly arranged to distinctly separate each department and provide easy viewing of the latest collection available.
---

Children Unlimited / Children's Direct: they have a wholesale children clothing distribution business in Puerto Rico. They also just recently started a online retail website, www.childrensdirect.com. Their main product consist of girl dresses from sizes 3-12 month and 2-12 years, newborn and baby clothing sizes 0-3 months, first communion dresses, graduation dresses, baptism clothing for girl and boys. Po Box 361730 San Juan,P.R. 00936 787-781-8431 787-781-4915 787-783-9985 FAX joserovayo@hotmail.com
Children's Clothing Wholesalers

Children's Clothing Retailer
---

Clickonclothing (Australia): Online retailer of Brand Name Childrens clothing for boys, girls, baby and toddlers. They sell Brands like Barbie, Wiggles, Hi5, Bob the Builder and many more. They sell Department store clothing at a fraction of the price. People all over the world love Clickonclothing, come and see why! Address: PO Box 6108 Waikiki 6169 Australia Phone: 0402078810 or 0402078810 Email: sales@clickonclothing.com Contact: Belinda Sales Manager
Gender: Childrens
Store Type: Online Retailer
Retail Category: Department
---

Corrine Company: A special occasion wholesaler which manufactures and imports First Communion dresses (sizes 6 - 12, veils and accessories, boy's suits and tuxedos (infant - size 14), baptism/christening outfits, apparel and accessories, godparent gifts, unique baby gifts, wedding accessories, and an extensive line of Irish themed items. They sell to both online and brick & mortar stores; specializing in quality, extensive selection and availability of merchandise, competitive pricing and great customer service. Address: 14521 Eureka Rd. Southgate, MI 48195 Phone: 734-283-5806 Fax: 734-283-3751 E-mail: sales@corrineco.com Contact: Melissa Belknap Corrine
• First Communion Dresses
• Communion Veils & Headpieces
• Communion Capes, Gloves, Anklets, Purses & Accessories
• Boys Suits (black, charcoal, navy & white)
• Boys Tuxedos (white & black)
• Christening Gowns
• Christening Suits & Rompers
• Baptismal Dresses
• Christening Accessories
---

Crazy 8 Stores (division of Gymboree): The newest addition to The Gymboree Corporation's family of brands, Crazy 8 offers cool, wholesome clothes for kids crazy lives with sizes ranging from 0-14. Gymboree opened its first Crazy 8 store in August 2007 and currently plans to open a total of ten to twenty Crazy 8 stores in fiscal 2007
---

Crembebe Retail store located in the East Village in Manhattan (NYC). They sell children clothing and accessories from age 0 to 8. Their clothing line includes Jean Bourget, IKKS, Nolita, Tea, Granny Takes the Strip, Appaman, Shrnk, Trunk and more. The actual store is open 7 days a week and the online store is available to shoppers at any time day or night. Address: 68 Second Avenue - New York, NY 10009 Phone: 212-979-6848 Fax: 212-979-7043 E-mail: crembebe@verizon.net Contact: Barbara Candela-Michelus
---

CWD Kids for a great selection of brand name children's apparel.
Children's Wear Digest mailed its first catalog in 1987, but its roots in the children's clothing business go back much further. In 1911, Julius W. Klaus, grandfather of CWDKids' founder Philip W. Klaus, Jr., helped start the Richmond Dry Goods Company, which sold clothing and linens from brands like Buster Brown and Fieldcrest to retailers throughout the South. Philip Klaus Sr. purchased Richmond Dry Goods in 1956 and it has been a family enterprise ever since. Since the launch of CWDkids.com in 1997, shopping has gotten even easier. Whether you want to call your order in or place it online, you can view all of their merchandise 24 hours a day, 7 days a week. CWDKids strives to bring the best in quality, service, and style to their customers. The catalog features brand name vendors, such as Polo Ralph Lauren, Lilly Pulitzer, Mulberribush, Sweet Potatoes and Sara's Prints, with outstanding reputations for durability and comfort. Their goal is that customers can find fashions for their kids that will stand the test of time. Before you know it, kids are all grown up and off on their own. So while they are kids, CWDKids will help you dress them like kids in unique styles for all occasions.
Next Page of Children's Clothing Stores
If you are searching for children's hats & child caps but can not find enough on the page below, you can find an additional selection by searching Children's Hats
from Amazon's headwear section. Also, you can visit our Children Hat Retailers section.
More About Children's Clothing
Guides:
Apparel Industry Events:
Children's Clothing Trade Shows
Education:
Shopping
Boy's Apparel at Amazon
Girls Apparel at Amazon
If you own or manage a children's clothing retail store, please let us know the details about your children's clothing store. It will be our pleasure to add your store to our retail clothing store directory.