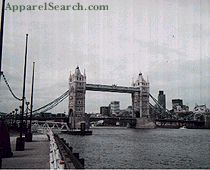 UK Clothing Stores Pg. 2

Allsaints Spitalfields: clothing retailer selling men's fashion, women's fashion, and children's fashion. All Saints brings you a unique, trendy and rock n roll inspired collection of womenswear and accessories. Established in 1994, they are now recognized as one of the most enticing and hip British clothing brands both nationally and internationally.
---

Ann Harvey : they are thrilled to bring you their latest collection direct to your door. Ann Harvey is designed exclusively for women with curves, offering high quality, contemporary clothes to flatter sizes 16-28. They are passionate at Ann Harvey about flattering, affordable fashion and they strive to ensure that they offer real choice and value for money. They provide modern soft separates, relaxed and stylish casual wear, elegant and glamorous occasionwear, along with well cut and sophisticated tailoring, ensuring that there is something for everyone. Address: Unit 5-9 Minton Distribution Centre Sywell Northants NN6 0BN
---

Artigiano: At Artigiano they are passionate about sophisticated Italian fashion and work closely with key fashion houses in Italy to bring you stylish, high quality clothes that are perfectly designed and shaped for women in the UK. Inspired by the catwalks of Milan, Artigiano brings you the skills that even the smartest Italian women work hard to acquire; the knowledge of how to create an elegant, hard-working wardrobe and get the impeccable look you want. What makes Artigiano different is that everything works wonderfully well together in our collections, with every accessory designed to compliment their fabulous key looks to give you the glossy finishing touch that is their signature. Available online and through mail order in UK sizes 8-22 or 14-30 through their sister brand Spirito di Artigiano, the Artigiano collections celebrate femininity and individuality with impeccable tailoring and beautiful Italian stitching and detail.
---

ASOS: Established in June 2000, ASOS.com is one of the UK's largest independent online fashion and beauty retailer. With over 19,400 branded and own label products available and 1000 new lines added each week, ASOS.com is rapidly becoming the market leader in the UK online fashion world. Aimed primarily at fashion forward 16-34 year olds.
---

Austin Reed: From a single shop in the City of London in 1900, Austin Reed has transformed itself from a traditional business into a dynamic and progressive group, boasting over 70 outlets in the UK with international licensees across the globe. After opening his first shop on Fenchurch Street in 1900, Austin Reed would begin to build what was just the beginning of Austin Reed today by opening branches in Regent Street, Oxford Street, Birmingham and Manchester. Austin Reed is passionate about effortless style - from the high quality and attention to detail of garments, through to the expertise and empathy of their sales consultants, looking sharp couldn't be easier.
---

Baconsdozen: they supply foul weather clothing suitable for the fishing industries and other trades. They have also tried to give on their web site pages an insight into the fisherman's life on this side of the pond. Address: 13 Waveney Road Lowestoft nr321bt United Kingdom Phone: 4401502564120 or 4401502564120 Fax: 4401502564120 Email: sales@baconsdozen.co.uk Contact: Kevin Bacon: Director
Gender:

M

ens
Store

Type: Online Retailer
Retail

Category: Specialty
---

Bella Di Notte, S.L. (United Kingdom): they are a company in expansion, with the intention to expand us in the worldwide market. They are devoted fundamentally to the production of nightwear. Handmade deluxe, using for it the most exquisite weaves, to the taste of the client. Their product is directed to a select public that knows how to value "the art". Personalities, social and politically outstanding of countries like Spain, USA etc. has selected their product for their "truasso" They characterize themselves by their finishes that are carried out by hand for artisans, carefully selected. They have a wide range of Italian designs; that it embraces from the most classic to the most sophisticated.
---

Bells Shoes (United Kingdom) is the home of premium quality, branded footwear, offering a full range of shoes, boots and sandals, along with accessories such as bags, scarves and hats. Established in 1890 by Edward Bell, today Bells Shoes is owned by the Martin family who run the successful online business alongside their Buxton town-centre shop.
Women's Shoe Store
Online Retailer
---

The Big Man's Shop: Established in 1977 they specialise in clothing and footwear for the bigger and taller man. Up to 72" waist/chest for men up to 7' tall. Address: Higher Fore Street Redruth TR15 2DQ UK Phone: 01209 216222 or 01209 2168698 Fax: 01209 315309 Email: sales@thebigmansshop.com Contact: B Deakin - IT Manager
Gender: Men's
Store

Type: Online and Brick & Mortar and Catalog
Retail

Category: Big & Tall (Mens)
---

Black Eagle Martial Arts Black Eagle brings you a full range of Martial Arts Equipment for Taekwondo, Karate, Judo, MMA, Brazilian Jiu Jitsu, Kickboxing, Aikido, Kendo, Hapkido, Kung Fu, Capoeira, Ninjutsu and Boxing. As well as Martial Arts uniforms, they bring you a comprehensive range of Martial Arts Training Equipment, Martial Arts Weapons, Protection and Sparring Equipment, Holdalls, Martial Arts DVDs, Martial Arts Leisure Wear... in fact, anything you could possibly need for whatever Martial Art you practice. Their products are tried and tested, and they are dedicated to bringing you only Top Quality products to withstand the demands of your training. As well as their own Black Eagle range of products, they are also the EXCLUSIVE UK and European Distributor for ATAMA, the Number 1 manufacturer for Brazilian Jiu Jitsu and MMA Fight Gear. They also work closely with KWON to bring you a full range of competition approved equipment. Address: Unit A3 Mountbatten Business Park, Jackson Close, Farlington, Portsmouth, Hampshire UK PO6 1US Phone: 02392 483399 Fax: 02392 375904 email: sales@black-eagle.co.uk Contact: Steve Turner
---

Boden: Boden is the UK's leading upmarket clothing mail order company. After five burglaries, one office dog, nine Christmas quizzes, twelve nights spent in the warehouse, one consignment of refugees arriving with a clothes delivery, four office moves, quite a few sense of humour failures, a few sackings (but thankfully not many), 2 venture capitalists, 6 awards, about twenty fantastically annoying customers (mostly related to me), a couple of crooks, 520 King Pizzas ("Continental" medium thin crust with extra anchovies for me), a great team spirit, one incredibly tolerant wife, bucket loads of sweat and even more laughs, they are still there! Boden sells women's fashion, men's fashion, as well as children's fashion. Their range of individual clothes doesn't date, is competitively priced and well made.
---

Boohoo.com: women's fashion retailer based in the United Kingdom.
---

Bored of the High Street: BoredoftheHighstreet.com, the newest and one of the best designer clothing website in the world. The aim is to provide an innovative, fresh and unique shopping experience - but also to have some serious fun.
---

Box2 (United Kingdom) Box2 is built on personal service, backed by 20 years of fashion experience. Their stock of plus size womenswear changes regularly, although they still have a continuous selection of styles throughout the year to suit all age groups, including day and evening occasionwear with co-ordinated bags, hats and shoes. Most items will mix and match making your entire wardrobe easy to assemble.
---

Box Clothing: a leading independent retailer of designer menswear and womenswear with stores in the North of England. Box Clothing are official suppliers of Bench, Firetrap, Gio Goi, Henri Lloyd, Voi Jeans, Replay Jeans, Duck and Cover and Diesel Jeans.
---

Brown Bag Clothing: they started Brown Bag with one aim, to get you the latest high designer fashion at the best prices. They are doing pretty damn well at it as well. Seriously
check the site out and see if you can find the latest gear cheaper than this.
---

Bunny Hug: if you are searching the United Kingdom for the latest styles and trends then check out this online boutique. They stock trendy clothes and accessories from fresh and emerging designer labels from LA to Sydney. Their website is slick, with fashion news, celebrity items, a sales section, student discounts and more.
---

Capitate (United Kingdom): Offers a selection of baseball caps and trucker hats. Baseball caps are their passion. And they are proud to have the largest selection of authentic baseball caps and trucker hats for sale in the UK. So if it's big rig chic, authentic baseball caps and hats or the latest celebrity look, they have the cap for you.
---

Catwalk Couture: Catwalk couture provides catwalk and celebrity inspired fashion at high street prices. Most of their items are limited edition one-offs so you won't catch anyone else wearing the same as you! All their clothes are made from quality materials, mainly made from silk and finished to a high specification. Address: 4, 9 Vernon Rise, London, WC1X 9EX Tel: 0871 288 7060 (UK) Fax: 0207 278 7578 e-mail: info@catwalk-couture.co.uk Contact Zena Bratcher
Women's Retail Clothing

UK Retailer
---

Charles Tyrwhitt Shirts: Direct from Jermyn Street, London, they specialise in men's and women's wear, formal dress shirts, silk ties and accessories. High quality products at an affordable price available online at ctshirts. Address: 92 Jermyn Street, London SW1 Phone: +44 20 7839 6060 Fax: +44 20 8735 1066 E-mail: Jermyn.Street@ctshirts.co.uk Contact name: Frank Sendler
---

Cirrus: leather, sheepskin, wax jackets and luggage. Flying jackets.
United Kingdom
---

Cloggs: With over 35 years experience of High Street selling Cloggs.co.uk started trading online in 1999 and has not looked back since. For 10 years they have been following their mission statement to make your shopping experience as convenient and rewarding as possible, and thousands of satisfied customers are proof of their success. They have a huge range of in season brand-name footwear with top names being added all the time. Recent acquisitions include Nike, Adidas, K-Swiss and Puma, allowing us to offer a full range of sports fashion footwear. They cover numerous niches from wellbeing (Fitflops, Crocs, Birkenstock); to alternative fashion (Dr Martens, New Rock); to classic sports casual (Converse, Skechers); to formal (Hush Puppies, Hudson); to trend product (UGG Australia, Nanny State); to cowboy boots (Loblan, Ranch House). Whatever the brand, you can rest assured that you are receiving genuine high quality merchandise protected by the manufacturer's warranty.
---

CX LONDON: Specialist Pop Deluxe London lifestyle label presents seductive #1 tops, t/shirts, hip-hugging pencil skirts & knickers... Satisfied clientele include: Poets, Pop Stars, Politicians, Sculptresses, Juvenile Delinquents. Contact: information@cinemax.co.uk Contact: Penelope X
---

Debenhams: is one of the largest department store chain in the UK. Debenhams operates 167 stores in the UK, Republic of Ireland and Denmark, comprising 154 full department stores and 13 Desire by Debenhams stores, which is a small store concept featuring an edited product range. Debenhams also has 60 international franchise stores in 23 countries. Debenhams online store can be found at Debenhams.com, where shoppers can find out all about the latest products to reach Debenhams's via Debenhams TV.
---

Designerwear Online Ltd.: Online are a UK based designer clothing business, they have a number of retail outlets on the North and have been trading 8 years online. They sell authentic mens and womens designer clothing and accessories with labels which include Gio Goi - Henleys - Duck and Cover, French Connections, Firetrap etc.
---

Direct Discount Clothing Discount Clothing is a wholesale clothing business run by a family with over 25 years experience in retail. They pride themselves with being ultra competitive with a reputation for being trustworthy and professional. They have customers from all over that are happy to deal with Direct Discount Clothing, and they are looking forward to dealing with you. They hope you are happy with your wholesale products and that you come back and trade with them again soon. Address: Unit A2 Haslemere Industrial Estate, Wigan Road, Ashton In Makerfield, Wigan, WN4 0BZ Phone: 07826 840 482 Email: info@directdiscountclothing.co.uk Contact: Paul Emmet Direct
---

Dresskode: Based in London, UK. Sells wide range of women's clothing and footwear. Example products: Bandage Dresses, Bodyconn, Maxi and Midi dresses. Footwear: Heels, Wedges and Sandals. They made most of the clothing in the UK and import footwear from Europe. Address: ​Unit 3 Northend Trading Estate, Northend Road, Kent, DA8 3PP Phone: 01322 330962 E-mail: sales@dresskode.co.uk Contact name: Chanuka
Next Page: UK Fashion Retailers Page 2
Looking for a clothing store or fashion boutique in the United Kingdom?
Learn about international fashion.
Shop for the latest fashion at a clothing retailer in the United Kingdom.