Learn more about bridal fashion in our women's clothes guide section.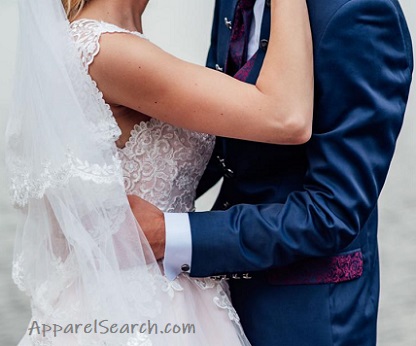 Faerie Brides: Faerie Brides has been designing and manufacturing custom made wedding gowns worldwide for over fifteen years. Their main goal is to create a personal environment that enables their brides to trust that their own unique dream gown will be materialized. Their creations are often designed around their bride's wishes and are based on fantasies suggested by fairytales, the medieval, renaissance and Victorian periods.
---

Fame and Partners: Fame and Partners is a formal dress designer and supplier of prom, formal, wedding, bridesmaid, homecoming, party, debutante dresses and ball gowns. Fame & Partners delivers a high quality, bespoke dress making service without the traditional cost. Their sample room direct to you model means no middle men, higher quality formal dresses & lower costs. Guaranteed shipping within 48 hours order, for all custom made and bespoke dresses. Address: 25 Broadway, Floor 9 New York, NY, 10004, USA Phone E-mail - david@fameandpartners.com Contact: David Price
Women's Dress Retailer
Women's Bridal Retailer
Prom Dress Store
---

Hansson Silks: The UK's leading supplier of pure silk fabrics, silk embroideries and French lace for bridal and formal occasion wear and for soft furnishing. Silks from India, China and Italy available from their UK showroom and via their worldwide mail order service. Full details including photographs of their extensive and exclusive selection of fine silks available on their website. Address: 108 Woodbridge Road Guildford, United Kingdom GU1 4PY Phone: +44 1483 451625 Fax: +44 1483 451602 Email: info@hansson-silks.co.uk Contact: Mohan Kapoor - Business coordinator
Gender: All
Store Type: Online Retailer
Retail Category: Bridal
---

Island Importer: Island Importer is a designer, manufacturer and wholesale supplier of men's and women's island wear, including drawstring pants, linen and cotton shirts, linen shorts, Thai fisherman pants, and more. Specializes in beach wedding attire. Address: 184 Clear Creek Dr #2, Ashland OR 97520, USA Phone - 541-482-5750 E-mail - service@islandimporter.com Contact: Sangeet Khalsa
Online Retailer
Wedding Apparel Retailer
---

Impression Bridal Inc: Bridal gowns retail store locator.
---

Jasmine Bridal: At Jasmine, our mission is to provide brides with the ultimate in fashion, fit and service. Jasmine offers our customers only the highest level of quality and design in all of our gowns, with a fit that makes every woman look and feel beautiful. For most brides finding the perfect bridesmaid dresses selection is not their first collection and sometimes, not even the second priority dresses selection when planning a wedding. However, once the bride finds her special wedding venue, she will then usually shop for her dream wedding dresses with leading bridesmaids dresses - and once the bride says yes to her perfect bridal dresses , she will then move on to shopping for her bridal party. Also check out Jasmine bridal mother of the bride dresses line.
---

JLM Couture: Bridal gowns and bridesmaids dresses. Photos and store locator.
---

Justin Alexander: Justin Alexander debuted on the bridal fashion scene as T&G Bridal in Brooklyn, New York in 1946, a time when women were renouncing the idea of clothing as mere necessity and embracing fashion as a way to express femininity, confidence, and beauty. Since its humble roots, Justin Alexander has become a contemporary designer and manufacturer of mid- to high-end bridal gowns and accessories. Each design is distinctly recognized for its vintage inspiration paired with progressive details. Recognizing that a bride's taste in fashion is as complex as the woman herself, the company has diversified itself to include the marquee collection Justin Alexander, in addition to the noteworthy designs of Justin Alexander Signature, Lillian West, Sincerity Bridal and Sweetheart Gowns.
Thank you for using the Apparel Search website.