Yes, size is important. When selecting clothing the consumer is very interested in the size of the garment. Sizing is sometimes put on hanger tabs, price tickets, hangtags, and stickers. In this section of the Apparel Search guide you will find suppliers that provide clothing size stickers.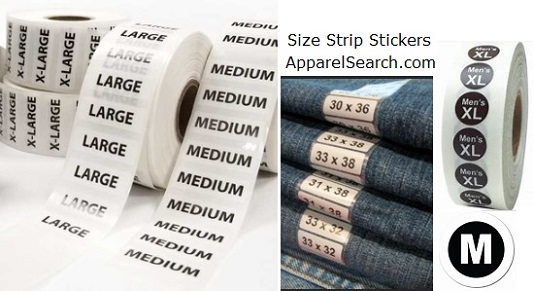 Find great clothing factories, but be sure to also find fabulous size sticker manufacturers.
When you are done checking the factories below, you may want to also learn about hangtags, price tickets, garment labels etc. Those items can also be used to display a garments size.
Clothing Size Strip Sticker Manufacturers

All Sizestrips Inc.: The global size sticker authority. One of the worlds largest selections of in-stock size stickers for clothing. All brands & generics. In stock for same day shipping by 6PM. Established over 40 years developing adhesive solutions for garment fabrics. They guarantee quality & low cost. The original size sticker manufacturer. They have over four decades in the apparel retail and apparel manufacturing space. Their experience will help solve your needs efficiently. They only use apparel-safe adhesives. With 20 years of research in adhesives for fabric, they have specialized adhesives for every fabric. They ship using the lowest rate tiers of major carriers and they give you their exact cost. No delivery markup ever. They produce your custom orders within 2-4 days. Rush services always available to meet your deadline. They have 10 color capability. They carry in-stock cutting dies ranging from 0.5" to 60" in width and length to save time and money. They have an in-house graphic art team that will create or modify any artwork file needed within 24 hours to save your time. Address: Morristown, NJ Phone 800-SIZE LABELS (749-3522).
---

Apparel Label International has one purpose: Provide the highest quality apparel identification products with time-sensitive worldwide delivery, while giving the customer the lowest cost per item. Apparel Label strives to provide added value in every sale for life-long satisfaction of every customer. State-Of-The-Art Production Systems ensure your labels and tags are the very highest quality, produced with a cost savings over other companies. Our Full-Service Art Department can create complete, coordinated design/identification packages for your apparel products or modify your existing artwork. Woven Labels, Apparel Labels, Sew In Labels, fabric Labels, Size Tabs, Care Labels, Content Labels, Hang Tags, Integrated Hang Tags, Size Strips, Garment Labels, Joker Tags, as well as Retail Display items such as Rack Size Dividers and Hanger Size Markers. Phone: (800) 646-5775 FAX (800) 982-5724
---

HBL produces tag, labeling and packaging solutions for your brand. Their product assortment includes hangtags, pocket flashers, joker tags, size stickers, and attachments including strings, swift tacks, and pins. They offer customized brand identification packaging options such as header cards, inserts, poly bags, boxes, bags, wraps, belly bands, and tissue paper. As leaders in heat transfer technology HBL provides standard, four-way stretch, silicone, and novelty heat transfer options. Additionally, they complete rigorous in-house testing to ensure your branding identification consistently embodies quality. Additional items in their product line includes neck tapes, waistband tapes, charms, leather and faux leather trims, metal trims, zipper pulls, and patches. Their experienced team collaborates with each client to understand their unique branding needs to deliver exceptional quality and personalized brand solutions. U.S. Office Address: 126 N. Jefferson Street, Suite 301 Milwaukee, WI 53202 China Office Address: Room B506, Xinhongji Building No. 578, Huachang Rd. Zhangjiagang City 215600 Jinangsu Province, China Phone Number (414) 223-1520 Email: Tclement@hblabels.com Contact Name: Tanya Clement
Trimming Supplier
Hangtags
Size Stickers / Size Strips
Price Tickets
Swift Tacks
---

InStockLabels.com: provides the largest available selection of adhesive clothing size labels for retail apparel. They offer over 700 labels sizes to choose from including adhesive size strip labels for mens jeans, women's pants and children's clothing. All labels are manufactured in the U.S.A. with high quality flexographic printing. Ordering online is quick and easy. Your order will ship out the same day it is received. Quantity discount pricing is available by calling our toll-free number 888.407.5001. If you need custom labels or stickers of any kind, they offer professional design services, economical pricing and quick delivery. Address: InStockLabels.com 3789 S. 300 W. Salt Lake City, Utah 84115 Contact: Ryan Hollingsworth Email: ryanh@instocklabels.com or info@instocklabels.com Toll Free: 888-407-5001
Size Strip Labels for Pants and Shirts (Wrap Around Size Labels)
Round Size Stickers
Retail Clearance Stickers
Shoe Size Labels

Color Coding Labels
Size Stickers for Toddler and Infant Clothing
Warehousing, Inventory and Shipping Labels
Custom Labels and Stickers of all Kinds
Size Strip Stickers
Stickers
---

Maxim Brand Solutions (international): Maxim Brand Solutions continues to build upon a 29 year reputation of quality brand identification products. Their reputation for offering reliable on time delivery, competitive pricing, and outstanding service to the apparel, retail, home furnishings, and footwear industries has awarded Maxim the privilege of doing business with the World's best. Maxim Brand Solutions offers a full line of merchandise identification products and services. They design, produce and deliver customized programs that fulfill all of your identification and branding requirements. Their line includes woven and printed labels, graphic hang tags, adhesive back labels, sizer strips, carton labels, packaging, boxes, bags, hangers, buttons, price ticketing and other custom branding identification products. Maxim's network of production facilities are located strategically close to where your products are manufactured; saving time and cost with shipping, import taxes, and time zone constraints. Production locations include Shanghai, Taiwan, Vietnam, and Hong Kong. All facilities are networked through their Chicago area, Wauconda, Illinois office providing you with the convenience of communicating with a local company. Address: 1260 Karl Court Wauconda, IL 60084 Contact: Robert Gorgone e-mail: robertgorgone@comcast.net Phone # 1-207-729-7760, Fax # 1-207-729-7730
---

PAX Tag & Label, Inc. : Service bureau experience since 1988. Nationally recognized for exceptional customer service. Authorized or approved by many retailers. Same day service available on in-stock items. Easy to order, satisfaction guaranteed. Address: 9528 E. Rush Street South El Monte, California 91733 USA 800-729-8247, 626-579-2000, FAX 626-579-7299, e-mail: info@paxtag.com Contact: Michael Brown; President
---

Rehan Printers Private Limited Pakistan): Whether you need a 5 color dye cut hang tag with UV coating and custom design, simple Content Labels, single color price tickets, hangtags, size tags, stickers, or patches; they provide guaranteed quality product at reasonable price, delivered on time. They can produce thousands of hang tags, woven labels and clothing labels per day, and deliver to your factory or at any location worldwide within 72 hours of production. Address: 1/105-C, 11 Jami, Phase VII, D.H.A, Karachi, Pakistan Phone: +92 21 111 REHANS, Mobile: +92 300 2017 017 Fax: +92 21 2259 779 E-mail: rehanprinters@asia.com or rehan@rehanprinters.com Contact: Rehan Muhammad Executive Director
Hangtags

Price Tickets

Size Stickers
---

SML: since 1985 the privately held SML Group has rapidly emerged as a world leader in the manufacturer and supply of garment trim to the apparel industry. As a global company, strategically positioned in 40 locations, they are prepared to supply trim products to brands and retailers.
Manufacturer of Labels

Manufacturer of Hangtags

Manufacturer of Heat Transfers

Manufacturer of Size Stickers

Manufacturer of Metal Buttons
---

Talon Zippers (formerly called Tag-It Pacific): Talon International, Inc is a unique company offering a wide array of apparel component products and services around the globe. Talon International is a publicly traded company listed on the American Stock Exchange. (Symbol: TLN) Founded in the early 1980's in Los Angeles, CA, where we are still headquartered, Talon International has grown into a truly global company, with facilities from Hong Kong to New York. They are a full-service single source provider of fashion driven brand identity programs. From concept and design through production and distribution, they offer a single source solution for all our customer's trim and packaging needs. Talon responds to the global nature of business today with company-owned distribution facilities in the United States, Mexico and Hong Kong
---

Uline: Uline, a family-owned business, is the leading distributor of shipping, industrial and packaging materials to businesses throughout North America.