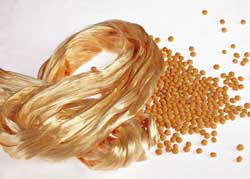 Welcome to the soybean protein fiber directory section of the Apparel Search website. In this section, you will find educational information and links to resources relevant to soybean protein fibers.
Soybean Protein fiber is a new-typed healthy, comfortable and environmental textile fiber, It is the only renovated botanic protein fiber we can touch today. It is the sole nutritional "Active fiber" alive. Its moisture absorption, ventilation, draping and warmth cover the superiorities of all natural fibers. SPF has the softness and the smoothness of cashmere, but no harm to the nature. The raw material comes from soybean, a plant massive in sourcing and rich in nutrition. SPF fabrics are resolvable in the earth back to the nature.
If you work in the apparel industry or simply have an interest in soybean protein textiles, this is the area for you. If you do not find enough information in this section of our soybean protein fibers guide, you may wish to check the textile section or go back to the fiber directory main page for additional textile fiber choices.
If you work for a company that supplies soybean protein textile products, you can use the add your company link at the bottom of this page to create a listing on the Apparel Search soybean protein directory pages.
If you wish to read more about soybean protein, don't forget to visit the textile news section. More specifically, view the textile fiber news area. Also, if you work in the fashion industry or textile industry, please join us at the fashion industry network for discussions about the use of soybean protein.
Soybean fiber Manufacturer Directory

Huakangtianyuan High-Tech Co., Ltd,: Huakangtianyuan High-Tech Co., ltd is the global leader in plant protein fibre research, production and application. Leaded by Chief scientist Li Guanqi, the Huakang R&D center invented soybean protein fibre (SOP), which filled up the vacancy in this field in the world. As the first man-made textile fibre developed by Chinese, SOP is considered as one of the most important inventions of 21 Century by most specialists in textile industry.