The 1980s were an era defined by conservative politics, the rise of computer technology and the end of the Cold War, as well as 1980s fashion and music. Fashion and popular culture had a great time during the 80's. For those of you that are not very good with the Gregorian calendar, the 1980's took place between January 1, 1980 to December 31, 1989. It was a time of nuclear threats, computer advancements, and extravagant fashion.
The beginning of the decade saw the continuation of the clothing styles of the late 1970s and evolved into heavy metal fashion by the end.
The 80s included things like teased hair, ripped jeans, neon clothing and lots of colors.
Fashion of the 80's went thru a few changes along the way.
The early 1980s were very different from the rest of the decade, with some carryovers from the late 1970s. The early 1980s saw a minimalist approach to fashion.
For women, fashionable clothing in the early 1980s included both unisex and gender-specific attire. Widespread fashions for women in the early 1980s included sweaters (including turtleneck, crew neck, and v-neck varieties); fur-lined puffer jackets; tunics; faux-fur coats; velvet blazers; trench coats (made in both fake and real leather); crop tops; tube tops; knee-length skirts. Women's pants of the 1980s were, in general, worn with long inseams – a style carried over from the 1970s.

For men, athletic clothes were more popular than jeans during this period, as were more subdued colors. Popular colors were black, white, indigo, forest green, burgundy, and different shades of browns, tans, and oranges. Velour, velvet, and polyester were popular fabrics used in clothes, especially button-up and v-neck shirts. Looser pants remained popular during this time, being fairly wide but straight, and tighter shirts were especially popular. From the early to mid 1980s, post-punk and new wave music groups influenced mainstream male and female fashion. Commercially made slim-fitting suits, thin neckties in leather or bold patterns, striped T-shirts, Members Only jackets, clubwear, metallic fabric shirts, cat eye glasses, horn rim glasses. Preppy also made a comeback in men's fashion of the 80's. Popular preppy clothing for men included Oxford shirts, sweaters, turtlenecks, polo shirts with popped collars,[9] khaki slacks, argyle socks, dress pants, Hush Puppies Oxford shoes, brogues, suspenders, seersucker or striped linen suits, corduroy, and cable knit sweaters that were often worn tied around the shoulders.
Women's fashion in the mid-1980s became more colorful around 1984. This included long wool coats, long flared skirts, slim miniskirts, slightly tapered pants and stirrup ones, designer jeans, spandex cycling shorts, extremely long and bulky sweaters, jumpsuits, pastel colors, leather trenchcoats, fur coats, extremely large scarves, beanies, leather gloves, and dresses worn with wide or thin belts. The aerobics craze of the early 1980s continued into the mid 1980s, but the clothes became more colorful than they were before. Women's shoes of the mid 1980s included strappy sandals, kitten-heeled sandals, pumps, and Keds. Gloves (sometimes laced or fingerless) were popularized by Madonna, as well as fishnet stockings and layers of beaded necklaces. The television prime time shows Dallas and, in particular, Dynasty influenced increasingly oversized shoulder pads. Shoulder pads, popularized by Joan Collins and Linda Evans from the soap opera Dynasty were popular from the mid 1980s to the early 1990s.
Toward the late-1980's fashion began to modify once more. From 1987 until the early 1990s, the short skirt was the only length supported by fashion designers. Although skirts of any length were acceptable to wear in the years before, all attention was given to the short skirt, especially among teenage girls and young women. Shoulder pads became increasingly smaller. Women's apparel in the late 1980s included jackets (both cropped and long), coats (both cloth and fake fur), reversible inside-out coats (leather on one side, fake fur on the other), rugby sweatshirts, sweater dresses, tafetta and pouf dresses, baby doll dresses worn with capri leggings or bike shorts, slouch socks, and Keds or Sperrys or with opaque tights and flats or opaque tights and slouch socks, neon or pastel colored shortalls, denim pinafore dresses, Keds Sperrys, jumpsuits, miniskirts, stretch pants, tapered pants, and skirts worn with leggings.
Apparel tended to be very bright and vivid in appearance. Women expressed an image of wealth and success through shiny costume jewelry, such as large faux-gold earrings, pearl necklaces, and clothing covered with sequins and diamonds.
Punk fashion began as a reaction against both the hippie movement of the past decades and the materialist values of the current decade. Learn more about punk fashion.
Significant clothing trends of the 1980s include shoulder pads, jean jackets, leather pants, aviator jackets, jumpsuits, Members Only jackets, skin-tight acid-washed jeans, Izod and "Preppy" polo shirts, leggings and leg warmers, off-the-shoulder shirts, and cut sweatshirts. Fashion trends such as leg warmers and cut sweatshirts had been influenced by the movie Flashdance. Other movies also played a role in the fashion of the 80's. Madonna made a splash in regard to style trends with her music videos as well as the movie Desperately Seeking Susan which was in 1985. In the 1980s, rising pop star Madonna proved to be very influential to female fashions.
Miniskirts made a dramatic comeback in the mid-1980s after a ten-year absence. Makeup on the 1980s was aggressive, shining and colorful. Many women gave big attention to their lips, eyebrows and cheeks. They used a lot of blush and a good amount of eyeliner.
Additional significant trends of the 1980s include headbands, Ray-Ban Aviator sunglasses (popularized in the film Top Gun), Ray-Ban Wayfarer sunglasses (popularized in the films Risky Business and The Blues Brothers) and Swatch watches.
Learn more about 1980's fashion.
The term "big hair", was an understatement.
Significant hairstyle trends of the 1980s include the perm, the mullet, the Jheri curl, the hi-top fade, and big hair.
You might want to also learn about yuppies if you are interested in fashion of the 80's.
A great deal happened during the 80's. Some of it we remember and some we wish we could forget.
It is not easy to summarize an entire decade of fashion.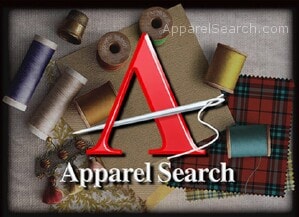 We hope this summary of fashion section has been of help to you.
Thank you for using the Apparel Search website.