Fashion retail is the concept of selling clothing, footwear, or accessory products to the public. Typically these items are bought from wholesalers or direct from factories and then sold to final consumers in relatively small quantities for use or consumption rather than for resale.
Fashion retailers are the companies that actually partake in the business model of fashion retail. The fashion retailers manage the business of selling clothes, shoes, and fashion accessories directly to consumers.
A retailer is any person or organization is a reseller who sells goods or services directly to consumers or end-users. Retail markets have existed since ancient times. In some parts of the world, retail markets look similar to how they looked in ancient times. In other areas of the world, shoppers have the ability purchase clothing in a wide variety of shopping environments. Shopping malls, fashion boutiques, department stores, mass merchants, etc., all provide a different shopping experience.
In real estate the wise people say that it is all about, "location, location, location". This concept holds true in regard to the business of fashion as well. The location of a clothing store is a primary factor in regard to the success or failure of a retail business.
When fashion retailers decide on a particular location, they have many factors to consider. The cost of real estate (ownership or rentals), size of the community, location of competitors, demographics, etc.
Most modern retailers typically make a variety of strategic level decisions including the type of store, the market to be served, the optimal product assortment, customer service, supporting services and the store's overall market positioning. Once the strategic retail plan is in place, retailers devise the retail mix which includes product, price, place, promotion, personnel and presentation.
A major retail trend has been the shift to multi-channel retailing. To counter the disruption caused by online retail, many bricks and mortar retailers have entered the online retail space, by setting up online catalogue sales and e-commerce websites. Multichannel retailing or Omnichannel retailing is a business model that implies using of a variety of channels in a customer's shopping experience. Such channels include retail stores, online stores, mobile stores, mobile app stores, telephone sales and any other method of transacting with a customer.
Learn about omnichannel fashion retail.
Location is important, but so is retail price points, product assortment, store layout, and many other factors.
Fast fashion is a contemporary term used by fashion retailers to express that designs move from catwalk quickly to capture current fashion trends. Learn more about fast fashion retail.
Learn about various fashion industry price points such as budget, discount, moderate, contemporary, and bridge.
Retailers satisfy demand identified through a supply chain. The term "retailer" is typically applied where a service provider fills the small orders of a large number of individuals, who are end-users, rather than large orders of a small number of wholesale, corporate or government clientele. Shopping generally refers to the act of buying products.
Learn more about fashion retailers.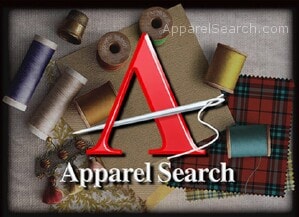 Clothing stores sell to consumers. Learn more about consumers of fashion.
We hope this summary of fashion section has been of help to you.
Thank you for using the Apparel Search website.