What are swift tacks? Swift tacks are used to attach price tickets or hangtags to clothing or fabric. Learn about swift tacks in our fashion industry terminology section.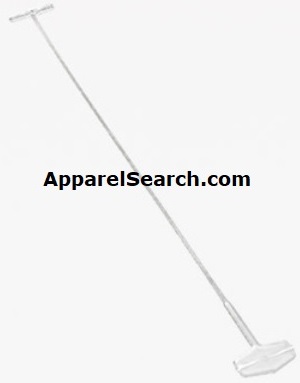 This type of item is also referenced as Swiftach (trademark of Avery Dennison). Avery Dennison Swiftach fastening solutions revolutionized the apparel and retail industries by producing a quick, safe and cost-effective method to attach price and brands tags to garments. This is the most commonly-used shape for tagging garments because it provides a larger surface for someone to hold when removing. The paddle end is designed so once the fastener is inserted it will not come back through the hole in the tag.
Swift tacks come in a wide assortment of sizes & colors.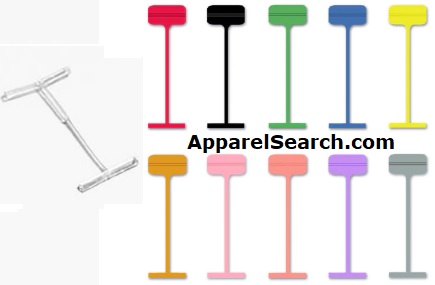 Avery Dennison Swiftach
---

HBL produces tag, labeling and packaging solutions for your brand. Their product assortment includes hangtags, pocket flashers, joker tags, size stickers, and attachments including strings, swift tacks, and pins. They offer customized brand identification packaging options such as header cards, inserts, poly bags, boxes, bags, wraps, belly bands, and tissue paper. As leaders in heat transfer technology HBL provides standard, four-way stretch, silicone, and novelty heat transfer options. Additionally, they complete rigorous in-house testing to ensure your branding identification consistently embodies quality. Additional items in their product line includes neck tapes, waistband tapes, charms, leather and faux leather trims, metal trims, zipper pulls, and patches. Their experienced team collaborates with each client to understand their unique branding needs to deliver exceptional quality and personalized brand solutions. U.S. Office Address: 126 N. Jefferson Street, Suite 301 Milwaukee, WI 53202 China Office Address: Room B506, Xinhongji Building No. 578, Huachang Rd. Zhangjiagang City 215600 Jinangsu Province, China Phone Number (414) 223-1520 Email: Tclement@hblabels.com Contact Name: Tanya Clement
Trimming Supplier
Hangtags
Size Stickers / Size Strips
Price Tickets
Swift Tacks
You may want to also visit the tagging tools page.

Do you need to temporarily mark fabric?
Thank you for using the Apparel Search website.