Learn more about tagging tools.
Terms of Interest:
Learn about Swift Tacks in our clothing industry terminology section.

Avery Dennison: The Fastener Division of Avery Dennison Retail Information Services is a worldwide leader in the design, manufacturing and marketing of fastener systems and products for retail, apparel and packaging industry applications. Offers a wide range of manual and automatic tagging solutions from all kinds of hand tools and fasteners to custom built power tagging systems. The company is also the originator of the popular Swiftach, Plastic Staple fastener systems and many more. Email: fastener.usa@averydennison.com
---

Sun Jin Corporation: They are specialized manufacturer of tagging tools. With long experience & high technology, they are at high quality and reasonable price. Also, their products are in good reputation worldwide. They are manufacturer tools such as tagging gun, tag pin, loop lock, hook pin, shoe gun, needle for tagging gun and lint remover. Address: 2f. #955-7. Shinjung 4 Dong Yanhchun Ku, Seoul 158 859 Korea South Phone: 82 2 697 3966 Email: sunjin@primetag.com Contact: C.S. Kim & president
Manufacturer Item # 1: tagging gun
Manufacturer Item # 2: tag pin
Manufacturer Item # 3: tag gun
Manufacturer Item # 4: needle for tag gun
Manufacturer Item # 5: shoe gun
Manufacturer Item # 6: shoe gun needle
Manufacturer Item # 7: lint remover
---

Tach-It
You may also want to try the price ticketing label gun page.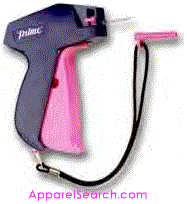 Thank you for using the Apparel Search website.