When you are done reading about the spencer jackets, you may want to learn the difference between jackets and coats.
What is a spencer jacket? The Spencer, a type of short jacket from which the UK military mess jacket is derived, is named for George Spencer, reportedly because he had a tail-coat adapted after its tails were burned by coals from a fire.
More details regarding the history of the spencer jacket:
The spencer, dating from the 1790s, was originally a woolen outer tail-coat with the tails omitted. It was worn as a short waist-length, double-breasted, man's jacket. It was originally named for George Spencer, 2nd Earl Spencer (1758–1834), who is reported to have had a tail-coat adapted after its tails were burned by coals from a fire.
George John Spencer, 2nd Earl Spencer, KG, PC, DL, FRS, FSA (1 September 1758 – 10 November 1834, styled Viscount Althorp from 1765 to 1783, was a British Whig politician. He notably served as Home Secretary from 1806 to 1807 in the Ministry of All the Talents. He was the 3rd paternal great grandfather of Diana, Princess of Wales.
The waist-length style of jacket first appeared in the 1790s when George Spencer, 2nd Earl Spencer removed the tails from his tailcoat. Spencer, it was thought, singed the tails of his tailcoat while standing beside a fire and then cut off the ends, unwittingly starting a new fashion. Other stories say Spencer—frustrated by his tails catching on brambles—tore the tails off his coat when hunting one day. In the early 1800s, Eton College adopted it for first year students' uniforms; it was referred to as an Eton jacket.
The spencer was adopted as mess dress by British military officers, leading to the name mess jacket.
In modern menswear, the term "spencer" is often synonymous with knitted vest or waistcoat.
Isn't the Spencer Jacket also womenswear? Yes.
It was also soon adopted as a popular women's fashion on both sides of the Atlantic during the 1790–1820 Regency style period. The spencer was worn as a cardigan, or as a short, fitted jacket cut to just above waist level, or, in Empire style, to the bust line, and tailored on identical lines to the dress.[5] The use of the term spencer continued well into the 19th century to mean more generally any type of short jacket or coat. In Australia, New Zealand and South Africa the term is sometimes used to refer to thermal underwear.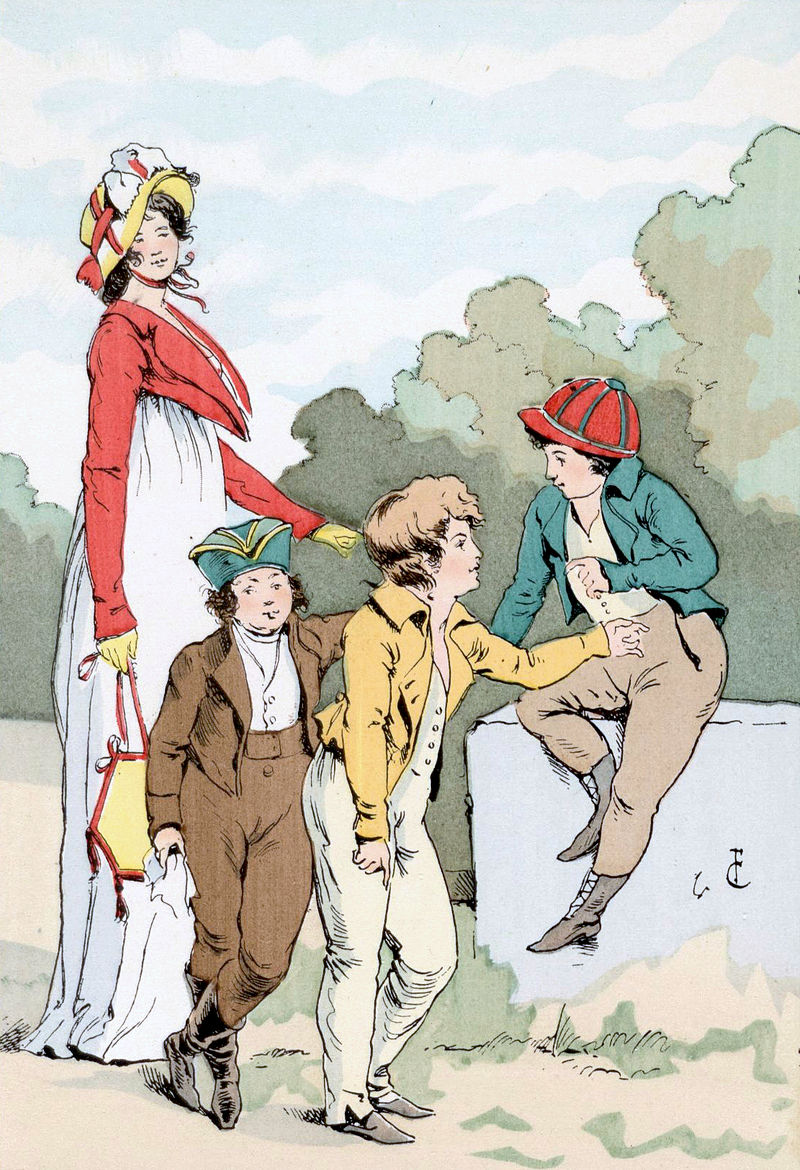 Photo: Clothing, ca 1800. The woman and the boy in brown are wearing spencers. This image is available from the Brown University Library under the digital ID 1145808030286420. This colored plate depicts a woman surrounded by 3 little boys. She is wearing a typical, white empire-waist dress, probably made from muslin. She is wearing a 'Spencer jacket,' which is an overcoat without tails popularized in England by Earl Spencer. The children look comfortably dressed in 'skeleton suits.' Departing from Rousseau's theories of education, children's fashions swung towards clothes more conducive to play and specific fashions for children were innovated.