Fashion Industry Apps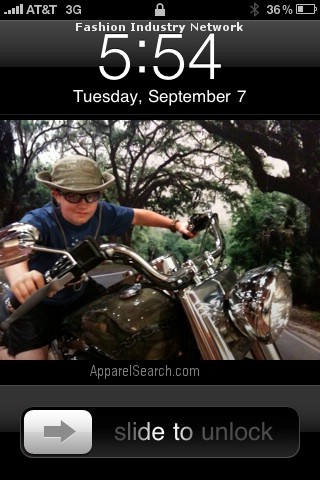 What are the best fashion apps? What are fashion apps? Well, hopefully the below fashion term will help answer those questions...
Regardless of whether or not you personally have an iPhone or not, you most likely have heard the term "apps". The word apps is basically an abbreviation for applications. No, I do not mean applications as in an application used for applying for a job. That is an entirely different type of application. In regard to this post, the term "apps" is regarding the technology driven meaning of an application.
Technology Apps have become popular due to the recent popularity of the iPhone, iPad, and iPod Touch. The App Store from Apple is an ultimate source for mobile apps. They have an enormous quantity of apps practically every category imaginable. Some they charge for, but many are even free. An iPhone app is a specific software widget that you can download from the iTunes App Store. When the new app is downloaded, it will place an icon on the screen of your iPhone or iPod Touch, so you can access the app directly by touching the icon on the screen. Each app is different, but the primary purpose is to provide helpful information or entertainment.
Categories of apps include Business, Games, Entertainment, Sports, Education, Medical, Fitness, News, Travel, Photography and more. Although their are many types of apps, we all know the MOST IMPORTANT app category. Obviously, it is the "fashion apps".
Fashion Apps are apps relevant to fashion relevant topics. Even fashion games..
By the way, when you are done learning about these fashion apps, you may want to also learn about fashion widgets and fashion gadgets.
Here are a few fashion apps that we thought you may have interest in reviewing:
Update: We realized that some of the links to the Apple apps are no longer working from the desktop. However, the apps might still be available on Apple. We are removing the links but keeping the app name and description. If you are interested, you can search for fashion apps directly on the Apple phone, ipad, etc.
Bra-Fitter : You may know your bra size. Or you may actually be mistaken. If you do not care to take the risk regarding your size, you may want to test out the bra-fitter. I am not saying this works perfectly, but you can decide.
Brides Dressing Room: Brought to you by BRIDES Magazine, Brides Dressing Room is one the first-ever digital shopping concierge apps for bridges on the go. Personally, I think you should take your time in an actual bridal boutique. However, using the bridal fashion app can also be beneficial.
By the way, you can learn more about bridal fashion from the bridal fashion guide on Apparel Search and also by reading Brides Magazine.
Catalog Spree: Catalog Spree by Padopolis introduces a brand new catalog shopping experience on the iPad. People can browse and shop in catalogs they love, and discover new brands, all from one app. Catalog Spree is a fast and magical way to enjoy, share, shop and subscribe to promotions on the iPad. Going far beyond any app from a singular retailer, Catalog Spree for iPad loads instantly and allows people to make purchases from multiple retailers, while saving and socializing favorites. Catalog Spree is dedicated to creating a beautiful and rich shopping experience as the only catalog app offering an entire marketplace of retail stores and the option to subscribe to new catalog releases. Catalog Spree changes the way people shop. Combining the best of mobile, beautiful catalog layouts and online shopping, Catalog Spree provides consumers who love catalogs the exciting opportunity to have an eco-friendly and spam free experience while flipping through beautiful catalog layouts from home, the road or anywhere.
Chicfeed : chicfeed.com brings together photos from some of the web's top style & fashion blogs and puts them on one site which saves you time and puts all your photo view interests in one location. Not sure if they have all the top fashion blogs, but they have several.
Closet Friend : This application allows the user to archive pictures of what they wore for specific events in history. Have you ever asked yourself, "What did I wear to that business meeting in June?" or "What tie did I wear to that last corporate lunch meeting?" Well, if you have asked questions similar to this, possible the closet friend can be a true friend to you.
Deal Spot : DealSpot lists several amazing deals around your location, refreshed often. Quality over quantity. They have indicated that the deals are handpicked from some of the hottest, most popular stores.
Distill – Photography : According to them, Distill Magazine is a digest of some of the best photography and design from the international style and fashion press.
Elle Shopping guide : with this fashion application, I hear that you are able to uncover some of the hottest places to find the latest fashions and top fashion trends with ELLE's new shopping guide. I do not currently have this fashion app, but plan to give it a try very soon. Learn more about Elle and other fashion magazines
FashEngage: Digitizing and styling your closet with the latest fashion trends has never been easier. If you ever stood at a closet full of clothes and found you have nothing to wear, FashEngage is your solution. The release of a revolutionary mobile app integrates three components to help women quickly and easily make fashion decisions. It is designed from the ground up to easily combine individual wardrobes with the latest trends coming off the hottest runways and top retailers.
The Fashion Handbook : Maybe the Fashion Handbook can help you learn more about fashion. After all, fashion is the style and custom prevalent at the given time. In its most common usage however, "fashion" describes the popular clothing style. Maybe this fashion app will help you learn more.
Glamour Ask a Stylist : This ask a stylist app is from Glamour
Inditex – Zara : See new arrivals every week. Also season photos, lookbook and collection.
myFendi : I do not currently have this app, but have heard that it provides, "An experience lying between fantasy and reality that gives space to creativity and stimulates desire". You be the judge.

MySizeFinder : that helps translate sizes between brands so women can find clothes quickly and easily without wasting time driving to clothing stores or malls and trying on clothes. The app also makes it easier for people to buy clothes online. The app is very easy to use. First, you list the measurements for each person you want to shop for or you can specify their size via a brand that's already in the system. Once entered, you'll automatically see the correct sizes in hundreds of brands within MySizeFinder. You can then look up the size for that person for any of the brands in the system. You can add an unlimited number of people.
Nordstrom, Inc., has launched a new iPad app to give customers a convenient and fun way to shop from Nordstrom using the device. The Nordstrom app is now available for free through the Apple iTunes store. The app was designed to offer a simple, fast and intuitive way to browse and buy merchandise on the iPad. The company plans to introduce additional features and functionality with subsequent updates to the app. A few of the unique features available with launch of the app include:
The Dressing Room: This feature offers customers an interactive way to create and save multiple looks by double-tapping or dragging items to the Dressing Room canvas. Customers can resize images, add or delete items, and view product details to create up to 75 unique looks. Items placed in the Dressing Room can then be instantly added to the customer's shopping bag.

Customizable Homepage: Customers can personalize their homepage by selecting which departments they would like to see on their home screen, including the ability to view items from their Dressing Room as well as Nordstrom catalogs.

Social Sharing: The Nordstrom iPad app makes it easy for customers to instantly share any of their favorite products via Facebook, Twitter, or email.
Sales Buddy : With Sales Buddy you can enjoy all the fun of the sales and keep track of how much you're spending. Are you ready to check out the sales?
Sartorialist : Browse the recent Sartorialist photos featured on the Sartorialists website from your iPhone.
Seventeen Fashion Finder : Seventeen Magazine's Fashion Finder.
ShopStyle : ready to shop. Check this ShopStyle app.
Social Mall : SocialMall puts local shopping & malls in the palm of your fashion hungry hands. Use this fashion app as a shopping companion. This apps has location awareness, you can browse for interesting articles and retailers.
Target : They want to know, "Can we help you find something?" The Target app gives you tools to simply and streamline your shopping experience at Target stores and Target.com.
Teen Vogue Haute Spot : Have you dreamed that you could view inside the closet of a Teen Vogue fashion editor? This fashion app appears to help grant you that wish. The Teen Vogue Haute Spot app is an all-access pass to the amazing clothes and accessories found in the pages of Teen Vogue magazine.

Teen Vogue Insider App: Teen Vogue, a leading source of fashion and beauty news for style-conscious teens and 20-somethings everywhere, announced in June 2012 the launch of the Teen Vogue Insider app for iPhone and iPod touch. From fashion and beauty tips to pop culture and lifestyle trends, readers now have the chance to connect with every print issue of Teen Vogue like never before. The Teen Vogue Insider app allows readers to scan both editorial and advertising pages in the magazine to unlock bonus content, access shopping guides and exclusive deals, and share via social media a variety of features. The more readers interact with the app, the more they're rewarded with the chance to win prizes from Teen Vogue
Trendstop TrendTracker : from this fashion app you will find trend reports, style industry news feeds, and fashion photo gallery's by trendstop.com's professional trend spotters, from fashion events and venues around the globe.
Victoria's Secret: OK, how can you go wrong with a Victoria Secret app. This is the destination for all things Victoria's Secret. Check out Victoria Secret intimate apparel anywhere, anytime, and on-the-go. You can have the lingerie catalog at your fingertips.
Mallzee is a personal shopping application that allows online shoppers with a smartphone to browse over 2 million products from over 100 fashion brands around the world. The mobile app was launched in September 2013 and uses a 'like' or 'dislike' swiping system
Stylect: There are millions of shoes in the world. Find the ones you love with Stylect! Download the Stylect App on iOS / Android today or visit the Stylect website.
Keep Shopping
Like to Know It
The Hunt
Polyvore
Shein Shopping
Obviously, Amazon, eBay and other retailing websites have options available for download.
Let us know your favorites and we can possible add them to this page.
Their are many more fashion app choices. However, we only wanted to list a few here as an example. If you enjoy fashion apps, for your iPhone or other Apple device, you can visit the Apple store.
By the way, I hear the Fashion Industry Network maybe developing some special fashion apps. You may want to check that fashion network on occasion to see if any new fashion apps are posted.
Hopefully this fashion term about fashion apps has helped you learn more then you knew before you read this term... If you now know less then you did previously, I apologize...
Return to the Apparel Search main page.
If you witness a fashion disaster, you may wish to call the fashion police.
This sort of thing is perfect for your mobile device.
Learn more about fashion apps which can be games.
Apparel Search Add Your Company Contact Us About Us Advertise News Letter Legal Help
Copyright © 1999-2023 Apparel Search Company. All Rights Reserved.