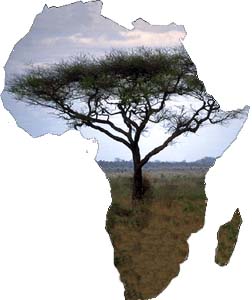 Africa Business Information: source of information on economies and business opportunities to promote trade and investment.
---

Africa Business Pages: information, news, reports, and analysis on the business scenario in Africa.
---

Africana by Nasia: Africana by Nasia is a manufacturer of authentic African textiles and handicrafts made in their factory located in Ghana, West Africa. Their talented artisan's skills and speciality in various artforms including years of training has been handed down from generations of foreparents. They specialize in unique custom designs and well as museum re-productions of the past. You may submit prototype request for samples, and upon approval, multiple orders delivered. No order is too small or too large. They assist their B2B and wholesale clients with freight forwarding and shipping to all parts of the world. Utilize the Africana by Nasia products, shipped factory direct to you. Contact Persons: Nasia Adisa, Owner or Mr. Gaylord S. Kemevor, Mngr. Address: Ghana, West Africa Phone: 011 233 21 233 245 Fax: 011 211 21 666 892 E-mail: ghanatrade@consultant.com Contact: Nasia Adisa, President
---

African Fashion Index: The African Fashion Index came about by personal necessity, as the developer of the site was preparing for a doctoral programme. They needed a comprehensive list of African Fashion Designers. They believed that their are some good resources out there but none truly Pan-African and unbiased. So they compiled bookmarks and began this site in August 2008. The end goal will be the first Pan-African fashion show.
---

AVONTUUR OSTRICH LEATHER CORPORATION: they are a South African company specializing in high quality, exclusive Ostrich leather handbags, wallets and purses. They export to the USA , EUROPE and FAR EAST. Address: 46 LINIATA STREET MOSSELBAY 6510 SOUTH AFRICA Phone: +27(044) 873 4498 or +27(044)274 1170 Fax: +27(044)873 4498 Email: Ihavontuur@yahoo.com Contact: IAN AVONTUUR - Manager
Wholesale Item # 1: Ostrich leather handbags
Wholesale Item # 2: Ostrich leather purses
Wholesale Item # 3: Ostrich leather wallets
---

Balmoral Textile Sales: established in 1960, they are agents and they sell on a commission basis. They sell textile: woven, knitted, dyed printed and yarn dyed in mixtures of 100% polyester and t/r with stretch. polyester/wool melton, polyester/ linen/ viscose etc etc. 100% cotton and also cotton stretch etc satins stretch satin and charmeus. They also sell knitted fabrics of tricot wide width for the underwear industry of 100% polyester novelty prints etc. Address: 43 - 14th Street Orange Grove, Johannesburg 2192 South Africa Phone: (2711) 4851502 or 27832530580 Fax: (2711)4851517 Email: skimpy@icon.co.za Contact: Simon Ross: CEO
---

Clothing Federation of South Africa
---

Cotton Made in Africa (CMiA) is an initiative of the Aid by Trade Foundation (AbTF) that helps people help themselves through trade, improving the social, economic and ecological living conditions of smallholder cotton farmers and their families in Sub-Saharan Africa. Through training programs, Cotton made in Africa teaches the cotton farmers about modern, efficient, and environmentally friendly cultivation methods that help them improve the quality of their cotton, yield higher crops, and thus earn a better income.
---

Embassy of South Africa
---

Promo Trades & Services: The promo Trades and Services is a marketing and services company specialised in the distribution and sales of used and departmental store return items and they are currently seeking overseas exporters interested in a business relationship with them to enhance the sales of their ranges of products in the Gabonese market. Address: Mont Bouet Market Libreville Gabon Phone: 241.28.61.18 Fax: 241.28.61.18 Email: promotra@yahoo.fr Contact: K.C. Jude
---

Gashu Temesgen souvenir Products sales & Manufacturer: they are an importer of of acrylic yarn, Sewing thread, Caustic soda Transparent Plastic Sheet. They import these goods to Ethiopia to satisfy the Ethiopian Market.Address: Merkato Addis Ababa Ethiopia Phone: 00251-1-757953 Fax: 00251-1-754522 Email: gashutem@telecom.net.et Contact: Milka Abay, AA
---

Global Coalition for Africa: coalition of devoted to the acceleration of economic growth in Africa. Site in English and French.
---

Hooligans Kids Clothing: Durable clothing for little hooligans in cute animal rainbow prints. Unique styles. Export opportunities to Germany and UK. Agent in the USA- US Global Alliance. Address: 39 Station Rd , Chamonic center Stamfordhill, Durban, South Africa 4001 Phone: 27-31-3124584 or 27-82-9280105 Fax: 27-31-3124584 Email: hooliganskids@yahoo.com Contact Name: Adri Jeffers (Mrs)
Manufacturer Item # 1: Infant wear
Manufacturer Item # 2: Toddler clothing
---

iFashion: South African Fashion Industry web site.
---

kadef araga nig ltd: they are importer and distributor for all kinds of fashion garments, ladies wears, children wears, mens wears. Address: 25 idushsgbe street,. idumota lagos state lagos island 2341 nigeria Phone: 23412641167 Fax: 234 1 2641166 Email: araga_2000@yahoo.com Contact: alhaji araga
Gender: Men's and Women's
Wholesale Item # 1: polo shirts
Wholesale Item # 2: ladies underwears
Wholesale Item # 3: children wears
Wholesale Item # 4: jeans wears
Wholesale Item # 5: casual dresses
Wholesale Item # 6: tops
Wholesale Item # 7: trousers
---

The Mannequin Works: South African based manufacturer of display equipment ranging from mannequins, torsos, busts, brief forms, lingerie and swimwear forms, flexible children's mannequins, display cabinets, display shelving units, display tables. They can custom make products to suit your specific requirements. Address: Value Park, Liverpool Rd, Benoni Johannesburg 2128 South Africa Phone: +2711-4217614 Fax: +2711-4226456 Email: manequin@icon.co.za Contact: Juliet Prinsloo
Manufacturer Item # 1: Mannequins
Manufacturer Item # 2: Torsos
Manufacturer Item # 3: Busts
Manufacturer Item # 4: Lingerie Forms
Manufacturer Item # 5: Display Cabinets
Manufacturer Item # 6: Display Shelving
Manufacturer Item # 7: Flexible Childrens Mannequins
---

MBendi Information Services: Africa's electronic encyclopedia of business and commercial information. Includes company profiles, stock exchange info, and more.
---

New South Africa Garment Manufacturers: Established in 1955 they are the second largest apparel manufacturer in South Africa. With a 5000 person workforce, they focus on the manufacturing and exporting of "branded upmarket" apparel of Men's / Ladies Formal trousers / slacks plus cotton twill chino pants.E xporter to US retailers and UK High Street retailers. Positioned to benefit from Africa Growth & Opportunity Act recently passed. Address: 607 Sydney Road Durban 4000 South Africa Phone: 27-31-2055254 or 27-31-3008911 Fax: 27-31-3055873 Email: Faisal@kingsgate.co.za Contact: Mr Faisal Vahed - Marketing Executive
Gender: Men's and Women's
Manufacturer Item # 1: Mens Double Pleat Wool Trousers
Manufacturer Item # 2: Ladies Bootleg & Capri Trousers
Manufacturer Item # 3: Mens Basic Styled Chinos
Manufacturer Item # 4: Mens Novelty Styled Chinos ie.Cargos & Carpenter
---

Organization of African Unity (OAU): promotes the unity and solidarity of the African States; defends the sovereignty of members; and works for human rights, and to eradicate poverty and the vestiges of colonialism.
---

QUO VADIS GLOBAL: Address: 12 RUE DITALIE,B.P 1210 LOME 3399 TOGO Phone: 00228-9102089 or 00228-102089 Fax: 00228-226-5033 Email: agubaz@yahoo.com Contact: Kennedy - director
Wholesale Item # 1: ladies embroidery garments
Wholesale Item # 2: T-shirts
Wholesale Item # 3: base ball caps
Wholesale Item # 4: sun eye glasses
Wholesale Item # 5: fabrics-sequin,silk
Wholesale Item # 6: track suits
Wholesale Item # 7: shoes
---

Stanzed Trading: they are agents for the manufactures in the Southern Africa region including Madagascar. All countries fall under the AGOA agreement & are duty & quota free. Countries have different preferences allowing the imports of all fabrics etc into that country for manufacturing purposes & then export duty & quota free, other countries must manufacture local made fabrics only. Their primary category is ladies corporate wear & Jeans however they have facility to manufacture most garments.
Address: 54 Sunny Road,Glenhazel Johannesburg 2192 South Africa Phone: 2711 786 0081 or 27820466 8988 Fax: 2711 786 3237 Email: colin@stanzed.com
---

Storm River Clothing Company: Storm River Clothing Southern African Manufacturer with main office in Miami. Additional Offices in the Orient, Australia and South Africa. They have over 3200 employees and their factories are certified free of child and prison labor. They produce items for corporate wear programs, as well as custom manufacturing. In their warehouse in Miami they inventory blank apparel for the embroidery and ASI markets. Manufactured items: Corporate uniforms, school uniforms, pique polos, twill items, polar fleece, jersey knit, featherlite twill. Address: 9113 NW 105th Way, Medley, 33178. Phone (305) 882 7070 fax (305) 882 7033. Email Malcolm@stormriverclothing.com . Contact: Malcolm Stead
Manufacturer Item # 1: Uniforms Corporate
Manufacturer Item # 2:

School Uniforms

Manufacturer Item # 3: Pique Polos
Manufacturer Item # 4: Twill Bottoms
Manufacturer Item # 5: Flannel Shirts
Manufacturer Item # 6: Polar Fleece
---

Table Bay Spinners (Africa) established in 1954, is South Africa's most versatile yarn spinner of synthetic fibres. Their state-of-the-art machinery produces rotor spun yarns from Cotton, Polyester, Viscose, Acrylic, Bambo and Linen fibre using best quality raw materials. In addition they offer yarn dyeing and twisting facilities and a wide variety of stock yarns catering to the local textile industry. With a versatile yarn production spectrum and complete service range they are a reliable and competent partner for one-stop-purchasing. Table Bay Spinners is committed to setting standards in local yarn production. In doing so they strive to provide world class excellence in service, supply and and quality.
yarn Manufacturer

Bamboo yarn Manufacturer
---

Trite Apparel Exporters Ltd (Kenya): they are contract manufacturers for the stated goods below. They have 15,680 Sq feet of space in the factory. They have stitching facilities with a working population of 150 staff. They usually deal with cut fabric. Address: Limuru road Kenya, Nairobi Kenya Phone: 254-733-750260 or 254-154-50825 Fax: 254-154-40124 Email: apparelke@yahoo.com Contact: Edward Kuria C.E.O (managing)
Manufacturer Item # 1: Shirts
Manufacturer Item # 2: Blouses
Manufacturer Item # 3: T-shirts
Manufacturer Item # 4: Underwear
Manufacturer Item # 5: handkerchiefs
Manufacturer Item # 6: trousers
Manufacturer Item # 7: scarfs
---

Uganda Brassiers Manufacturers Ltd.: they produce men's and women's under wears, boxer shorts, brassiers which are 100% cotton. They also supply in bulk shipment to their clients. Their containers vary from 20ft and 40ft, depending on clients' specifications. Theyare under AGOA scheme expecting to export to U.S.A Address: Lugogo Show Grounds, Box 2002 Kampala 256 Uganda Phone: 256 41 254164 or 256 77 412228 Fax: 256 41 234953 Email: ubm1990@yahoo.com Contact: Kyeyune Muhammed, Managing Director
Gender: Men's and Women's
Manufacturer Item # 1: Under wear
Manufacturer Item # 2: Boxer shorts
Manufacturer Item # 3: Brassiers
---

U.S. Trade and Development Policy for Africa
---

United Nations Development Program (UNDP)
---
Possible links of interest:
Africa and Middle East | BBC World Service
Do you want to read Apparel Search in Swahili or Afrikaans. You can learn about translating Apparel Search into various languages.

We understand that Africa is an entire CONTINENT... However, at the current time, we are listing all of the COUNTRIES in Africa in one section... In the future we will separate by country. Check the Map of Africa.