Howdy Cowboy...
Stetson embodies the authentic, resourceful, and diverse American spirit. This company and brand is rich in history. They have been in business for over 150 years.
Founded in 1865, Stetson was born from the spirit of the West and grew to become an American icon. John B. Stetson's friendly gesture towards a wayward traveler on the new frontier gave birth to what is now known, the world over, as the "cowboy hat"
What is a cowboy hat? A cowboy hat is a high-crowned, wide-brimmed hat best known as the defining piece of attire for the North American cowboy. Influenced by 19th century Mexican culture, today it is worn by many people, and is particularly associated with ranch workers in the western and southern United States, western Canada and northern Mexico, with country-western singers and ranchero singers in Mexico, and for participants in the North American rodeo circuit. It is recognized around the world as part of Old West lore. The shape of a cowboy hat's crown and brim are often modified by the wearer for fashion and to protect against weather.
Today's cowboy hat has remained basically unchanged in construction and design since the first one was created in 1865 by J.B. Stetson.
In addition to hats this long admired brand sells denim, shirts, boots, and more.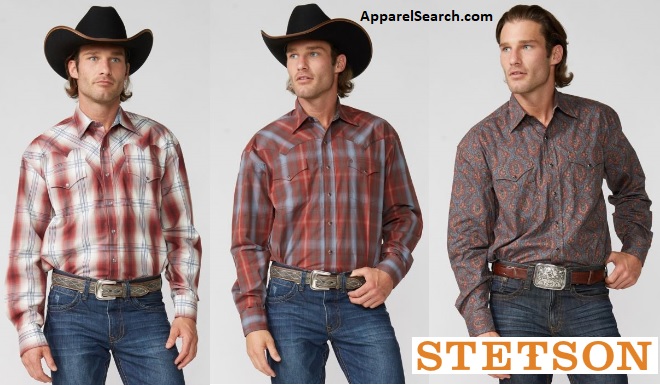 Learn more about Steston at their website.
Learn more about Stetson in the fashion company section.
If you have changed your mind and do not wish to research the brand Stetson, you can use the search engine on this page to find another clothing label that may be of more interest.
Research additional men's fashion brands from the following pages of our directory.
Have you seen our Fashion Designer Directory section.
Apparel Search is a leading guide to fashion, style, clothing, glam and all things relevant to apparel. We hope that you find this Stetson page to be helpful.
The westernwear clothes that you are wearing today is most certainly in style.

Stetson