In this section of our clothing retail directory you will find men's clothing stores.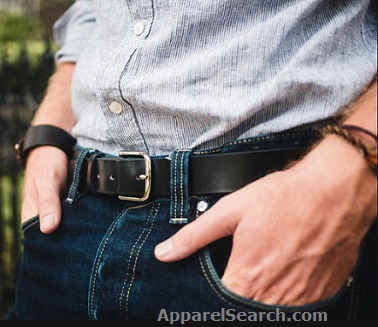 Below are a few of the menswear fashion categories of possible interest.
Men's Clothing Store Directory

Abercrombie & Fitch Abercrombie & Fitch Co. is a leading specialty retailer encompassing four concepts - Abercrombie & Fitch, abercrombie, Hollister Co., and RUEHL. The merchandise is sold in retail stores throughout the United States and through catalogs. The Company also operates e-commerce websites at www.abercrombie.com, Hollister .

---

Aéropostale: Aéropostale, Inc. is a mall-based, specialty retailer of casual apparel and accessories, principally targeting 14 to 17 year-old young women and men through its Aéropostale® stores and 7 to 12 year-old kids through its P.S. from Aéropostale™ stores. The Company provides customers with a focused selection of high-quality, active-oriented, fashion and fashion basic merchandise at compelling values. Aéropostale® maintains control over its proprietary brands by designing, sourcing, marketing and selling all of its own merchandise. Aéropostale® products can only be purchased in its Aéropostale stores and online at www.Aéropostale.com. P.S. from Aéropostale™ products can be purchased in P.S. from Aéropostale™ stores and online at www.ps4u.com. The Company currently operates 885 Aéropostale stores in 49 states and Puerto Rico, 36 Aéropostale stores in Canada and 2 P.S. from Aéropostale stores in 1 state.
Learn more about Aéropostale here on Apparel Search.
Learn more about P.S from Aéropostale here on Apparel Search.
---

American Eagle Outfitters American Eagle Outfitters is a leading retailer that designs, markets and sells its own brand of laidback, current clothing for 15 to 25 year-olds, providing high-quality merchandise at affordable prices. AE's original collection includes standards like jeans and graphic T's as well as essentials like accessories, outerwear, footwear, basics and swimwear. American Eagle Outfitters currently operates 797 AE stores in 50 states, the District of Columbia and Puerto Rico, and 71 AE stores in Canada. AE also operates via its Web business, www.ae.com, which offers additional sizes and styles of favorite AE merchandise. The company plans to open MARTIN + OSA, a new sportswear concept targeting 25 to 40 year old women and men, in the fall of 2006.
---

Armani Exchange A|X Philosophy 101 - The Voice of Urban Youth A|X Armani Exchange makes statements, in more ways than one. It's the voice of urban youth, a fashion conscience, an incubator for Giorgio Armani's new ideas and the street barometer of his fashion directions. Armani Exchange is a translation of Mr. Armani's pure sense of design to an innovative, interchangeable mix of edgy separates for men and women. A|X doesn't just capture a new generation, it creates one.

---

Banana Republic It was the summer of 1969: Man took his first walk on the moon. Nearly 450,000 people gathered in upstate New York to witness the historic Woodstock concert. And Doris and Don Fisher opened the first Gap store in San Francisco. Today, Gap Inc. is one of the world's largest specialty retailers, with more than 3,000 stores and fiscal 2004 revenues of $16.3 billion. They operate four of the most recognized apparel brands in the world Gap, Banana Republic, Old Navy and Forth & Towne. Every day, they look for new ways to connect with customers around the world, provide value to their shareholders and make a positive contribution in the communities where they do business.

---

Big Dogs Sportswear Big Dog Sportswear produces high quality, reasonably priced activewear and accessories for men, women, and children of all ages. The Santa Barbara-based company's collection of lifestyle apparel and accessories reflects the activities and sports popular throughout California and the West. Created from the recipe Quality Value Fun, Big Dogs' unique products can be found in company-owned retail stores, online or purchased through their mail order catalog. They pride themselves on creating graphics that poke fun at famous people, events and topics.

---

Bills Khakis The inherent character of a hard to find pair of old style khakis makes Bills as much fun to market as they are to own. But it's why they make Bills the way they do that makes them even more unique. Bills are made better just for the sake of it... purely for the satisfaction of making a great product. It's an approach to business not found much anymore and the true source of their product's integrity. The story of how it started, "after some research and shoe leather, I produced 250 pair. About this same time, a job in advertising took me to Chicago where I continued to sell khakis 'out of the back of my car.' It was while in Chicago that I realized that not only was there a real need for a company that made great khakis, but there was also a desperate need for a brand that captured the essence of the product. After a lot of thought, the idea of creating a company that would be a last bastion of the American ideal took on a life of its own. So I decided that it would be totally rational to quit my job, leave all my friends, move back to PA, live at home for a while, take a few part time jobs and basically give up everything in order to start this company for real."

---

Blair Corporation: BLAIR Corporation was founded in 1910 by John L. Blair, Sr. The company sells fashion apparel for men and women, plus a broad range of home products, primarily by mail. Its facilities are located mainly in the Warren, Pennsylvania area where all functions of advertising preparation, mailing, order handling and shipping are performed. The firm serves customers located in all 50 states.
Warren, PA Phone: (814) 723-3600

---

Bob's Stores At Bob's Stores, they are all about making your life easier. You've heard that song and dance from a million other stores, a million times before. But they offer what others simply do not. Great value on the brands of casualwear, activewear and footwear you want, all in one place, under one roof.

---

Brooks Brothers: For nearly two centuries, Brooks Brothers has set the standard for modern American style. Since opening its doors in 1818, Brooks Brothers has become a national icon revered for the correctness, quality, and classic elegance of its merchandise and services. While fashions come and go, Brooks Brothers has demonstrated that the desire for quality and good taste remains constant. Brooks Brothers has ultimately come to define, classic, quintessential American style. Owned by Marks & Spencer
---

The Buckle The Buckle, Inc. is a leading retailer of medium- to better-priced casual apparel, footwear and accessories for fashion-conscious young men and women. The Company currently operates over 300 stores in 38 states, under the names Buckle and The Buckle. Buckle markets a wide selection of brand names and private label casual apparel, including denims, other casual bottoms, tops, sportswear, outerwear, accessories and footwear. The Company emphasizes personalized attention to its guests (customers) and provides individual customer services such as free alterations, free gift-wrapping, layaways and a frequent shopper program. In addition to the retail locations, the Buckle Screenprinting is a full-service solution offering a broad selection of promotional merchandise to outside athletic teams, organizations, clubs and individuals.

---

Bugatchi Established in 1981, Bugatchi is a designer lifestyle brand tailored to a confident, modern and successful man with a passion adventure. Bugatchi embraces contemporary design, incorporating brilliant color, quality materials and exceptional craftsmanship.
---

Captain's Landing (Florida): Since 1995, Captain's Landing luxury menswear has been offering only the finest men's resort fashions found under one roof anywhere. They currently offer an eclectic collection of smart and comfortable men's apparel and accessories featuring tailored resort and beach wear by exclusive brands such as Tori Richard, Kahala, Bamboo Cay, Southern Tide, Hook and Tackle, Brighton Belts and much more. Captain's Landing first opened its doors in the fall of 1995 in Punta Gorda, Florida.
---

Century 21 Department Stores: Established over 40 years ago, Century 21 Department Stores has established an impeccable reputation for fine quality merchandise at excellent prices, coupled with superior customer service.
---

Chanel: learn about Chanel from our definitions section.
---

Club Monaco : Club Monaco is an evolution of its heritage: a modern, urban-minded brand with an element of ease and a spark of entrepreneurship from its Canadian roots. Club Monaco was founded in 1985 in Toronto with the idea of creating a line of "better basics." Through the '90s, the brand continued to grow, moved to New York City, and caught the attention of iconic American designer Ralph Lauren as a unique voice in the industry—so much so that he acquired Club Monaco in 1999.

---

Coach handcrafted a collection of leather goods using skills handed down from generation to generation. Discerning consumers soon began to seek out the quality and unique nature of Coach craftsmanship. Now greatly expanded, Coach continues to maintain the highest standards for materials and workmanship. Coach's exceptional work force remains committed to carefully upholding the principles of quality and integrity that define the company. They attribute the prominence of the Coach brand to the unique combination of our original American attitude and design, their heritage of fine leather goods and custom fabrics, their superior product quality and durability and their commitment to customer service.

---

Dave's Army & Navy Store: Family owned and operated for over 40 years, Dave's New York features branded "Americana" rugged and casual clothing. Interactive American icon brands such as Levi's, Carhartt, Red Wing, Dickies, Schott, Alpha, Woolrich, Columbia, and Chippewa are offered in a wide selection of models at very favorable pricing. Address: 581 Avenue of the Americas, New York 10001 Phone: (212) 989-6444 Fax: (212) 627-5244 E-mail: info@davesnewyork.com
Men's Clothing Store

New York Clothing Store
---

Dockers Levi Strauss & Co. (LS&CO.) manufactures and markets branded jeans and casual sportswear under the Levi's, Dockers and Levi Strauss Signature brands. You can visit www.levistrauss.com for more information.
---

DXL : DXL Men's Apparel proudly offers the clothes you want that you just can't find elsewhere – menswear designed for your build and your proportions. While other stores end at size XL, that's where we begin. Thanks to DXL's one-stop shop with thousands of clothing options, you'll always put your best foot forward.
---

Eddie Bauer: Eddie Bauer is a premium outdoor-inspired casual wear brand offering distinctive clothing, accessories and home furnishings for men and women that reflect a modern interpretation of the company's unique outdoor heritage. Eddie Bauer offers premium merchandise through its two retailing concepts: Eddie Bauer and Eddie Bauer Home. In its 83-year history, Eddie Bauer has evolved from a single store in Seattle to a tri-channel, international company with more than 300 stores, 100 million catalogs and online Web sites: www.eddiebauer.com, www.eddiebauerhome.com and www.eddiebaueroutlet.com. Eddie Bauer operates stores in the U.S. and Canada, and through joint venture partnerships in Germany and Japan.
---

Eskimo Joe's Eskimo Joe's was the brainchild of Steve File, a pal of Stan Clark since the two were in fifth grade. One fateful Sunday afternoon in May, 1975, Steve proclaimed, "Hey, I'm gonna open a bar!" Stan said, "I know where there's a two-story building for rent. I'll go in partners with you!" Within minutes, these two wild and crazy guys had agreed to rent the building at 501 W. Elm. Steve came up with the name Eskimo Joe's, and Bill Thompson, a freshman commercial art student, drew the famous logo with a magic marker. "I loved it the second I saw it!" Stan says. And so, Eskimo Joe and Buffy were born. Now they sell shirts, hats etc ...
---

Esprit: Shop at Esprit for men's clothes that will give you casual, cool style. Add an ultra-modern kick to your going-out or office style with our new men's clothing collection, hot off the runways. Check out their men's clothes for instant head-to-toe cool with the latest jackets, graphic tees, jeans, dress pants, dress shirts and more. Find bold colors, sleek prints and fits that flatter any build. They have made it easy to find all the latest styles in one place.
---

French Connection their aim is to retail and wholesale high fashion, quality products at affordable prices and to provide exemplary service for their customers from loyal and knowledgeable staff. They design, produce and distribute branded fashion clothing for men and women to more than 30 countries around the world from their offices in London, New York, Hong Kong and Toronto. They operate under four principal brands, the most significant of which is French Connection accounting for around 85% of global turnover. Their other brands include the well-known designer label, Nicole Farhi, a mail-order based ladies fashion range, TOAST, and a fashion basics range, Great Plains. Although the brands target different audiences they each generate high levels of respect in their chosen markets reflecting the passion and skill poured into the design and manufacture of the products. French Connection operates at the upper end of the middle market offering a fashion-forward range of quality products at affordable prices. Their customers, typically aged 18-35, appreciate that the brand is at the leading edge of high street fashion and offers quality, stylish products. They design ranges of both men's and women's products from underwear to outerwear, casual wear to suits, denim, accessories and kidswear. Their design teams are based in London and they have the products manufactured in specialist facilities in Europe and Asia. The finished articles are available on high streets and in shopping malls through our network of branded retail stores in the UK, Europe and North America. Department stores and multi-brand fashion stores also carry our ranges, bought through their wholesale operations based in London, New York, Milan and Hong Kong.

---

Fur Feather and Fin (UK): Fur Feather and Fin Ltd, Shooting Accessories with luxury leather gunslips, shooting cartridge bags, cartridge belts, shooting hunting and fishing gifts and men's gifts as well as Country Clothing and Home Gifts with a sporting theme rugby cricket riding racing and golf. Address: Charlton Barns, Charlton, Chichester, West Sussex, PO18 OHX +44 (0)1243 811 844 http://www.furfeatherandfin.com
Men's Clothing Retailer
Women's Clothing Retailer
United Kingdom Clothing Retailer
---

Gant Originating from the traditions and lifestyles of America's East Coast, they have developed a true Lifestyle brand. And a lean, specialized organization to manage it. Gant is now established in 67 countries around the world. In 2004, Gant Brand Sales amounted to MSEK 4,300. Their business concept is to build profitability and brand equity through efficient brand management and a low-risk wholesale and retail marketing concept. The basic focus is branded premium apparel of high quality. The Gant brand is extended into other relevant product categories by licensing in order to support profitability and brand equity.

---

Gap It was the summer of 1969: Man took his first walk on the moon. Nearly 450,000 people gathered in upstate New York to witness the historic Woodstock concert. And Doris and Don Fisher opened the first Gap store in San Francisco. Today, Gap Inc. is one of the world's largest specialty retailers, with more than 3,000 stores and fiscal 2004 revenues of $16.3 billion. They operate four of the most recognized apparel brands in the world Gap, Banana Republic, Old Navy and Forth & Towne. Every day, they look for new ways to connect with customers around the world, provide value to their shareholders and make a positive contribution in the communities where they do business.
---

G.H. Bass owned by PVH Worldwide. Bass is a leading provider of casual and dress footwear for men, women and children. In 2004, PVH exited the wholesale footwear business by licensing the Bass brand to Brown Shoe company for wholesale distribution on a worldwide basis. Brown Shoe Company, a leader in footwear marketing, is a company that has both the size and expertise to grow the Bass and G.H Bass & Co. business.
---

Gianfranco Ferre Italian fashion designer label.

---

Gucci you can learn additional information about Gucci from our fashion brand definition section.
---

Guess? The Marciano brothers were raised in the south of France, a region that cultivated a passionate understanding of French design and the essence of style. Combining a love of the American West with a European sensibility they created GUESS?, Inc. Today, GUESS? is one of the most widely recognized brands in the world. Known for quality, trendsetting style, and marketing creativity, the Company designs and markets a leading lifestyle collection of casual apparel and accessories for women, men, children, and babies.

Next Men's Retail Clothing Stores
If you have not found the men's fashion category you are searching for, do not forget to view the fashion accessory section for additional selections. In that section you will find items such as belts, cummerbunds, wallets, neck ties etc.
You may have interest in checking out the men's fashion news section and the men's fashion brands guide section. As a matter of fact, while you are doing your men's clothing store research, we suggest you try the men's clothes area.
Apparel Search continues to add to our international fashion database on a regular basis. If you find clothing stores that are not yet in our retail directory, please ask store management to fill out our Add Your Company form. It is our pleasure to add any store that sells clothes or fashion accessories.
Learn more about men's apparel, men's shoes, men's clothes, men's fashion brands, and men's fashion.
If you can not find enough clothing stores in this section, you can return to our clothing store main page for more options.
We assume you know what a shirt and pant are, but if you went to learn more about men's fashion you are welcome to research various apparel categories in our Men's Clothes Directory. Below are a few examples of what you can find in that section of our fashion guide.
Men's T-shirts and more.
Want to learn more about men's fashion, you may want to read Men's Fashion News.
Try shopping for men's clothing.
If you work for a fashion retailer and need to find clothes for your department store or boutique, you may want to research the Men's Clothing Trade Shows to find suppliers.

Men's Clothing Store Directory provided by Apparel Search Company.
Return to the top of this Men's Clothing Retailers page.
If you own or manage a men's clothing retail store, please let us know the details about your clothing store. It will be our pleasure to add your store to our retail clothing store directory.
Thank you for using the Apparel Search website.