Men's Suits Guide
Directory and Information Regarding Men's Suits presented by Apparel Search
Men's Tailored Clothing Men's Designer Suits Cashmere Suits Vintage Suits for Men Men's Suit Stores Men's Suit fabric Men's Suit Retail Stores Big & Tall Suits Men's Sport Coats Men's Blazers Men's Dress Pants Men's Dress Shirts Men's Ties Men's Clothes
Welcome to the worlds greatest guide to Men's Suits. Are you actually looking for men's suits? Well, we hope you are because the reality is that you have found our men's suit page. In this area of the Apparel Search directory, you will find all sorts of interesting information regarding suits for men.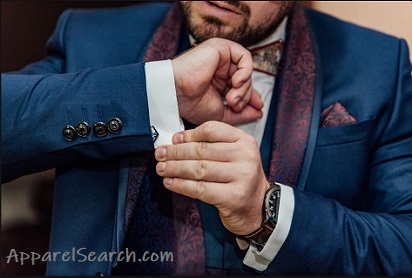 A suit is a set of garments made from the same cloth, usually consisting of at least a jacket and trouser. Again, the top and bottom is made of the "same" cloth. Meaning that the jacket and pant match in color & pattern. The main four colors for suits worn in business are black, light grey, dark grey, and navy, either with or without patterns. Traditional business suits are generally in solid colors or with pin stripes or windowpane checks. In modern times the range of styles that are accepted in the workplace as well as outside the business environment has greatly expanded. The range of acceptable patterns widens, with plaids such as the traditional glen plaid and herringbone.
Men's suits are primarily sold with four different methods:
bespoke, in which the garment is custom-made by a tailor from a pattern created entirely from the customer's measurements, giving the best fit and free choice of fabric.
made to measure, in which a pre-made pattern is modified to fit the customer, and a limited selection of options and fabrics is available.
ready-to-wear or off-the-rack or off-the-peg, which is sold ready to be tailored or finally as is.
suit separates where jacket and trousers are sold separately (but of same fabric), allowing a customer to choose the size that is best for them and limit the amount of alterations needed.
Other types of suit still worn today are the dinner suit, part of black tie, which arose as a lounging alternative to dress coats in much the same way as the day lounge suit came to replace frock coats and morning coats; and, rarely worn today, the morning suit.
A mans suit is typically considered appropriate business attire for many white collar jobs.
A tailor is a person who makes, repairs, or alters clothing professionally, especially suits and men's clothing. Although the term dates to the thirteenth century, tailor took on its modern sense in the late eighteenth century, and now refers to makers of men's suits, coats, trousers, and similar garments, usually of wool, linen, or silk (tailors can also make clothing for women and children as well). The term refers to a set of specific hand and machine sewing and pressing techniques that are unique to the construction of traditional jackets. Retailers of tailored suits often take their services internationally, traveling to various cities, allowing the client to be measured locally.
Traditional tailoring is called "bespoke tailoring" in the United Kingdom, where the heart of the trade is London's Savile Row tailoring, and "custom tailoring" in the United States and Hong Kong. This is unlike made to measure which uses pre-existing patterns. A bespoke garment or suit is completely original and unique to each customer.
The variations in design, cut, and cloth, such as two- and three- piece, or single- and double- breasted, determine the social and work suitability of the garment. Often, suits are worn, as is traditional, with a collared shirt and necktie.
What is the cut of a suit? The silhouette of a suit is its outline. Tailored balance created from a canvas fitting allows a balanced silhouette so a jacket need not be buttoned and a garment is not too tight or too loose. A proper garment is shaped from the neck to the chest and shoulders to drape without wrinkles from tension. Shape is the essential part of tailoring that often takes hand work from the start.
The two main cuts of a suit are as follows:
1) double-breasted suits, a conservative design with two columns of buttons, spanned by a large overlap of the left and right sides.
2) single-breasted suits, in which the sides overlap very slightly, with a single column of buttons.
What are common suiting fabrics? Suits are made in a variety of fabrics, but most commonly from wool. The two main yarns produce worsteds (where the fibres are combed before spinning to produce a smooth, hard wearing cloth) and woolens (where they are not, thus remaining comparatively fluffy in texture). These can be woven in a number of ways producing flannel, tweed, gabardine, and fresco among others. These fabrics all have different weights and feel, and some fabrics have an S (or Super S) number describing the fineness of the fibers measured by average fiber diameter, e.g., Super 120; however, the finer the fabric, the more delicate and thus less likely to be long-wearing)
When selecting a suit the consumer should review the fabric, buttons, lapels, sleeves, vents, trousers and all aspects of the jacket.
Most single-breasted suits have two or three buttons, and one or four buttons are unusual (except that dinner jackets ("black tie") often have only one button).
Double-breasted jackets have only half their outer buttons functional, as the second row is for display only, forcing them to come in pairs.
The jacket's lapels can be notched (also called "stepped"), peaked ("pointed"), shawl, or "trick" (Mandarin and other unconventional styles). Each lapel style carries different connotations, and is worn with different cuts of suit. Notched lapels are only found on single-breasted jackets and are the most informal style. Double-breasted jackets usually have peaked lapels. Shawl lapels are a style derived from the Victorian informal evening wear, and as such are not normally seen on suit jackets except for dinner suits. For black tie events, only jackets with pointed and shawl lapels should be worn.
What's with all those pockets?
Most jackets have a variety of inner pockets, and two main outer pockets, which are generally either patch pockets, flap pockets, or jetted ("besom") pockets.[26] The patch pocket is, with its single extra piece of cloth sewn directly onto the front of the jacket, a sporting option, sometimes seen on summer linen suits, or other informal styles. The flap pocket is standard for side pockets, and has an extra lined flap of matching fabric covering the top of the pocket. A jetted pocket is most formal, with a small strip of fabric taping the top and bottom of the slit for the pocket. This style is most often on seen on formalwear, such as a dinner jacket. A breast pocket is usually found at the left side, where a pocket square or handkerchief can be displayed. In addition to the standard two outer pockets and breast pocket, some suits have a fourth, the ticket pocket, usually located just above the right pocket and roughly half as wide.
Why don't we button our sleeves?
Suit jackets in all styles typically have three or four buttons on each cuff, which are often purely decorative (the sleeve is usually sewn closed and cannot be unbuttoned to open). Although the sleeve buttons usually cannot be undone, the stitching is such that it appears they could. Functional cuff buttons may be found on high-end or bespoke suits.
To vent or not to vent; where should the vent be placed?
A vent is a slit in the bottom rear (the "tail") of the jacket. Originally, vents were a sporting option, designed to make riding easier, so are traditional on hacking jackets, formal coats such as a morning coat, and, for practicality, overcoats. Today there are three styles of venting: the single-vented style (with one vent at the center); the ventless style; and the double-vented style (one vent on each side). Vents are convenient, particularly when using a pocket or sitting down, to improve the hang of the jacket, so are now used on most jackets. Ventless jackets are associated with Italian tailoring, while the double-vented style is typically British. (This is not the case with all types of jackets. For instance, dinner jackets traditionally take no vents.)
Trouser Pleats verse No Pleats
One variation in the design of trousers is the use or not of pleats. The most classic style of trouser is to have two pleats, usually forward, since this gives more comfort sitting and better hang standing. You may want to read the Men's Pleat Trend blog post on our fashion blog.
Apparel Search is a leading guide to fashion, style, clothing, glam and all things relevant to apparel. We hope that you find this Men's Suits page to be helpful.
What ever you are wearing, is in fashion.
It is always a fabulous day to learn more about men's fashion.
Men's Clothing Directory:
Thank you for taking the time to learn more about business attire clothing for men on Apparel Search.
Apparel Search Add Your Company Add Your Company Contact Us About Us Advertise News Letter Legal Help
Copyright © 1999-2021 Apparel Search Company. All Rights Reserved.