A suit is typically defined as a set of outer clothes made of the same fabric and designed to be worn together, typically consisting of a jacket and trousers.
Tailored Clothing Guide
---

The Ambassdor Shop: Providing suits, shirts, slacks, blazers, ties, shoes and other men's apparel.
---

American Male and Company: Apparel for men; suits, sportswear, formalwear, and accessories.
---

The Andover Shop: Traditional and conservative clothing and accessories. Featuring woolen, silk, cashmere and cotton shirts, trousers, jackets and ties.
---

Arthur Burton Menswear: Selection of men's apparel and accessories.
---

Baron Boutique: Custom tailored men's suits.
---

Barry Manufacturing: Hand tailored suits and tuxedos wool and wool blends.
---

Bavender: Custom, made-to-measure shirts, suits, and menswear.
---

Ben Douglas Clothing Co. : Ben Douglas Clothing Co. is a full service custom clothier conveniently located in downtown Summit, NJ. Their custom offering includes shirts, suits, sport coats, trousers, overcoats, and vests. Hosting a broad range of the finest fabrics from top English and European Mills, all of their garments are hand-tailored in the U.S.A. to your specific measurements. They pride themselves in offering dedicated personal service to address all of your wardrobe needs. From fabric options, to fit and finish details - they are happy to share expert guidance and advice to ensure that your custom garment meets your preferences. Address: 334 Springfield Ave., Summit, NJ 07901 Phone: (908) 452-6476 Email: info@bendouglas.us Contact Name: Thomas Nascone
New Jersey Clothing Retailer
Custom Clothing Retail
Men's Suit Retailer
---

Bespoke Tailors: Ready to wear suit specialists with menswear from Zegna, Cerruti, Ungaro and Abboud.
---

Blackman Custom Tailor (Korea): Custom tailor based in Korea.
---

Brooks Brothers
: Suits, sports jackets, shirts, ties, formal wear, underwear, and pajamas.
For nearly two centuries, Brooks Brothers has set the standard for modern American style. Since opening its doors in 1818, Brooks Brothers has become a national icon revered for the correctness, quality, and classic elegance of its merchandise and services. While fashions come and go, Brooks Brothers has demonstrated that the desire for quality and good taste remains constant. Brooks Brothers has ultimately come to define, classic, quintessential American style. Owned by
Marks & Spencer
Edison, NJ Phone # 1- (800) 274-1815 International 1-(732) 225-4870
---

Christopher Grace Haberdashers: they deal strictly in the finest men suits in the world. They buy direct from Italy. Address: 2112 Lyle drive Memphis, Tennessee 38116 USA Phone: 901-359-3355 or 901-398-3917 Fax: 901-398-3388 Email: ctgrace2000@yahoo.com Contact: Christopher Grace - CEO
Gender: Men's
Store Type: Brick & Mortar
Retail Category: Specialty / Suits

Clark's Register: Sells shirts, pants, shorts, jackets, footwear, underwear and accessories.
---

Con Murphys Menswear Cork (Ireland): Con Murphy began trading in his Patrick Street Location in 1932 His philosophy was simple – 'Stock quality merchandise that is value for money, and always appreciate your customers' Con Murphys are synonymous with quality clothing not just in Cork, but also across Ireland. With over 75 years experience, Con Murphy's knows tailoring and fabrics better than anyone. They use this experience to help their customers get the best wearing garments at the most affordable prices. They are open over 80 years! At Con Murphys Menswear they have a team of experienced staff who will guide and assist you when shopping. Address: 60 Patrick's Street, Centre Cork T12 XT57 Ireland
---

Club Wayless: Offers Italian suits, dress shirts and slacks.
---

Custom Clothiers: custom tailored clothing. Design your clothing online using their virtual clothing designer. With over 500 fabrics and unlimited design possibilities - they have one of the largest selection of clothing available to you with the convenience of 24 hour online shopping. Address: 1838 Russet Woods Lane Birmingham Alabama 35244 USA Phone: 205-425-3962 or 205-425-3962 Email: customclothiers@customstyle.net Contact: Christopher Warren - director
---

Dalton Reade: fine men's clothing store located Ridgewood, New Jersey.
---

David Lawrence: Men's fashion, including Versace, Donna Karan, John Bartlett, and Calvin Klein Collection.
---

Designer Heaven: Offers menswear from British designers, including: Henri-Lloyd, Aquascutum, Mulberry, Jeffery Green, Full Circle and Gallagher.
---

Designer Waistcoats Direct: Waistcoats and menswear clothing.
---

Discount Designer Menswear: Suits, sportcoats, slacks, ties, outerwear, and shirts.
---

The Fashion Man: Men's suits, sport coats, dress slacks and ties.
---

Garrison Bespoke Tailor (Canada): Custom made suits. Thousands of fabrics custom bespoke to fit you perfectly for business or social occasions such as weddings. Offer custom dress shirts and men's accessories for the style conscience gentleman. Address: 26 Wellington Street East Toronto Ontario M5E 1S2 Phone: 416-566-2041 Email: info@garrisonbespoke.com Site: http://garrisonBespoke.com Contact: Michael Nguyen
Suit Retailer
Custom Fit Clothing Retailer
---

Gentleman's Cooperative: Gentleman's Cooperative is a Chicago custom suit designer and custom clothier, barber and stylist membership club, and corporate event space. They have a master tailor and professional clothiers onsite to perform expert design, tailoring and alterations. In their grooming club they have master barbers and stylists to ensure a maximized haircut appearance and experience. On top of individual services and group weddings, they offer numerous corporate programs that will keep your executives looking their best and bring another level of class and sophistication to your business. They employ only premiere industry experts within their field. They utilize this experience to provide both companies and individuals an unmatched experience. Address: 111 W Jackson Blvd Penthouse Chicago, IL 60604 Our phone is: 224.228.6067
---

Gere Internet Ltd: Offering designer's clothes.
---

Get Real Clothes: Offers suits, dress shirts, slacks, outerwear, and accessories for men from many well known manufactures.
---

Greenhaw's Men's Wear: Carries such stylish lines as Canali, Talia, Zanella, Ermenegildo, Zegna, Versace, Jonathan Wachtel, Kyber Khaki, and many more. Short sizes or Big and Tall sizes.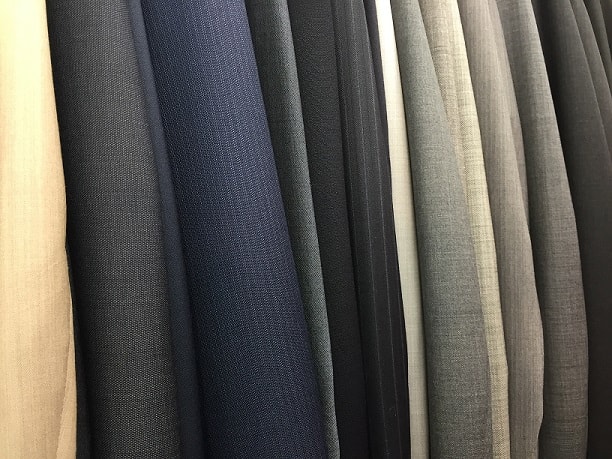 You may also have interest in men's clothing stores that sell ties, suspenders or cufflinks.
Learn more about Men's Suits.

Return to the top of this men's suit store page.
Thank you for using the Apparel Search website.