Gurteen (United Kingdom): Traditional loden and tweed coats and jackets. Gurteen is a family business which was established in Suffolk in 1784. Today the business is still retained and run by family members and the passion for men's clothing burns as fiercely today as it did then. They are located in the very heart of their community, in Haverhill, and they have a close relationship with the Town, schools and their employees – many of whom have had great grand-parents working here before them!
---

Hunter & Coggins: Preppie clothing and prep school uniforms, blazers and jackets. Hunter and Coggins is a locally owned store for men's apparel located in Asheville, North Carolina. They invite you to visit their business at 28 North Spruce Street (across from Thomas Wolfe Plaza) or call them toll free 1-800-343-9396 or locally at 828-252-8496.
---

J. David's Custom Clothiers: Santa Clarita, California, shop offering fine custom-tailored clothing.
---

Jockey Club Ltd.: store for the shorter man located in Santa Ana, California,
---

JoS. A. Bank: Find men's suits to meet your everyday business dress needs, in a variety of styles, materials and colors. Choose a men's suit from their Joseph collection. This collection features classic Jos. A. Bank design and craftsmanship with a hint of European styling. Jos. A. Bank is not just another menswear retailer. What makes them unique is also what has attracted customers to their stores for 105 years; a heritage of quality and workmanship, an extensive selection of beautifully made, classically styled tailored and casual clothing, and prices typically 20 to 30 percent below their competitors'. Add that to an expert staff of sales professionals who prize service and customer satisfaction above all, and you get the idea.
---

Maus and Hoffman: Men's fine clothing including Hickey-Freeman, Oxxford Clothes, Brioni, and Ferragamo.
---

The Men's Wearhouse (part of Tailored Brands): For over 45 years they have been helping men like the way they look. They have been able to make good on that promise thanks to the world class customer service delivered each and every day by their dedicated employees. As the leading specialty retailer of men's suits and largest men's formalwear provider in the U.S. and Canada, Tailored Brands helps men love the way they look for work and special occasions. They serve their customers through an expansive omni-channel network that includes numerous stores in the U.S. and Canada as well as their branded e-commerce websites. Their brands include Men's Wearhouse, Jos. A. Bank, Joseph Abboud, Moores Clothing for Men and K&G.
---

Milbern Clothing: Discount clothing, variety of sizes including big and tall.
---

PatrickMoor - sports coats (Australia): online retail of men's sport coats. Men's handwoven sport coats! PatrickMoor is an Australian company that makes, and retails online, magnificent sport coats. The fabric is designed in the United States and handwoven, on traditional looms, in Thailand. It is richly textured and each garment is an original. PatrickMoor sport coats are tailor made to the specific measurements of each customer. PatrickMoor sport coats are designed to be different. They are for men with style who want to be recognized. Address: PO Box 339, Vaucluse, Sydney, Australia Phone: * 61 402216280 Email: contact@patrickmoor.com Contact: Robert Moorcroft
Sports coat retailer

Online Retailer
---

Sansabelt World: Selection of Sansabelt pants and slacks.
---

Suits Men: Suits Men sell quality menswear from the best of British companies. Products range from mens suits to men's clothing accessories. Address: Springfield House, Rough Lane, Shirley Common, Ashbourne, Derbyshire, DE6 3AZ, United Kingdom 01335 361287 info@suitsmen.co.uk contact: Rupert Bowling
---

Suits 2 U: Men's Italian designer suits made in Italy of 100% tropical wool.
---

Topman: Up to the minute men's fashion. UK Shop.
---

Ventresca: Delaware Valley-based tailor and men's shop.
---

Wein's Men's Store: in Butte, Montana, provides clothing, shoes and accessories for the well dressed gentleman in Butte and Southwest Montana as it has since 1906.
---

Wm. Fox: Washington, DC, retailer of fine men's suits, shirts and ties, sportswear, and outerwear.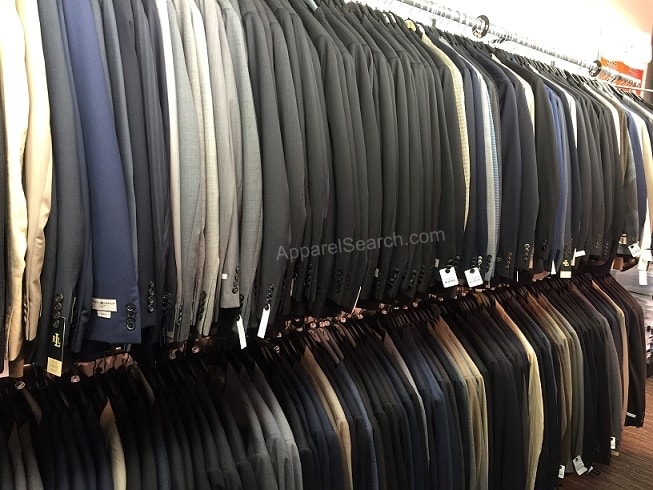 Thank you for using the Apparel Search website.