Homer Men and Boys: Selection of Carhartt clothing and Carolina work boots in as well as numerous name brands in our store in Homer, New York.
---

Hucklecote Country Clothing (U.K): Traditional loden and tweed coats and jackets.
---

Hunter & Coggins: Preppie clothing and prep school uniforms, blazers and jackets. Hunter and Coggins is a locally owned store for men's apparel located in Asheville, North Carolina. They invite you to visit their business at 28 North Spruce Street (across from Thomas Wolfe Plaza) or call them toll free 1-800-343-9396 or locally at 828-252-8496.
---

Hugestore.com: Menswear, shirts, ties, pants and suits.
---

J. David's Custom Clothiers: Santa Clarita, California, shop offering fine custom-tailored clothing.
---

Jazz Exclusive Menswear
: Offers a large selection of casual brand name and designer menswear.
---

Jockey Club Ltd.: store for the shorter man located in Santa Ana, California,
---

JoS. A. Bank: Find men's suits to meet your everyday business dress needs, in a variety of styles, materials and colors. Choose a men's suit from their Joseph collection. This collection features classic Jos. A. Bank design and craftsmanship with a hint of European styling. Jos. A. Bank is not just another menswear retailer. What makes them unique is also what has attracted customers to their stores for 105 years; a heritage of quality and workmanship, an extensive selection of beautifully made, classically styled tailored and casual clothing, and prices typically 20 to 30 percent below their competitors'. Add that to an expert staff of sales professionals who prize service and customer satisfaction above all, and you get the idea.
---

M. Goldberg Clothier: Variety of men's and boy's clothing and accessories.
---

Male Manor (Australia) men's clothing stores stocking both international and Australian labels.
---

Marathon Mens Shop: Specializing in tuxedos, sportswear, suits and accessories.
---

Maus and Hoffman: Men's fine clothing including Hickey-Freeman, Oxxford Clothes, Brioni, and Ferragamo.
---

The Men's Emporium: Internet shopping for men's clothing. Specializing in attire for the corporate casual world.
---

Mens Suits of 5th Avenue: Sells Lorenzo Latini and Chaps-Ralph Lauren suits, pants and formal wear.
---

Men's Wearhouse, The: The Men's Wearhouse is an off-price specialty retailer of men's tailored business attire that operates approximately 546 stores throughout the United States and Canada offering designer, brand name and private label merchandise, including 20 stores in the Value Priced Clothing (VPC) division. The Company's merchandise includes suits, sport coats, slacks, outerwear, dress shirts, shoes and accessories. Merchandise featured at the Company's stores are sold at prices that are typically 20% to 30% below the regular retail prices of traditional department and specialty store prices. The VPC division, which was formed in 1996 to address the market for a more price sensitive customer, offers a similar selection of merchandise as in the Men's Wearhouse stores but at 30% to 50% below the regular retail prices of traditional department store and specialty store prices. Men's Wearhouse also offers on-site tailoring services to facilitate alterations at a reasonable cost to customers. Stock: SUIT
Corp. Office: Houston, TX Phone # (713) 592-7200 : Executive office: Fremont, CA
---

Menswear Solutions: Menswear speciality store.
---

Milbern Clothing: Discount clothing, variety of sizes including big and tall.
---

Milton's Clothing.com: Milton's Cupboard is a men's store offering excellent suits at competitive prices.
---

Not Your Boy: Shirts, shorts, sweats and underwear with high tech vanity designs.
---

Pal Angelo
(Thailand): Custom tailor offers custom suits, jackets, shirts, and pants online. Mens suits tailored to customers' preferences and choice of fabrics. Address: 162 Ngamwongwan Rd., Chatuchak Bangkok 10900 Thailand Phone: 662-941-3688 or 662-579-7635 Fax: 662-579-7635 Email:
admin@palangelo.com
Contact: Jay, Web Administrator
Gender: Men's
Store Type: Online Retailer
Retail Category: Big & Tall (Mens)
---

Papillon Online
: Custom-made shirts, neckties, socks, boxer shorts, belts, cuff links, and accessories.
---

PatrickMoor - sports coats (Australia): online retail of men's sport coats. Men's handwoven sport coats! PatrickMoor is an Australian company that makes, and retails online, magnificent sport coats. The fabric is designed in the United States and handwoven, on traditional looms, in Thailand. It is richly textured and each garment is an original. PatrickMoor sport coats are tailor made to the specific measurements of each customer. PatrickMoor sport coats are designed to be different. They are for men with style who want to be recognized. Address: PO Box 339, Vaucluse, Sydney, Australia Phone: * 61 402216280 Email: contact@patrickmoor.com Contact: Robert Moorcroft
Sports coat retailer

Online Retailer
---

Pomeroy's Men's Store: they specialize in high-quality LDS Missionary clothing and accessories.
---

Positively Male: Quality clothing and accessories for real men.
---

Principles: British fashion retailer.
---

S and K Menswear: Men's clothing from famous designers and brands.
---

Sansabelt World: Selection of Sansabelt pants and slacks.
---

SuitYourself: World Class Men's Clothing, Furnishings and Shoes. Satisfaction Gauranteed. World Wide Shipping. Address: 1551 Post Road Fairfield Connecticut 06430 USA Phone: 203-255-8889 or 203-255-8889 Fax: 203-255-8889 Email: naresh@suityourself.com Contact: Naresh Mansukhani / Owner
Gender: Men's
Store

Type: Online and Brick & Mortar
Retail

Category: Specialty
---

The Suitable Company: Selling suits and blazers to business or groups and corporate wearables to civic organizations, choral groups, associations, security, hospitality, schools, athletic teams, sales team, fraternal org., fraternity and sorority, service type business, restaurants etc..... Their motto is "Selling the best we have one at a time." Address: 1722 Crestwood Drive Columbia, South Carolina 29205 USA Phone: 803-256-2354 or 800-215-2354 Fax: 425-988-8060 Email: kconnor@suitable-u.com Contact: Ken Connor/owner
Gender: mens, womens, boys, girls
Store Type: Online Retailer
Retail Category: Specialty (Suits)
---

Suits Men: Suits Men sell quality menswear from the best of British companies. Products range from mens suits to mens clothing accessories. Address: Springfield House, Rough Lane, Shirley Common, Ashbourne, Derbyshire, DE6 3AZ, United Kingdom 01335 361287 info@suitsmen.co.uk contact: Rupert Bowling
---

Suits 2 U: Men's Italian designer suits made in Italy of 100% tropical wool.
---

the-clothes-store.com: Stocks Ben Sherman, Dr.Martens and Fred Perry. Worldwide deliveries, UK priced.
---

Threadman: Men's clothing fashioned in classic traditional style.
---

Tom James: Men's custom clothing.
---

Topman: Up to the minute men's fashion. UK Shop.
---

UK Designer Clothing: UK designer clothing store, sells menswear for leading British fashion designers, Aquascutum, Mulberry, Henri Lloyd, Gallagher, Full Circle and Jeffery Green.
---

Universal Gear: Universal Gear carries designer clothing, shoes, underwear and accessories .
---

Ventresca: Delaware Valley-based tailor and men's shop.
---

Wein's Men's Store: in Butte, Montana, provides clothing, shoes and accessories for the well dressed gentleman in Butte and Southwest Montana as it has since 1906.
---

Wm. Fox: Washington, DC, retailer of fine men's suits, shirts and ties, sportswear, and outerwear.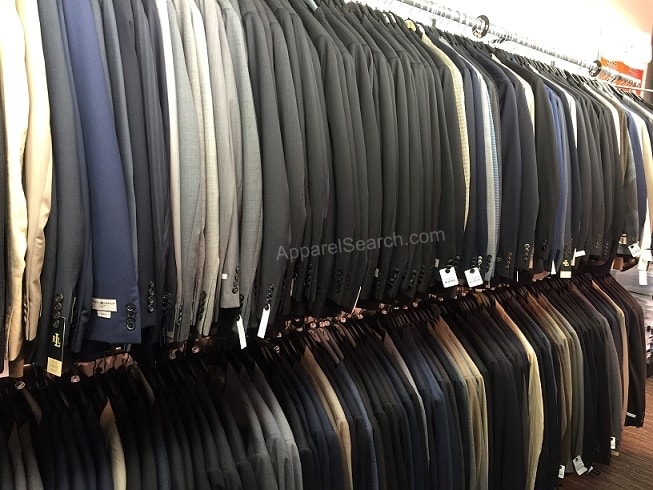 Thank you for using the Apparel Search website.