If you really enjoy athletics, we suggest you visit the athletic shoe section on Amazon. They have really created an impressive resource for sports shoes. They actually provide shoes listed by sports category. I was surprised to see how well they have done with creating their athletic shoes section...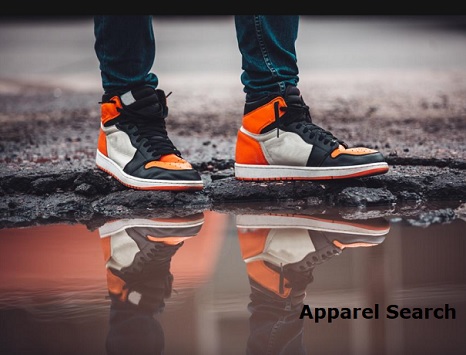 Footwear Retailers:
Consumer Shoe Guides:
Footwear Industry Links:
Education about shoes:
Now it is time to learn more about men's shoe stores.

Adidas: they strive to be the global leader in the sporting goods industry with sports brands built on a passion for competition and a sporting lifestyle. Their strategy is simple: continuously strengthen their brands and products to improve their competitive position and financial performance.
---

Alden Shoes: A long time ago Alden decided that it is important to create handsome shoes of great comfort and quality. Since 1884, the Alden Shoe Company has designed and manufactured classic gentlemen's footwear that represents America's tradition of old-school, custom shoemaking at its finest. Still, given a modern world that too often prizes the promotion rather than the product, you might well imagine these old-fashioned talents for craft and honest value to be irretrievably lost. Alden's footwear stands as clear, adamant proof to the contrary.
---

Aldo Shoes: With the success of ALDO's stores in the United Kingdom, the brand continues its global expansion. From Singapore to Denmark, Portugal to Lebanon, ALDO is in step with you. So lookout! You never know when an ALDO store will be in your corner of the globe.
---

B.A. Mason's: B.A. Mason is a family-owned company located in Chippewa Falls, Wisconsin. They are proud to announce the year 2004 marks their 100th Anniversary of providing fine quality footwear to men and women. you'll be able to make your selection from more than 500 well-respected, name brand shoes in sizes 4 to 18 and widths AAAA to EEEEEE.
---

G.H. Bass owned by PVH Worldwide. Bass is a leading provider of casual and dress footwear for men, women and children. In 2004, PVH exited the wholesale footwear business by licensing the Bass brand to Brown Shoe company for wholesale distribution on a worldwide basis. Brown Shoe Company, a leader in footwear marketing, is a company that has both the size and expertise to grwo the Bass and G.H Bass & Co. business.
---

Church's English Shoes: Since 1873, they have used the same combination of quality craftsmanship and the world's finest leathers to produce their Church's English Shoe Collection. So, if you're looking for some permanence in an impermanent world, take a look at their collection of Handmade Custom Grade shoes and experience the finest in comfort, quality and style.
---

Clarks : historically fabulous footwear manufacturer & retailer of shoes.
---

Cole-Haan: began in Chicago in 1928. Their name comes from Trafton Cole, who created Cole Haan's reputation for quality and incredible craftsmanship, and Eddie Haan, the man who made it all about service and style. Originally Cole Haan was a men's footwear label and it typified the spirit of the '20s, when style was everything and quality was assumed. Footwear was beautifully designed and very well made. Today Cole Haan brings that heritage to all its products, including men's and women's dress and casual footwear, belts, hosiery, handbags, small leather goods, fine outerwear and watches. Today too Cole Haan is recognized for exciting innovation. A perfect example is Cole Haan footwear with Nike Air Technology. Cole Haan's high-quality contemporary classics are manufactured by leading artisans globally and marketed in the finest retail stores in the world. A wholly-owned subsidiary of Nike, Inc., Cole Haan has its international headquarters in Yarmouth, Maine and its design headquarters in New York City.
Men's Shoes
Women's Shoes
Handbags
Wallets
Belts
---

Comfortable Shoes: Comfortable Shoes for shoes, sandals, clogs from Birkenstock, Dansko, Merrell, Teva, Clarks, Stegmann, Rockport, Simple, Naot. Address: PO Box 475 Glen Burnie, Maryland 21061 USA Phone: 410-787-1356 Fax: 410-787-1356 Email: support@arundel.net Contact: Dave Kelly: owner
Gender: All
Store Type: Online and Brick & Mortar
Retail Category: Shoe
---

Converse:

In 1908, Marquis Mills Converse decided to start a rubber shoe company, bypassing a rubber trust that prevented most companies from doing business directly with their retailers. Early catalogs bragged about how many trucks left the Converse factory in Malden, Massachusetts, delivering product directly to stores in Boston. Mr. Converse's idea worked. But more importantly, it survived.

In 2003, Nike bought Converse for around $305 million.
---

Designer Shoe Warehouse (DSW): Designer Brands is an American footwear retailer of designer and name brand shoes and fashion accessories. The retailer has over 500 stores in the United States and an e-commerce website.
---

Dress Code Clothing: Dress Code Clothing offers a large selection of shoes for men, women and children. The selection includes Crocs shoes and sandals, Converse Chucks, Puma shoes, Macbeth and many more. This online store also offers a large variety of band t-shirts and clothing from brands like Levis and Dickies. Address Tucson, AZ 85719 Phone 520-325-0186 Fax E-mail customerservice@dresscodeclothing.com Contact: Mufaddal
Online Clothing Stores

Women's T-shirt Store

Men's T-shirt Stores

Women's Shoes

Men's Shoes
---

Dr.Martens Airware USA: Dr. Martens AirWair USA, located in Portland, Ore., specializes in the manufacture of shoes for men, women and children. The company can trace back its roots to the 1990s. It provides a wide range of shoes for men that include high boots, slip-on shoes and sandals made of a variety of materials, such as leather. Phone # 800 229 1262 Fax # 503 222 6880 Portland, Oregon E-mail: dmreply@drmartens.com
---

Eddie Bauer: The company was first established in 1920 in Seattle by Pacific Northwest outdoorsman, Eddie Bauer. He established his first store in downtown Seattle. "Eddie Bauer's Tennis Shop" opened in the back of a local hunting and fishing store.
---

Famous Footwear : Famous Footwear is an omni-channel retailer with over 1,000 locations and over 66 million annual website visitors. They carry name brand shoes for the entire family. Their top brands include Nike, Converse, Striderite, adidas, Sperry, Clarks and many more!
---

Finish Line: approximately 20 percent of all sales come from apparel and accessories. This includes the latest in performance and fashion products from Nike, Oakley, adidas, Fossil, Jansport, professional and collegiate licensed products, t-shirts, shorts, caps and outerwear from other well-known manufacturers. As the market continues to change and expand, so does Finish Line. The company's buyers and merchandisers are continually searching for the newest fashions and trends to keep Finish Line's product mix on top. This includes the creation of a private apparel line, Finish Line Blue Label. Real Estate continues to seek profitable, high-traffic locations in order to expand Finish Line's presence as a national retailer. Address: 3308 N. Mitthoeffer Rd. Indianapolis, IN 46235 Phone 317-899-1022
---

Florsheim
Florsheim has been in business over 110 years and is a distributor of Men's dress and business casual footwear. They also have 30 brick and mortar retail stores. Their mission is to deliver products of exceptional value, quality, and style. They are the number one brand in Men's Dress and Business Casual Footwear. They carry the hard to find sizes including sizes from 5-16 and widths from AA to 5E. They also offer an extensive line of accessories, which complement their great collection of footwear including hosiery, belts, and shoe care products. Theirr top selling styles are the Como Imperial, Riva, Berkley, and the Duke.
---

FootAction: Foot Action is a division of Foot Locker Inc. Footaction is a national athletic footwear and apparel retailer. The primary customers are young males that seek street-inspired athletic styles. Its 319 stores are located throughout the United States and Puerto Rico and focus on marquee footwear and branded apparel. The Footaction stores have an average of 2,900 selling square feet.
---

Foot Locker: is a leading global athletic footwear and apparel retailer. Its stores offer the latest in athletic-inspired performance products, manufactured primarily by the leading athletic brands. Foot Locker offers products for a wide variety of activities including basketball, running, and training. Its 1,911 stores are located in 21 countries including 1,171 in the United States, Puerto Rico, the U.S. Virgin Islands, and Guam, 129 in Canada, 518 in Europe, and a combined 93 in Australia and New Zealand. The domestic stores have an average of 2,400 selling square feet and the international stores have an average of 1,500 selling square feet.
---

Footsmart - Men's Shoes: FootSmart, one of the largest direct retailer of foot and lower body healthcare products in the United States, understands that when your feet hurt or are not properly cushioned or supported, your entire lower body can be negatively affected. Online and via their mail-order catalog, FootSmart sells over 500 comfort, health and pain-relieving products designed to effectively improve your quality of life. A division of Benchmark Brands, Inc., FootSmart has been working to soothe or solve your lower body health related problems and discomforts since first opening its doors in 1989.
---

Footwise: Footwise is the kind of shoe store where comfort and style mix effortlessly with friendly and knowledgeable service. Since 1983 we've been anchored by an incredible Birkenstock selection, but they also carry many other brands of comfortable, stylish footwear focused on making your feet happy! Address: Corvallis, OR 97333
---

Infinity Shoes: In 1991, Infinity Shoes opened its first store at 687 Broadway in SoHo, New York. They now have 5 stores in New York City with more under development. Their goal was to bring fashionable boots and shoes from all over the world to downtown New York. We soon became a destination shop for imported leather boots and shoes from Europe. In 2000, Infinity Shoes introduced a new brand called Miz Mooz for women, and Walker & Whyte for men. Address: 391 Broadway, New York, New York 10013 Contact: Dennis Consorte
Women's Shoe Retail Store
Men's Shoe Retailer
---

Johnston & Murphy
---

Kenneth Cole

---

K-Swiss was founded in 1966 by two Swiss brothers who were well known international skiers. After moving to California, the brothers became fanatic tennis players and developed the K-Swiss 'Classic,' the first successful American leather tennis shoe. Their experience with skiing equipment is suggested in some now purely visual elements like the characteristic 5 stripes and the D-rings
Women's Shoes - wholesale and retail

Men's Shoes - wholesale and retail

Kids Shoes - wholesale and retail
---

mastershoe-myshu (United Kingdom): They are a small family business trading on the high street in Trowbridge, Bristol, Cheltenham and Bath. They began trading online in 2002 and have began creating good brand awareness. They offer top high street branded footwear at very competitive prices. They stock Shoes, Boots, Slippers, Wellys, Safety Boots, Crocs, Sandals, Slippers and flipflops. They accept Paypal and offer free UK shipping on any orders over £30. They also ship anywhere in the world for less than £15. Address: 53 Church Street Trowbridge, Wiltshire BA14 8DN Phone: 01225 764488 Fax: 01225 781100 E-Mail: Keiran@gilesuk.co.uk Contact: Keiran Thomas
UK Retailer
Men's Shoe Retailer
Women's Shoe Retailer
---

Nike: you know Nike.
---

Nordstrom Shoes
---

Orthotic Shop
:
National Provider of high quality Custom Made Orthotics along with Apis Footwear, Aetrex, CrocsRx & P.W. Minor orthopedic shoes - designed to alleviate chronic foot pain and improve performance for all activities. Providing custom made orthotics backed by a fit-guarantee allows them to be the site of choice in providing you with extraordinary foot comfort. At their site you can view their selection of over-the-counter and custom made orthotics. Additionally they are a provider of stylish & functional extra-depth footwear. Check out their selection of comfort dress, walking, and athletic-style orthopedic shoes to get a feel of the various footwear designed to accommodate custom-inserts. If you are looking for an alternative to Custom insoles, then look at their CustomSelect insoles - they offer the most precise fit and comfort available without the expense of custom orthotic insoles.
Address: PO Box 884 Mt. Clemens, MI 48046 Phone: 866-496-8651 Fax: 800-762-3097 Contact:
Matt Behnke
---

Payless ShoeSource the world's footwear authority, is the smart shopper's source for style-right, great value footwear and accessories for the entire family. With more than 4,600 retail stores throughout North, Central and South America and its e-store Payless.com(R), Payless puts more feet in the latest footwear fashions than any other specialty retailer.
In May 2007 it was announced that Payless will purchase another shoe company called Stride Rite. The corporate name for both divisions will be Collective Brands.
In February 2019, Payless is shutting down their stores in the USA & Canada. Learn more about Payless.
---

Road Runner Sports: family owned since 1983. Selling shoes for runners.
---

Running Warehouse: Running Warehouse offers the widest selection of running products on the planet, the best customer service, tips on how to run better, free 2 day shipping, and free return shipping. Theye look forward to helping you find the best products for your running needs.
---

Sarenza UK: Men's shoes, women's shoes and children's shoes. A specialist retailer of Womens shoes and accessories. Sarenza offers all the latest collections from the hottest trends of the season of the biggest shoe brands. Sarenza also prides itself on offering exceptional services Phone: 0203 059 5749 E-mail: customerservice@sarenza.com
Express delivery: all orders placed before 12 midday are sent out on the same day (Monday to Friday, subject to confirmation of payment). -
No additional costs: free delivery and free returns and no minimum order amount
Plenty of time to rethink: 100 days to return any item you decide you don't want.
Women's Shoe Retailer

Men's Shoe Retailer

Children's Shoe Retailer
---

Shoes.com
---

Skechers: SKECHERS USA, Inc., an award-winning global leader in the lifestyle footwear industry, designs, develops and markets lifestyle footwear that appeals to trend-savvy men, women and children. With more than 2,500 styles, SKECHERS meets the needs of male and female consumers across every age and demographic. Headquartered in Manhattan Beach, California
Men's Shoes

Women's Shoes

Children's Shoes
---

Sperry : For over eighty years, Sperry has built a legacy of effortless, heritage products. Whether for men, women, kids, or babies, Sperry's selection of hand-crafted footwear includes our iconic Sperry boat shoes, sandals, loafers, flats, slippers, espadrilles, boots, sneakers, and oxfords. Available in an inspired range of colors, styles, and materials, our timeless shoes transcend boundaries and span generations and genders with a shared commitment to quality, reliability and comfort. Theirs are the original prep icons, as they have been since 1935. Get instant access to new arrivals, best sellers, top-rated items, sales, extended sizes, and online exclusives.
---

Teva : The original sport sandal emerged from the shores of the Grand Canyon back in 1984. Born out of necessity to prevent sandals from floating downstream, a resourceful river guide strapped two Velcro watchbands to a pair of old flip-flops. And just like that, Teva was born. In the years following, Teva has retained the same pioneering spirit and continues to celebrate the freedom to explore.
---

Timberland : their story began in 1918, in a small Boston, Massachusetts shoe company where Timberland founder, Nathan Swartz, began his bootmaking career as an apprentice stitcher. With his own hands, he cut leather, stitched seams, attached soles and learned how to craft fine leather boots. In 1952, he bought half an interest in The Abington Shoe Company. Three years later, he bought the remaining interest and welcomed his sons into the company. Together, they made shoes for leading manufacturers for nearly 10 years. In the '60s, waterproof leather boots as they know them didn't really exist. The Swartz family helped change all that by introducing injection-molding technology to the footwear industry. This technology fused soles to leather uppers without stitching, producing one of the first truly waterproof boots. In 1973, the Timberland name was born. "Timberland" started as the brand name for their original waterproof leather boot. Then, because the boot was so popular, the company name was officially changed to The Timberland Company. In 1978 and 1979, Timberland added casual and boat shoes to its line to become more than just a boot company. In the 1980s, the company expanded into an international lifestyle brand. Sidney Swartz took the reigns and under his leadership Timberland was launched in Italy, their first entry into the international market (today they are represented all over the world). Then they introduced Timberland clothing and women's footwear...
New Hampshire, USA
---

Wide Fit Shoes: Specialist in wide shoes for men and women with extra wide feet, they have large selection of wide sandals, wide boots, wide slippers, large size shoes, wide mens shoes, wide work boots and steel cap boots. They also have a good variety of formal and casual footwear including loakes shoes. Address 33 Kenton Park Parade, Kenton, Harrow, Middlesex, HA3 8DN Phone: 02089071742 Fax: 02089071742 E-mail: info@widefitshoes.co.uk Contact : Jesol Umeria
Women's Shoe Retailer

Men's Shoe Retailer

Wide Shoes for Men

Wide Shoes for Women
---

Zappos : Retailer of men's shoes, women's shoes and children's shoes. At Zappos, they now carry over 500 name brands, over 90,000 styles, and close to 2 million pairs of shoes in stock and ready for immediate shipment. They offer the absolute best selection of shoes available anywhere, but much more important to them is offering the absolute best service. They staff their call center 24/7, and currently have a staff of over 600 people. The vast majority of their employees work on the front lines taking care of their customers or shipping shoes out of their warehouse.
Popular Men's Shoe Brands
Adidas
Bruno Magli
Cole Haan
Converse
Gucci
K-Swiss
Merrell
Nike
New Balance NB
Puma
Rockport
Timberland
Wolverine
You can find additional resources by searching the Amazon database for men's shoes. With their database you can search for men's shoes by brand name or shoe store name. Learn more about men's shoes on Amazon.
You may want to also visit our Shopping Directory for Shoes & Clothes.

Learn more about Men's Shoes from the men's shoes guide section.
You may also want to learn more about women's shoe stores and kids shoe stores.
Thank you for using the Apparel Search website.