A belt is a fashion accessory and a belt buckle is an accessory for a belt. They can be strictly functional and plain in appearance or extremely ornate. A women's belt buckle can help define her outfit.
Women have a wide selection of style options.
Western / Cowgirl
Floral
Love & Hearts
Letters, Numbers & Symbols
Animals
Butterfly
Skeleton & Skulls
Sports
and more design options
A belt buckle is a buckle, a clasp for fastening two ends, such as of straps or a belt, in which a device attached to one of the ends is fitted or coupled to the other.
Frame-style buckles are the oldest design. In a frame-and-prong buckle the prong attaches to one end of the frame and extends "away" from the wearer through a hole in the belt, where it anchors against the opposite side of the frame. The oldest styles have a simple loop or "D" shaped frame (A D-ring is an item of hardware, usually a tie-down metal ring shaped like the letter D used primarily as a lashing point), but "double-loop" or "center post" buckles whose prongs attach to a fixed center section appear in the 8th century. Very small buckles with removable center pins and chapes were introduced and used on shoes, beginning in the 17th century, but not often for waist-belts. A "chape" is the fixed cover or plate which attaches buckle to belt while the "mordant" or "bite" is the adjustable portion.
Plate-style buckles are common on western military belts of the mid-19th century, which often feature a three-hook clasp: two hooks fitting into one end of the belt and a third into the other. Officers might have a similar but more intricate clasp-style closure that featured two interlocking metal parts. In practice, the term "belt plate" refers to any flat, decorated surface on such a clasp. These precede development of modern "western-style" buckles, which feature a hinged frame affixed to one end of the belt and a simple hook clasp which enters the belt hole toward the wearer but leaves most of the buckle on the "outside" of the belt, providing an ample surface for decoration. The distance between the fixed frame or chape of a plate buckle and its adjustment prong is called the "throw."
Box-out buckles make the traditional belt seen today. Usually made with an enduring leather or other synthetic material as the band, these belt buckles are less functional but more fashionable.
Box-frame buckles are another, 20th-century style of military friction buckle, common on web belts. The box-frame buckle consists of three parts (front, back and post). An adjustable captive post sits perpendicular to the belt to press it against the outer "box," which completely surround the webbing and minimize accidental adjustments should part of the belt snag on something. There may or may not be a metal tip on the opposite "tongue" end of the belt for easier insertion.
Belt buckles are made from a wide variety of materials from inexpensive to luxurious. You can find plastic buckles to gold buckles. Below are a few of the various belt buckle materials available.
Bronze
Steel
Zinc / Zinc Allow: Zinc is softer than steel and is easily poured into molds or cast into various shapes. Its good corrosion resistance.
Brass & Bronze alloys: Brass is an alloy of copper and zinc. Bronze is an alloy of copper and tin.
Stainless Steel alloys have many formulations and often include chromium, nickel, and molybdenum – chromium gives the metal its scratch resistance, nickel provides a smooth and polished finish, molybdenum gives greater hardness.
Silver (Ag) and Sterling Silver are too soft to use for producing functional objects, therefore are usually alloyed with copper or other metals to enhance durability. Other metals may include germanium, zinc, and platinum as well as other additives such as silicon and boron.
Plastic
Gold
Leather
Pewter
Crystal
fabric
Nickel
and more.
Earlier, military-style buckles often use friction and are designed for use with cloth belts or straps. Simple friction buckles are one-piece frames with no prong whatsoever, the strap or belt winding through a series of slots, and may more technically be called "belt slides" or "belt trims."
Belt buckles became more popular as fashion accessories in the early 20th century, as the tops of trousers moved more toward the waist. "Western-style" belt buckles were largely popularized by cowboy movies in the United States. Cowgirls look great in western style belt buckles.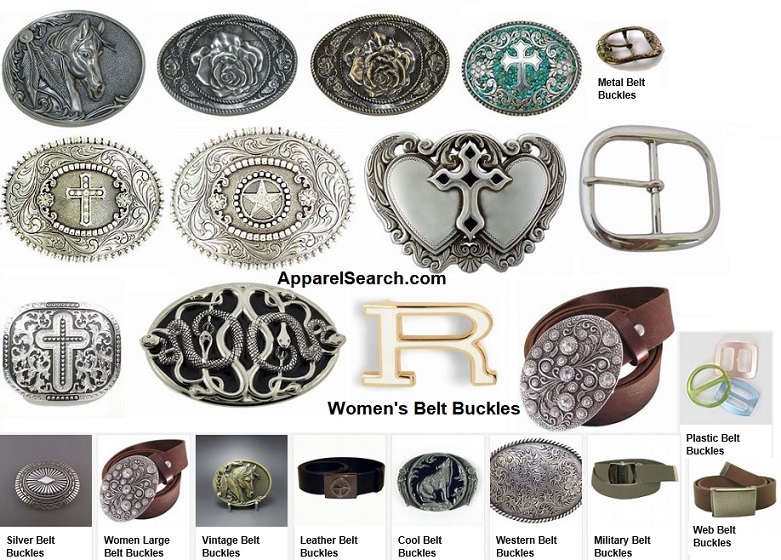 Did you see the women's belt section?
Apparel Search is a leading guide to fashion, style, clothing, glam and all things relevant to apparel. We hope that you find this Women's Belt Buckles page to be helpful.
What ever you are wearing, is in fashion.
If you want to be even more stylish, you should wear your favorite belt buckle today.

Search for additional accessories in our women's fashion directory:
Thank you for using the Apparel Search website.