This is certainly an interesting subject. Footwear is obviously an important aspect of the women's fashion market. And boots are an important type of shoe.
A boot is a type of footwear and a specific type of shoe. Most boots mainly cover the foot and the ankle, while some also cover some part of the lower calf. Some boots extend up the leg, sometimes as far as the knee or even the hip.
Most boots have a heel that is clearly distinguishable from the rest of the sole, even if the two are made of one piece.
Traditionally made of leather or rubber, modern boots are made from a variety of materials.
Boots are worn both for their functionality as well as simply for fashionable reasons.
Boots can offer better protection than many other types of footwear. They can be designed to keep the foot and leg dry from water & snow. They can also assist with extreme cold, mud or potential hazards.
Many boot varieties provide additional ankle support for strenuous activities. Other are a combination of support and traction to help with activities such as hiking.
Boots which are designed for walking through snow, shallow water and mud may be made of a single closely stitched design (using leather, rubber, canvas, or similar material) to prevent the entry of water, snow, mud or dirt through gaps between the laces and tongue found in other types of shoes.
Their are many different types of boots. You may have interest in reviewing a few of the following categories:
Boots are normally worn with socks to prevent chafes and blisters, to absorb sweat, to improve the foot's grip inside the boot, or to insulate the foot from the cold.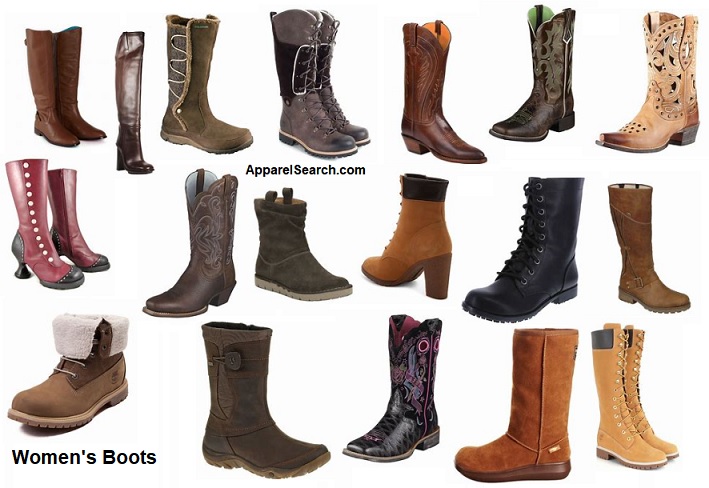 Learn about women's leather boots.
Fashionable boots for women may exhibit all the variations seen in other fashion footwear: tapered or spike heels, platform soles, pointed toes, zipper closures and the like. The popularity of boots as fashion footwear ebbs and flows. The boot that is most stylish this season, may be out of fashion sooner than you may think.
You can find boots for women and shoe stores, department stores, and many other retail options.
You might also want to learn about other types of shoes from our footwear & fashion terminology section.