Welcome to the worlds greatest guide to Cowgirl Boots.
Are you actually looking for Cowgirl Boots? Well, we hope you are because the reality is that you have found our page on the subject. In this women's clothing section of the Apparel Search directory, you will find all sorts of interesting information regarding boots for cowgirls.
What is a cowgirl? She is a woman who herds and tends cattle, performing much of her work on horseback. The history of women in the west, and women who worked on cattle ranches in particular. Cowgirls was first defined as such in the late 19th century, had a less-well documented historical role, but in the modern world have established the ability to work at virtually identical tasks as cowboys. Cowgirls possibly do all of those identical tasks, but "better".
A boot is a type of footwear and a specific type of shoe.
Cowgirl boots refer to a specific style of riding boot, historically worn by cowgirls. They have a Cuban heel, rounded to pointed toe, high shaft, and, traditionally, no lacing. Cowgirl boots are normally made from cowhide leather but are also sometimes made from "exotic" skins such as alligator, snake, ostrich, lizard, eel, elephant, stingray, elk, buffalo, and the like.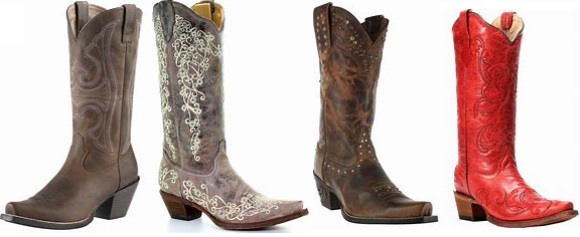 Why are most cowgirl boots high up the calf?
While mounted, the shaft also protected the lower leg and ankle from rubbing on the stirrup leathers, as well as fending off brush and thorns, particularly if also worn with chaps or chinks. While dismounted, the shaft helped protect the leg and foot from rocks, brush, thorns, and rattlesnakes. In wet weather or creek crossings, the high tops helped prevent the boot from filling with mud and water.
There are two primary cowgirl boot styles.
western (or classic)
roper
The classic style is distinguished by a tall boot shaft, going to at least mid-calf, with an angled "cowboy" heel, usually over one inch high. A slightly lower, still angled, "walking" heel is also common. The toe of western boots was originally rounded or squared in shape. The narrow pointed toe design appeared in the early 1940s.
When mounting and, especially, dismounting, the slick, treadless leather sole of the boot allowed easy insertion and removal of the foot into the stirrup of the Western saddle. The original toe was rounded and a bit narrowed at the toe to make it easier to insert. While an extremely pointed toe is a modern stylization appearing in the 1940s, it adds no practical benefit, and can be uncomfortable in a working boot.
While in the saddle, the tall heel minimized the risk of the foot sliding forward through the stirrup, which could be life-threatening if it happened and the rider were to be unseated.
The tall leather shaft of the boot helped to hold the boot in place in the absence of lacing. The tall shaft, comfortably loose fit, and lack of lacing all were additional features that helped prevent a cowgirl from being dragged since his body weight could pull his foot out of the boot if he fell off while the boot remained stuck in the stirrup.
The "roper" style, has a short boot shaft that stops above the ankle but before the middle of the calf, with a very low and squared-off "roper" heel, shaped to the sole of the boot, usually less than one inch high. Roper boots are usually made with rounded toes, but, correlating with style changes in streetwear, styles with a squared toe are seen. The roper style is also manufactured in a lace-up design which often fits better around the ankle and is less likely to slip off, but lacing also creates safety issues for riding.
Cowgirl boots can be decorated with embroidery and color blocking.
Apparel Search is a leading guide to fashion, style, clothing, glam and all things relevant to apparel. We hope that you find this cowgirl boots page to be helpful.
You may find the following footwear links to be of interest as well.
You may also find the following categories to be of possible interest.
What ever style of boot you are wearing is in fashion.
If you want to be even more stylish, you should wear your cowgirl boots.
If you are interested, you can also check out other types of women's boots.

Those are a nice pair of boots that you are wearing. Did you park your horse at the mall when you purchased them?
Thank you for using the Apparel Search website.