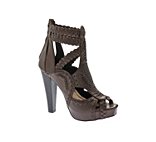 Where to shop for shoes? Good question right?!? Well, it really depends on the shoes that
we
are
shopping
for and if
we are
looking for something specific. If it is a new season and
you are
not certain about precisely what
you
want, a department store is a great place to start.
Personally, I
love to bro
w
se
Nordstrom
,
Lord and Taylor
and
Macys
to see what the new styles are like
this season
.
It's also fairly easy to catch a decent sale or discount nowadays but I for one am always looking for a great deal and can't imagine ever paying full price. So my favorite place to really shop for shoes is DSW shoe warehouse. They have a huge selection of so many styles and it is self serve. No hassles waiting, you can see right away if your size is available and try your selections on immediately. You can really cover a lot of ground in a short amount of time. It's great! And the best part, everything is discounted.
Now what about shopping for shoes online? I am also a big fan of that. All the shoe sites make it so easy with free shipping and free returns and once you find the style you like you can just google the brand and style name and then compare prices to get the best deal (also try the price comparison shopping engines).
Shopping online is especially easy if you are familiar with the brand and how their sizing run. It is also great to be able to try your selections on in the comfort of your own home with various outfits. Heck, shopping for shoes is really just a wonderful thing! In fact, I gotta go and search for some new wedge peep toes. spring is just around the corner you know...
Have you heard about the Endless shoe retailer?
BL22809
You may have interest in checking out the following: