Welcome to the worlds greatest guide to Women's Boyshort Swimwear. Are you actually looking for Women's Boyshort Swimwear?
Thank you for using the Apparel Search website.
Yes, swimwear is clothing worn for swimming. True, it is also worn by people at the beach or pool that don't actually go in the water. OK, so let's figure out why "women" wear "boy" shorts.
Boy shorts swimsuits for women comes in a wide assortment colors and sizes. Shop the latest collections of boy shorts bathing suits from popular swimwear brands at your favorite retailers. For sporty bottom coverage, boyshorts are the perfect pick. With a short style to give your rear the coverage you want and a flirty boy cut, boyshorts are a comfortable way to sunbathe on the beach.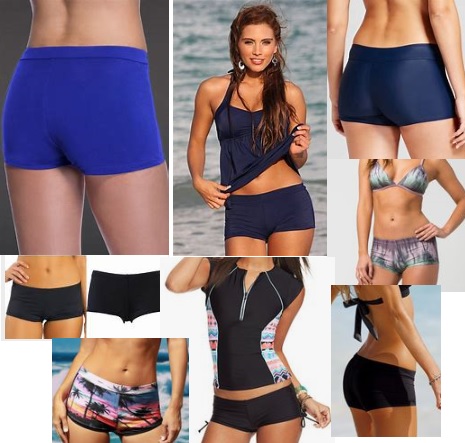 Swimsuit bottoms that have very brief legs cut parallel to the waist, worn especially by women.
Boy shorts or boyshorts, also known as boy short panties, boys' cut, booty shorts, shorties, or boyleg briefs are a kind of women's underwear that goes all the way down the hips, named for their similarity in looks to men's knit boxer shorts, which themselves are a variation on traditional boxer shorts.