Welcome to the worlds greatest guide to women's red coats.
A coat is an outer garment that is typically worn outdoors. It has sleeves and typically extends below the hips. The general purpose is to provide a layer of covering to help protect the wearer from the cold or rain. They can also be worn simply to look fashionable.
A women's coat opens down the front, closing by means of buttons, zippers, hook-and-loop fasteners, toggles, a belt, or a combination of some of these closures.
Coat come in a variety of styles and can include various features such as collars, hoods, shoulder straps, etc.
Ladies coats can be produced in a wide variety of colors. Due to the fact that you are reading this page, the most trendy for today would be the color red.
Red is the color at the end of the visible spectrum of light, next to orange and opposite violet. It has a dominant wavelength of approximately 625–740 nanometers. It is a primary color in the RGB color model and the CMYK color model, and is the complementary color of cyan. Reds range from the brilliant yellow-tinged scarlet and vermillion to bluish-red crimson, and vary in shade from the pale red pink to the dark red burgundy.
Fabulous color for Valentines Day.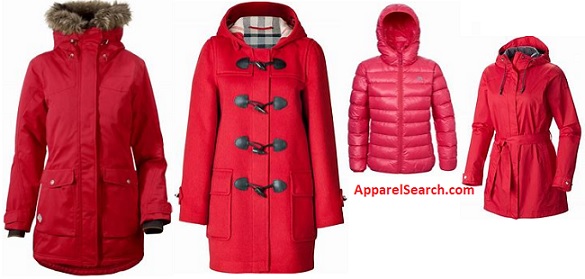 Did you know that a coat & jacket are different? The term jacket is a traditional term usually used to refer to a specific type of short under-coat. Learn more about the difference between coats & jackets.
What is your favorite coat color? Red is certainly a lovely option.
Historical Information Regarding Red Coats (not to be confused with modern day women's fashion):
Redcoat is a historical item of military clothing used widely, though not exclusively worn, by most regiments of the British Army from the 17th to the 20th centuries. The scarlet tunic continues to be used into the 21st century, with several armed forces of the Commonwealth of Nations adopting them as their full dress and mess dress uniforms. Paul Revere's most famous quote, "The British are coming" likely was never said. Since everyone in the colonies were British citizens. It is more probable that he shouted either, "The soldiers are coming! The soldiers are coming!" or "The redcoats are coming! The redcoats are coming!"
Apparel Search is a leading guide to fashion, style, clothing, glam and all things relevant to apparel. We hope that you find this women's red coat page to be helpful.
What ever type of outerwear you are wearing is in fashion this season for certain.
If you want to be even more stylish, you should wear your favorite coat today. Check out more about women's coats and women's jackets.
Learn about additional women's clothes styles of interest:
It is always a good time to learn more about fashion.

Find more Women's Coat Colors to choose from in our Clothing Colors by Category section.
Thank you for using the Apparel Search website.