Welcome to the worlds greatest guide to women's white turtlenecks.
A turtleneck is a top with a close-fitting, round, and high part similar to a collar that folds over and covers the neck. The turtleneck is often a sweater, but does not always have to be a sweater.
The turtleneck style can be produced from a wide variety of fabrics. The options of color is boundless. One of the many options would be white and various shades of white.
White is the lightest color and is achromatic (having no hue), because it fully reflects and scatters all the visible wavelengths of light. It is the color of fresh snow, chalk, and milk, and is the opposite of black. According to surveys in Europe and the United States, white is the color most often associated with perfection, the good, honesty, cleanliness, the beginning, the new, neutrality, and exactitude. In many cultures white represents or signifies purity, innocence, and light, and is the symbolic opposite of black, or darkness.
White is the color most associated with cleanliness.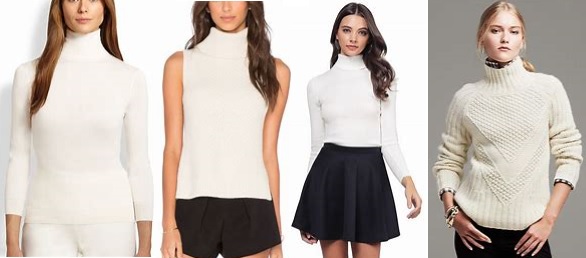 Alternate words to describe the same garment includes polo neck, roll-neck, (United Kingdom) or skivvy (Australia, New Zealand).
Do you have a favorite color turtleneck top? white is a popular option that you may find appealing. Maybe after reading this page, it will become your favorite.
Learn more about Turtlenecks.
A simpler variant of the standard turtleneck is the mock turtleneck. You may want to also learn about mock turtleneck styles.
Check out more women's turtlenecks.

Thank you for using the Apparel Search website.