Welcome to the worlds greatest guide to Women's Turtlenecks. Are you actually looking for turtleneck tops for women? Well, we hope you are because the reality is that you have found our page on the topic.
This type of description refers to the neckline of the garment.
A turtleneck is a top with a close-fitting, round, and high part similar to a collar that folds over and covers the neck. The turtleneck is often a sweater, but does not always have to be a sweater.
You may want to also learn about the Moc Turtle Neck style.
Turtlenecks can refer to various women's tops such as shirts & sweaters.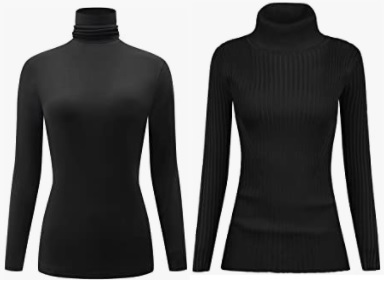 The turtleneck style can be produced from a wide variety of fabrics.
The options of color is boundless.
You can also check out the black turtlenecks, blue turtlenecks, brown turtlenecks, green turtlenecks, orange turtlenecks, pink turtlenecks, purple turtlenecks, red turtlenecks, tan turtlenecks, white turtlenecks and yellow turtlenecks pages.
You may find the following clothing & fashion pages to be of possible interest for further research.
Clothes Fashion Clothing Retail Stores Clothes Shopping Fashion News Fashion Designers Popular Brands Apparel Women's Clothing Stores Women's Clothing Wholesalers Women's Fashion