A turtleneck is a garment top that is usually a sweater that has a close-fitting, round, and high part similar to a collar that folds over and covers the wearers neck. It can also refer to the type of neckline, the style of collar itself, or be used as an adjective. This type of top can also be referenced as a polo neck, roll-neck or in Australia & New Zealand a skivvy.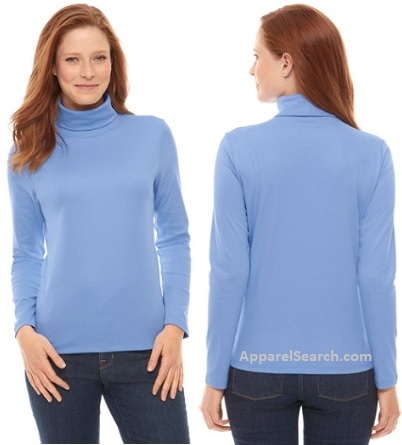 In the United States, the turtle neck absorbed into mainstream American fashion by the mid 20th century. Over time it became a fad among teenage girls, especially in a lightweight form that emphasised their figures. It was not long before Hollywood was also exploiting this image as part of the sweater girl look. By the late 1950s the "tight turtleneck" had been adopted as part of the preppy style among students, a style emphasizing neatness, tidiness and grooming. This would become an important aspect of the polo neck's image in the United States.
Turtleneck tops come in a wide variety of styles. The neck remains rather similar, but the other aspects of the garment can vary. For example, sleeve length, fabric, color, etc.
The extra-long sleeves on this supremely soft sweater gently bunch up around the wrists to create a gently rippled texture.
An indispensable short-sleeve shell to wear alone or under fall layers keeps you cozy in a lightweight sweater knit with a ribbed turtleneck.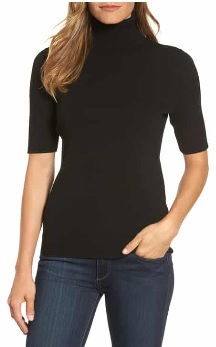 Shirts or sweaters made with the turtle neck can be made of cotton, cotton blends, or other fibers. The fabric made of cotton can be made of various knits. For example, interlock knit for a smooth feel inside and out.
Apparel Search is a leading guide to fashion, style, clothing, glam and all things relevant to apparel. We hope that you find this Women's Cotton Turtleneck page to be helpful.
What ever you are wearing, is in fashion.
If you want to be even more stylish, you should wear your favorite cotton turtleneck.
We hope that you have found enough women's cotton fashion to satisfy your needs.. If you are done with this section, you can return to the women's fashion guide for more choices. Or you can continue to learn about women's cotton fashion.
Have you seen our Fashion Designer Directory section.

Thank you for using the Apparel Search website.