Are you actually looking for Women's Tops? Well, we hope you are because the reality is that you have found our ladies tops page. In this Women's clothing section of the Apparel Search directory, you will find all sorts of interesting information regarding tops for women.
What are tops? When we say "Tops" we mean, shirts, blouses, sweaters, hoodies, etc. A top is an item of clothing that covers at least the chest, but which usually covers most of the upper body between the neck and the waistline. The bottom portion of tops can be as short as mid-torso, or as long as mid-thigh. The industry does not have an exact standard of length so that designers have flexibility regarding the length of a top.
Shirts are a type of top. A shirt is a garment for the upper body. It is often made of cotton, silk, wool, polyester or other fiber (or blend of fibers). Shirts often have a collar, sleeves, and buttons down the front.
Ladies tops can be casual or business attire. Options are nearly endless.
You will find that many fashion retailers offer plentiful options in the latest styles and materials from tunics, tanks, camisoles, polo, raglan sleeve, and much more.
Here are a few popular options:
Women's Blouses - Women's blouses for work are ideal for your office ensemble. Pair them with women's suits, a pencil skirt or jeans on casual Fridays.
Women's Sweaters - a sweater is a knitted garment typically with long sleeves, worn over the upper body.
Racerback Tops - Racerback is an article of clothing with a "T" shaped back behind the shoulder blades to allow ease of movement in sports. It does not always look exactly like a "T". The garment is cut and sewn to reveal the wearer's shoulders and their shoulder blades.
Hoodies - hoodies are a hooded sweatshirt, jacket, or other top.
Compression tops - compression garments are pieces of clothing that fit tightly around the skin.
Fitness TopsApparel Search is a leading guide to fashion, style, clothing, glam and all things relevant to apparel. We hope that you find this Women's Tops page to be helpful.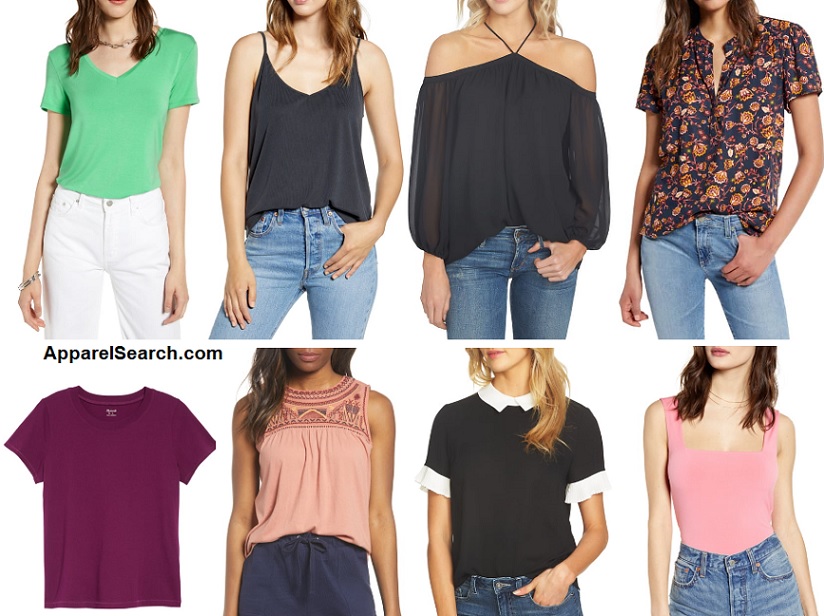 What ever style of top you are wearing, is in fashion.
If you want to be even more stylish, you should wear your favorite Women's Tops.
Women's Clothes Directory:

Have you seen our Fashion Designer Directory section?
We hope that this page has helps you learn more about shirts such as blouses, hoodies, t-shirts, sweaters, etc. Learn more about various shirt styles in our terminology section.
You will find that many clothing stores have numerous different styles of women's shirts including women's peplum tops, turtle necks, tank tops, etc. And for your layering lifestyle, shop your favorite retailers line of long sleeve or short sleeve shirts for women.
Discover a stylish selection of the latest brand name and designer fashions all at a great value.