Welcome to the worlds greatest guide to Women's Ruffle Tops. Are you actually looking to research ruffle tops for women? We certainly hope that you are because the reality is that you have stumbled upon our page on the subject.
First of all, "tops" include a few categories including blouses, sweaters, sweatshirts, etc. Ruffle blouses are popular in many wardrobes, but other types of tops are important as well.
A top is an item of clothing that covers at least the chest, but which usually covers most of the upper body between the neck and the waistline. The bottom portion of tops can be as short as mid-torso, or as long as mid-thigh.
A popular type of ladies top that utilizes ruffles would be a ruffle blouse.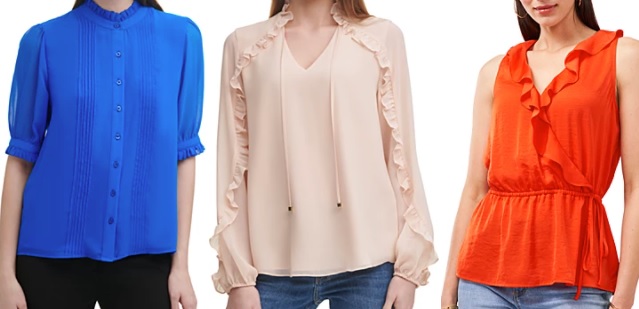 Ruffle sweaters are also fashionable from time to time.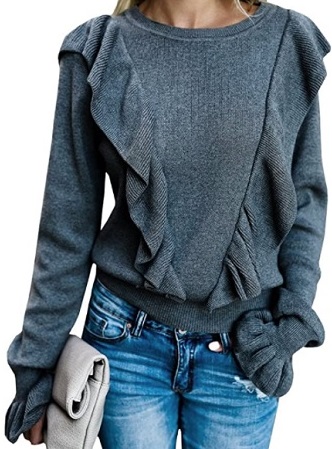 In addition to sweaters & blouses, you can find ruffles used to embellish sweatshirts as well.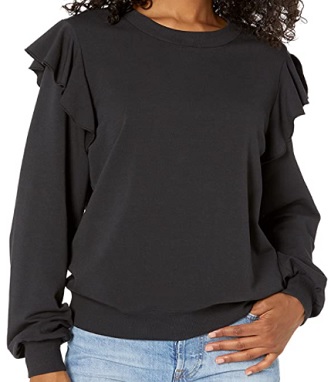 Apparel Search is a leading guide to fashion, style, clothing, glam and all things relevant to apparel. We hope that you find this Women's Ruffle Tops page to be helpful.
What ever style of garment you are wearing today is in fashion. If you want to be even more stylish, you should wear your favorite women's ruffle top for sure.
You will most likely find the following sections of our website to be of interest as well.
Fashion Clothing Retail Stores Clothes Shopping
Fashion News Fashion Designers Popular Brands
Apparel Women's Clothing Stores Women's Clothing Wholesalers
Women's Fashion Shop for Women's Clothing

Have you seen our Fashion Designer Directory section?