Welcome to the worlds greatest guide to Women's Ruffle Blouses.
Are you ready to investigating the meaning of women's ruffle blouses? Well, we hope you are because the reality is that you have found our page on the topic.
Let us start by saying this type of shirt has nothing to do with Ruffles brand potato chips. We are only discussing clothing on this website.
A ruffle is a strip of material, gathered along one edge to make an ornamental frill on a garment or other piece of fabric.
In other words the ruffles are a gathered or pleated strip of fabric.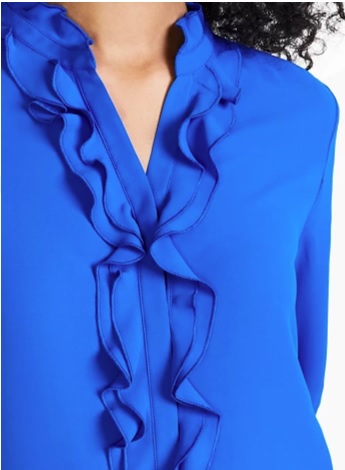 In modern times a blouse most commonly refers to a woman's or girls dress shirt. Traditionally, the term has been used to refer to a shirt which blouses out or has an unmistakably feminine appearance.
A women's ruffle blouse is obviously a blouse that has ruffles.
A ruffle blouse remains a top feminine wardrobe piece that we believe every woman should own. It is the sort of go to garment that should be in most closets. Great for a casual setting or even for professional dressed up occasion. This type of shirt can be worn with different pieces to create alternating looks.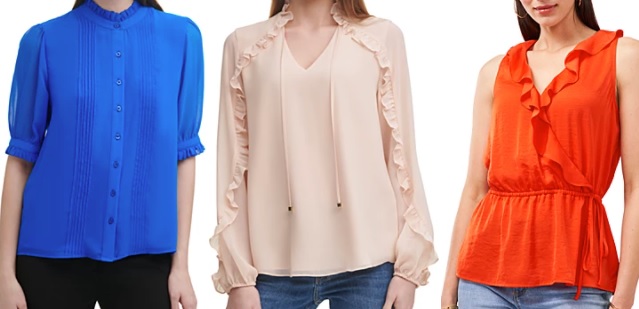 Ruffles and flounces remain a fashionable form of trim, off-and-on into modern times.
A flounce is a particular type of fabric manipulation that creates a similar look but with less bulk. The term derives from earlier terms of frounce or fronce. A wavy effect is achieved without gathers or pleats by cutting a curved strip of fabric and applying the inner or shorter edge to the garment. The depth of the curve as well as the width of the fabric determines the depth of the flounce.
In sewing and dressmaking, a ruffle, frill, or furbelow is a strip of fabric, lace or ribbon tightly gathered or pleated on one edge and applied to a garment, or other textile as a form of trimming.
Learn about Ruffled Tops.
You may find the following sections of our fabulous fashion website to be of interest.
Fashion Clothing Retail Stores Clothes Shopping Fashion News
Fashion Designers Popular Brands Apparel
Women's Clothing Stores Women's Clothing Wholesalers
Women's Fashion Shop for Women's Clothing
Apparel Search is a leading guide to fashion, style, clothing, glam and all things relevant to apparel. We hope that you find this Women's Ruffle Blouses page to be helpful.
What ever style of top you are wearing today is in fashion.
If you want to be even more stylish, you should wear your favorite Women's Ruffle Blouses.

You know, we bet you would look good wearing Women's Ruffle Blouses.
Have you seen our Fashion Designer Directory section?