Welcome to the worlds greatest guide to ladies dance clothing.
Are you actually looking for dance clothes? Well, we hope you are because the reality is that you have found our page on the topic. In this women's clothes section of the Apparel Search directory, you will find all sorts of interesting information regarding dance clothing for women.
Dance clothing would include clothes items but would exclude shoes and accessories which are technically not clothes.
Dance Costumes
Dance Pants
Dance Tops
Leg Warmers / Arm Warmers
Leotards
Tights
Tutus
Unitards
and more.
Dance is a performing art form consisting of purposefully selected sequences of human movement. Dancing can be for fun or performed as a profession.
Dance clothing can also be sportswear, yoga pants, t-shirts, etc. Women can dance in nearly any type of clothing.
Take your time to visit your favorite retailer or search online for the latest dancewear and top-rated leotards, jazz, tap and ballet fashion, hip-hop apparel, lyrical dresses, and tights. Find the perfect recital costumes for your next big show.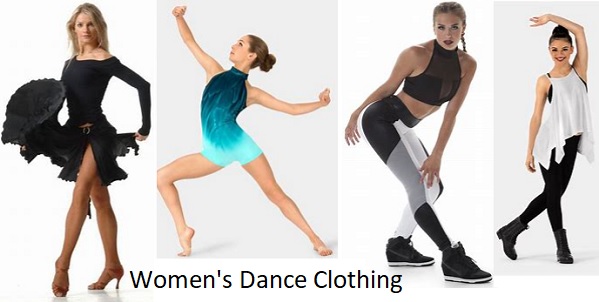 Dance can be categorized and described by its choreography, by its repertoire of movements, or by its historical period or place of origin.
Learn about women's dance shoes and women's dancewear.
Have you heard of dance punk fashion? You can learn more about dance punk fashion in our fashion terminology section.
If you working in the apparel industry and are looking for factories to produce dance fashion you can try the dance clothing factory section.

Return to the Women's Clothes Directory D main page.
Thank you for using the Apparel Search website.