Are you actually looking for ladies dancewear? Well, we hope you are because the reality is that you have found our page on the topic. In this women's clothing section of the Apparel Search directory, you will find all sorts of interesting information regarding dancewear for women.
Welcome to the worlds greatest guide to Women's Dancewear.
Dance is a performing art form consisting of purposefully selected sequences of human movement. This activity can be done as a group, individually, as a performance in front of an audience, or simply for fun.
Dancewear is the type of clothing that "dancers" will "wear". This includes clothes, shoes, and accessories.
Dance Belts
Dance Pants
Dance Shirts
Dance Costumes
Dance Shoes
Leg Warmers / Arm Warmers
Leotards
Tights
Tutus
Unitards
Dance fashion accessories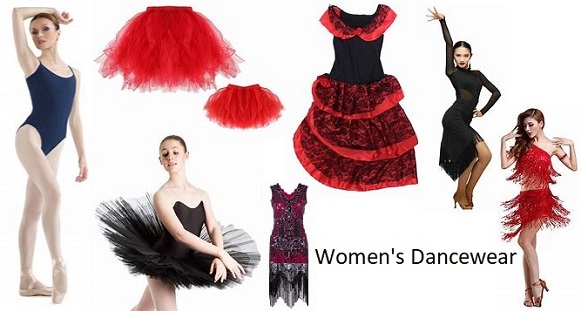 Learn more about women's dance clothing.
Learn about dance shoes which is an important aspect of women's dancewear.
An important distinction is to be drawn between the contexts of theatrical and participatory dance, although these two categories are not always completely separate; both may have special functions, whether social, ceremonial, competitive, martial, or sacred/liturgical.
Performance dance, theatre dance or concert dance is dance performed for an audience. It is frequently performed in a theatre setting, though this is not a requirement, and it is usually choreographed and performed to set music.
Participation dance, group-participation dance or audience participation dance is a major class of dance that encourages dancing in a group. It includes social games based on dancing, for example at weddings, festivals and other social gatherings. Some have simple words to be sung to the music, which may act as a reminder of the steps - one example is the Hokey-cokey. Some consist of a few simple steps learned either from simple instructions given by a leader or from watching others. Examples are Electric Slide, Macarena, YMCA, and the Chicken Dance.
Social dance is a category of dances that have a social function and context. Social dances are generally intended for participation rather than performance and can be led and followed with relative ease. They are often danced merely to socialize and for entertainment, though they may have ceremonial, competitive and erotic functions. Many social dances of European origin are partner dances (example: Ballroom dance) but this is quite rare elsewhere, where there may instead be circle dances or line dances, perhaps reserved for those of a certain age, gender or social position.
Rock 'n' roll in the 1950s brought about a shift in social dancing toward rebelliousness. This shift was seen especially in teenagers who did not want to dance the same steps that their parents did. The dancing was mostly swing based but had a variations in different regions. Couples began dancing as individuals for the first time, sending the message that there did not have to be a leader and a follower.
Other forms of human movement are sometimes said to have a dance-like quality, including martial arts, gymnastics, cheerleading, figure skating, synchronized swimming, marching bands, and many other forms of athletics.
Here is a list of some of the primary dance categories. Some of which have a special dress code for dancers and some do not.
Latin / Rhythm
Swing dance
Traditional Jazz
Ballroom dance
Freestyle dance
Break dancing
Street dance
Disco dancing
Folk dancing
and more.
Apparel Search is a leading guide to fashion, style, clothing, glam and all things relevant to apparel. We hope that you find this ladies dancewear page to be helpful.
What ever type of dance apparel you are wearing is in fashion as long as you are enjoying yourself.
If you want to be even more stylish, you should wear your favorite dancewear today.

Thank you for using the Apparel Search website.