Apparel Search is a leading guide to fashion, style, clothing, glam and all things relevant to apparel. We hope that you find this Women's Leather Lingerie page to be helpful.

Women's lingerie is a category of clothing that includes undergarments, intimate apparel, sleepwear and lightweight robes. The specific choice to use the word "lingerie" when discussing bras, panties, etc., is often motivated by an intention to imply the garments are alluring and or fashionable. In regard to leather, to be honest they are probably not the best choice for a functional bra or panty. They are typically worn to be alluring or fashionable. You may want a fabric that can breathe for your typical everyday use. Leather is a natural durable and flexible material created by tanning animal rawhides and skins. However, it does not breath or wick like other fabrics.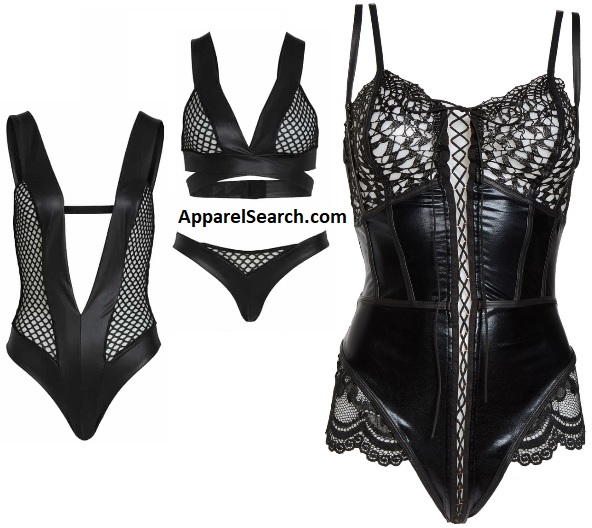 Does leather lingerie make you think of domination? You may want to experiment with exposing your stomach, opting for an open bust piece and choosing lingerie that is more about control and dominating your partner. Does leather send out that vibe? Life is too short to be timid and subdued.
Note: you obviously don't have to be involved with a dominating role play to enjoy leather lingerie.
Leather is a material made from the skin of an animal by tanning or a similar process. Learn about the various types of leather grain that can be used for women's lingerie.
What ever type of lingerie you choose to wear is fine by us.

You can also learn more about ladies intimates on the lingerie page in our fashion influence section.
If you want to be even more stylish, you should wear your favorite lingerie today.