Apparel Search is a leading guide to fashion, style, clothing, glam and all things relevant to apparel. We hope that you find this Women's Lightweight Coats page to be helpful.
A coat is an outer garment worn outdoors, having sleeves and typically extending below the hips.
A women's coat is a garment worn for protection from the weather. It can provide warmth or keep you dry. They can also be worn simply for fashion purposes. Coats typically have long sleeves and are open down the front, closing by means of buttons, zippers, hook-and-loop fasteners, toggles, a belt, or a combination of some of these.
The weight of the garment is relevant to where you live, the time of year or weather conditions. The coat weight should be appropriate for the temperature. For example, a heavyweight coat would be worn in the cold weather and a lightweight coat for moderate temperatures. Lightweight coats can be manufactured from a wide variety of fabrics. A women's lightweight jacket can be made of cotton, leather, silk, linen, denim, polyester and many other materials.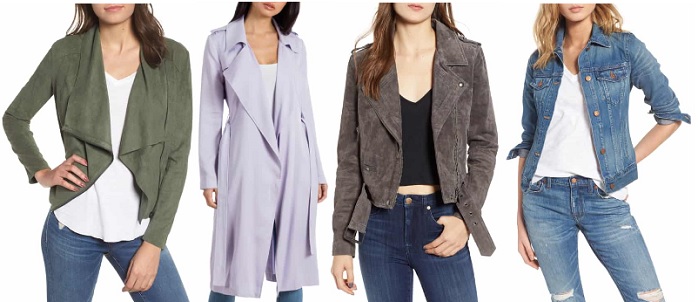 Ladies coats come in a wide variety of options. They are available in different colors, fabrics, lengths, etc. Other features can include colors, hoods, shoulder straps, belts, embroidery, prints, etc.
Women's lightweight jackets are often worn during the spring or fall season (again, it depends much on where you live as well).
What ever style of coat you are wearing, we hope it is appropriate for the season.
Learn about spring fashion.
If you want to be even more stylish, you should wear your favorite Women's lightweight coat today.

Learn the difference between a coat & jacket.
Learn about fabric weights.