Important note from Apparel Search: If someone tries to sell you a little black dress that is blue, they are tricking you...the little black dress comes in only one color.
What is special about a little black dress? It is not the actual dress that is special. It is the concept that a little black dress can be worn for so many occasions. It is the go to dress when you are simply not sure what to wear. The "little black dress" is considered essential to a complete wardrobe by many women.
If you can't understand the appeal from looking at the following dresses, you may need your head examined.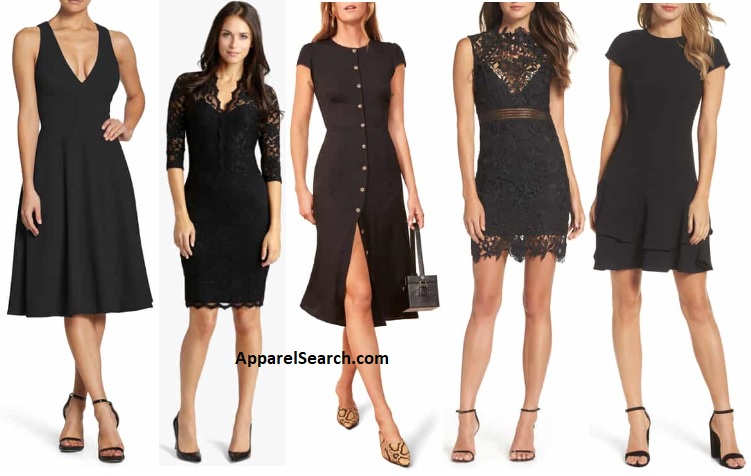 Owning a simple yet elegant black dress is a positive for any women's wardrobe. We are hesitant to say that it is a necessity, but most certainly it is a helpful garment to have in the wardrobe.
A women's little black dress can be worn with a jacket & pumps for daytime business wear or with more ornate jewelry and accessories for evening or a formal event such as a wedding or a ball. It is simply a very versatile garment.
Learn more about a women's little black dress.
A little piece of history regarding an iconic little black dress. The black Givenchy dress of Audrey Hepburn as Holly Golightly in Breakfast at Tiffany's, designed by Hubert de Givenchy, epitomized the standard for wearing little black dresses accessorized with pearls (together called "basic black"), as was frequently seen throughout the early 1960s.
The little black dress is the answer to any fashion dilemma, whether you're going to a work part or getting drinks with your friends.
Is a women's little black dress formal? They most certainly can be formal dresses. Ladies little black dresses can be formal (be sure to pair the dress with appropriate accessories and footwear). The beauty of these black dresses is that when you're wearing them, you can be as casual or formal as you want. Keep in mind that the footwear, jewelry, makeup, purse, etc., will help se the tone of your overall outfit.
The little black dress comes in a wide assortment of silhouettes, fabrics, and sizes. The one thing that is consistent is the "color".
Learn about other dress colors.
You can find fabulous dresses in black and a wide variety of other colors at fine retails such as Nordstrom, Dillard's, Neiman Marcus, Lord & Taylor, etc.
What ever style or color of clothing you are wearing today is in style for sure.
If you want to be even more stylish, you should wear your favorite little black dress today.
You may find the following dress resources to be of interest:

Apparel Search is a leading guide to fashion, style, clothing, glam and all things relevant to apparel. We hope that you find this Little Black Dress page to be helpful.