Apparel Search is a leading guide to fashion, style, clothing, glam and all things relevant to apparel. We hope that you find this Maternity Blouses page to be helpful.
Blouses usually consist of light fabrics such as silk or thin cotton fabrics. They are a ladies top that can be made in regular or maternity sizes.
The word blouse most commonly refers to a girl's or woman's dress shirt.
A dress shirt, button shirt, button-front, button-front shirt, or button-up shirt is a garment with a collar and a full-length opening at the front, which is fastened using buttons or shirt studs. A button-down or button-up shirt is a dress shirt which has a button-down collar – a collar having the ends fastened to the shirt with buttons.
As the body is changing shape and therefore levels of comfort, many maternity tops are made with Lycra, elastic and other stretch materials for added comfort. Depending on style and activity, tops often billow out to leave room for the belly and are made of varying cottons and elastic materials.
Traditionally, the term blouse has been used to refer to a shirt which blouses out or has an unmistakably feminine appearance. Certainly pregnancy provides a feminine appearance. Blouses are often made of cotton or silk cloth and may or may not include a collar and sleeves. They are generally more tailored than simple knit tops, and may contain feminine details such as ruffles, a tie or a soft bow at the neck, or embroidered decorations.
In the retail fashion market, you can find a wide assortment of maternity blouses. You can find tie sleeve maternity blouses, tie front flutter sleeves, flutter cap sleeve, floral, smocked waist, open front, etc.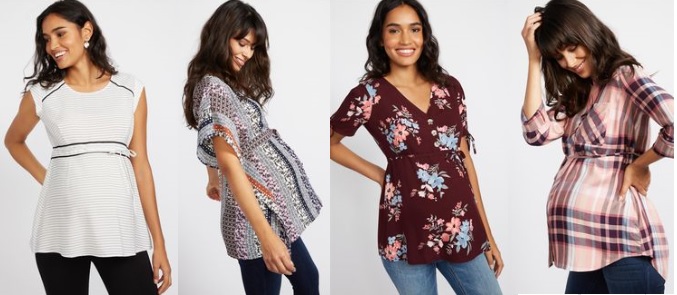 Some blouse styles provide easy access for nursing (feeding) the baby when worn after pregnancy.
What ever you are wearing, is in fashion.

If you want to be even more stylish, you should wear your favorite maternity blouse today.