Apparel Search is a leading guide to fashion, style, clothing, glam and all things relevant to apparel. We hope that you find this Maternity Pajamas page to be helpful.
Maternity is the the period during pregnancy and shortly after childbirth. Maternity fashion is worn by women in some cultures as an adaptation to changes in body size during pregnancy. We know how important it is to have comfortable clothes during your pregnancy and how you also don't want to sacrifice your style to get that comfort. Ladies pajamas can be manufactured to fit appropriately during pregnancy.
Whether you're looking for a rose-printed gown with off-shoulder snap closures or a playful stripe knee-length wrap gown for sleeping in warm weather, you can find a wide selection of maternity sleepwear at retailers such as Amazon. You can also find a great deal of maternity pajama options at retails such as Walmart, Target, Nordstrom, and more.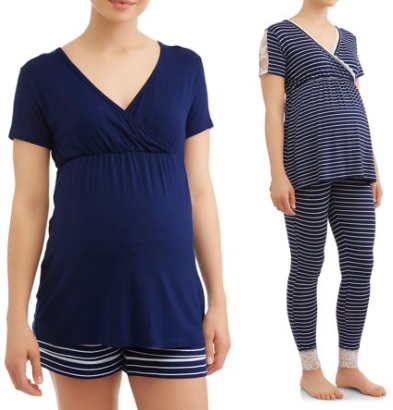 Women's pajamas are generally loose-fitting, two-piece garments derived from the original garment and worn chiefly for sleeping, but sometimes also for lounging.
Learn more about women's pajamas and other types of sleepwear.
If you want to be even more stylish, you should wear your favorite maternity pajamas.