When you say western style hats, we assume you are talking about cowgirl hats?
Keep authenticity and simplicity in mind. Find a cowgirl hat that can be worn anywhere. One that is lightweight and sturdy. Something to fit with any set of boots. A firm, yet relaxed fit.
Western style hats can be crafted with leather, fur, straw, wool felt, etc.
Cowgirl hats are traditionally high-crowned, wide brimmed hats associated with the western attire of the North American cowgirl. Although the style originated in the old west, the style has migrated around the globe. Today you will find ladies western style headwear in cities all around America as well as the rest of the globe. The true cowgirl hats are still associated with ranch workers in the Western and Southern United States, Western Canada, and Northern Mexico. Although they are often worn for horse back riding and ranch work, others wear them simply for the sense of style.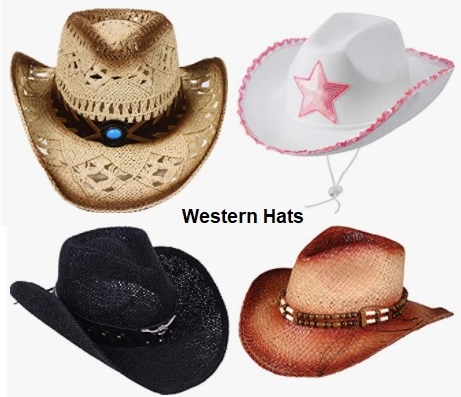 A few features to consider:
drawstring closure
elastic closure
wide brim sun protection
removable headbands
lightweight and comfortable
Rope Detailing
Metal Logo Medallions
One Size Fits Most or Special Fit
Pull on Closure
Genuine Leather
Find something Made in the USA to be an authentic cowgirl.
Be sure to select the proper hat circumference for well fitting headwear.
Put a western spin on sun protection. Learn about sun hats in our fashion influence section.
Apparel Search is a leading guide to fashion, style, clothing, glam and all things relevant to apparel. We hope that you find this Women's Western Style Hats page to be helpful.
What ever style of headwear you are wearing today is most certainly in fashion.
You may also want to check out the Women's western style boots section.
If you want to be even more stylish, you should wear your favorite Women's Western Style Hats.