Western boots are popular with trendy cowgirls.
When we talk about Westernwear, we are referring to garments and footwear often associated with the Western United States. The Western United States (also called the American West, the Far West, and the West) is the region comprising the westernmost states of the United States. As American settlement in the U.S. expanded westward, the meaning of the term the West changed. Before about 1800, the crest of the Appalachian Mountains was seen as the western frontier. The frontier moved westward and eventually the lands west of the Mississippi River were considered the West. Western wear is a category of clothing which derives its unique style from the clothes worn in the 19th century Wild West. It ranges from accurate historical reproductions of American frontier clothing.
In modern times, women's western boots can be worn for riding horses & working the ranch or simply for fashion.
Ladies western style boots are most often associated with "cowgirl boots".
Cowgirl boots refer to a specific style of riding boot, historically worn by cowgirls. They have a high heel that is traditionally made of stacked leather, rounded to pointed toe, high shaft, and, traditionally, no lacing. Cowgirl boots are normally made from cowhide leather, which may be decoratively hand tooled, but are also sometimes made from exotic skins like alligator, snake, ostrich, lizard, eel, elephant, stingray, elk, buffalo, and so on.
Why do cowgirl boots have a tall shaft and have a tall heel?
When mounting and, especially, dismounting, the slick, treadless leather sole of the boot allowed easy insertion and removal of the foot into the stirrup of the Western saddle. The original toe was rounded and slightly narrowed at the toe to make it easier to insert. While an extremely pointed toe is a modern stylization appearing in the 1940s, it adds no practical benefit, and can be uncomfortable in a working boot. While in the saddle, the tall heel minimized the risk of the foot sliding forward through the stirrup, which could be life-threatening if it happened and the rider were to be unseated. The tall leather shaft of the boot helped to hold the boot in place in the absence of lacing. The tall shaft, comfortably loose fit, and lack of lacing all were additional features that helped prevent a cowgirl from being dragged since his body weight could pull his foot out of the boot if he fell off while the boot remained stuck in the stirrup. While mounted, the shaft also protected the lower leg and ankle from rubbing on the stirrup leathers, as well as fending off brush and thorns, particularly if also worn with chaps or chinks.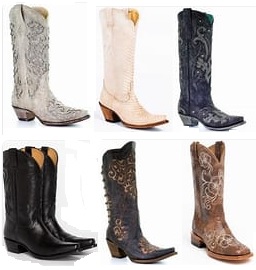 Learn more about fabulous cowgirl boots.
You may also have interest in checking out the medium round toe Women's western boots or pointed toe Women's western boots.

Learn more about Women's Fashion & footwear.