What are western style boots? We are essentially talking about cowgirl boots. Western wear is a category of women's clothing which derives its unique style from the clothes worn in the 19th-century Wild West.
There are two basic styles of cowgirl boots, western (or classic), and roper. The classic style is distinguished by a tall boot shaft, going to at least mid-calf, with an angled "cowboy" heel, usually over one inch high. A slightly lower, still angled, "walking" heel is also common. The toe of western boots was originally rounded or squared in shape. The narrow pointed toe design appeared in the early 1940s.
A women's boot is a type of footwear and not a specific type of shoe. Most boots mainly cover the foot and the ankle, while some also cover some part of the lower calf. Western cowgirl boots refer to a specific style of riding boot, historically worn by cowgirls. They have a Cuban heel, rounded to pointed toe, high shaft, and, traditionally, no lacing. Cowboy boots are normally made from cowhide leather but are also sometimes made from "exotic" skins such as alligator, snake, ostrich, lizard, eel, elephant, stingray, elk, buffalo, and the like.
The toe shape on a ladies western boot is an important design aspect choice. For some individuals, the fit may vary depending on the type of toe that is sought. In a properly fitting boot, regardless of the shape of the toes, the wearer should be able to wiggle their toes, feeling no pressure from the sides, top, or front of the boot. If the individual's foot has a longer than normal arch, or if their foot is more V shaped, then a narrow toe may present a problem. A rounder toe, or a squared off toe, will fit more like a regular shoe.
Most folks want to gravitate towards a certain material but are often unaware how important the right toe style is in choosing the perfect boot.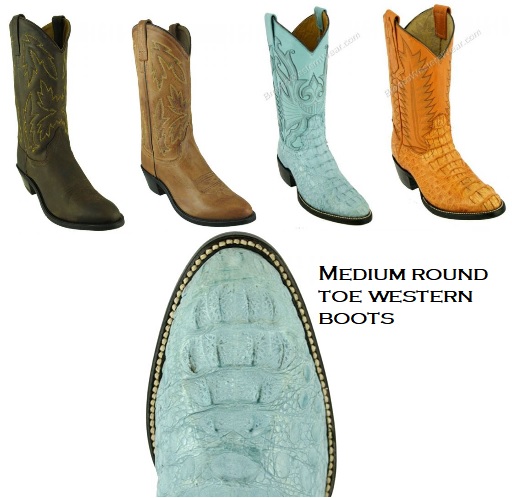 The round toe is the old traditional boot for the lady that knows what they like, and is not too impressed with modern day fashion fads.
You may also want to check the Women's western boots and cowgirl boots pages.
When you are done researching this type of boot, you may want to review the following footwear categories.
Apparel Search is a leading guide to fashion, style, clothing, glam and all things relevant to apparel. We hope that you find this Women's Medium Round Toe Western Boots page to be helpful.
What ever style of boot you are wearing, is in fashion. If you want to be even more stylish, you should wear your favorite Women's medium round toe western boots.

Learn about western wear fashion.