Zip-off pants are designed to easily be converted from long pants to short pants & visa versa.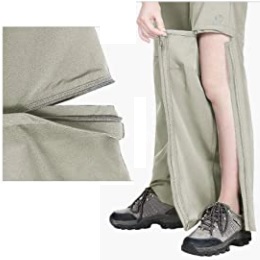 Zip off pants are when the long pant can easily convert to shorts by utilizing zippers that go around the circumference of the leg.
Women's zip off pants are convertible pants where the lower legs of the garment can be removed.
Many hikers and backpackers prefer zip off or roll up pants because they offer a two-in-one solution to the needs of differing weather conditions. When you are camping, the less you pack for your trip the better (if you are carrying all of your items). Having a pair of pants that can be long or short is helpful.
Apparel Search is a leading guide to fashion, style, clothing, glam and all things relevant to apparel. We hope that you find this Women's Zip Off Pants page to be helpful.
What ever pant style you are wearing, is in fashion.