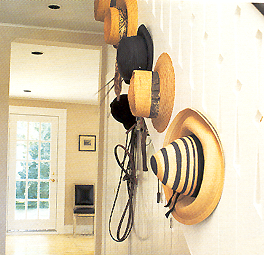 If you are looking for hat factories you have come to the proper place. Below you will find our headwear manufacturers directory. This is an international apparel guide with listings from various countries. When you reach the end of this hat factory page, don't forget we have a second page to find additional hat factories.

Adams Headwear (USA): low-profile caps in diverse styles and colors. The 100-percent cotton pigment dyed hat features a self-fabric sweatband, dyed to match reinforced cotton taping, matching antique brass hardware accessories, a leather blind embossed strap, sewn-in eyelets, and a pliable plastic bill that is impervious to water
---

Akubra (Australia) [definition of Akubra] is the company name of one of Australia's most famous producers of hats, although the name tends to be used more often to describe the hats themselves. Indeed, the company's range of hats is so large - and so ubiquitous - that in Australia nearly any hat of a similar design is likely to be mistakenly referred to as an Akubra.
---

AL-REHMAN CAPS AND HATS CO.(Pakistan): they are headwear manufacturer and distributor. They have been working in Pakistan since 1948. Address: TARIQ ROAD KARACHI 75400 Pakistan Phone: 092-021-4520484 Email: alrehmancap@hotmail.com Contact: ATIF-UR-REHMAN (BUSINESS MANAGER)
Manufacturing

Item # 1: ALL TYPE OF HEADWEAR
---

Biltmore Corporation: manufacturer of a variety of headwear.
---

Choola Impex (India): They have the latest power machinery and facilities. They serve both quota and non-quota countries at reasonable pricing. Address: #1 94th Street, 21st Avenue, Ashok Nagar Chennai, India Phone: 4841121 Fax: 4841131 Email: darcy@vsnl.com Contact: Mrs,RAMANI KANNAN
Manufacturer Item # 1: Men's , Women's & Children's wear
Manufacturer Item # 2: Sports Wear
Manufacturer Item # 3: Hats
---

Cixi Lantian Hat Co. Ltd (China).: they are manufacturer of hats in China and they have been in this line for more than 30 years, Their main products are: all kinds of straw hats and paper hats, crocheted hats, scarves and bags, knitted hats, felt hats, sewing braid hats, hat bodies etc. Address: EAST ROAD ASIDE CHANGHE TOWN CIXI CITY NINGBO 315326 CHINA Phone: 86-574-63402668 or 86-574-63402106 Fax: 86-574-63402660 Email: connie@lantian.com Contact: ms. Connie: sales manager
Manufacturer Item # 1: straw hats
Manufacturer Item # 2: paper hats
Manufacturer Item # 3: knitted hats
Manufacturer Item # 4: crocheted hat
Manufacturer Item # 5: felt hats
Manufacturer Item # 6: handbags
Manufacturer Item # 7: scarves
---

CiXi TianGong Hats Industry: TiangGong hats has a good prestige and reputation among the foreign countries, including five continents. Their company extensively produces all kinds of ready-made straw hats and hat bodies for man, woman and chlidren, which is made of imported Raffia, Bao straw, Sea-grass and Paper yarn, Cotton yarn, Sisal, Visca,Velvet, wool, Baku and so forth. It has reasonable price ,expedite shipment and flexible policy. Address: No.2 ZhenBei Rd, TianYuan Town, CiXi, ZheJiang CiXi 315325 China Phone: 0086-574-63452972 or 0086-574-63454311 Fax: 0086-574-63451717 Email: tdmy@public.cx.nbptt.zj.cn Contact: Benz lau
Gender: Unisex
Manufacturer Item # 1: hats
Manufacturer Item # 2: bags
Manufacturer Item # 3: hat bodies
---

COC Inc. (China): One of leading cashmere manufacturer in China, produce dehaired cashmere, cashmere yarn, cashmere fabric, cashmere coat, cashmere shirt, cashmere sweaters, cashmere hat, cashmere gloves, cashmere socks, cashmere scarf/shawls, cashmere blankets/throws and cashmere blends with wool / silk / cotton / soybean etc.. Company has been supplying cashmere products to manufacturers (material & yarn), designers, better department stores in 13 countries and regions: Italy, UK, France, Germany, USA, Japan, Switzerland, Belgium, Spain, New Zealand, Korea, Hong Kong, India. Address: 7F38 ShanghaiMart,2299 Yan-an Road West Shanghai 200336 China Phone: 021-62360438 Fax: 021-62360439 Email: cashmere@swissinfo.org Contact: Jessica Bi(Export Dept.)
Manufacturer Item # 1: cashmere sweater
Manufacturer Item # 2: cashmere shirt
Manufacturer Item # 3: cashmere muffler
Manufacturer Item # 4: cashmere hat
Manufacturer Item # 5: cashmere gloves
Manufacturer Item # 6: cashmere socks
Manufacturer Item # 7: cashmere coat
---

Cristianini srl: manufacturer and exporter of women's, children's and girls' hats from Italy.
---

Divyant Impex Corporation (DIC)
(India)
:
having more than 500 Hand knitters in Calcutta, West Bengal, India are knitting Sweaters, Afgans, Stoles and are doing Crochet Job. They can knit as per the pattern & the wool required by the party. They are one of the best in Aran, Australiana designs. They are doing business with overseas parties regularly since a very long time. They can assure you, they are most reasonable & accept any quantity. Address: 154A Sarat Bose Road, Calcutta 700019 India Phone: 91 33 4754854 Fax: 91 33 2433820 Email: dbhotika@cal2.vsnl.net.in Contact: ALKA
Manufacturer Item # 1: Sweater
Manufacturer Item # 2: Afgan
Manufacturer Item # 3: Crochet Bag
Manufacturer Item # 4: Hand-woven Mat
Manufacturer Item # 5: Socks
Manufacturer Item # 6: Hats
Manufacturer Item # 7: Washcloth
---

Dorfman-Pacific Company, Inc.: One of the World's largest in-stock headwear company. They own factory in China. Address: 2615 Boeing Way Stockton, CA 95206 USA Phone: 800-675-1187 or 209-982-1400 Fax: 800-437-4287 Email: artg@dorfman-pacific.com Contact: Art Gardner-Senior V.P. Sales & Marketing

Primary Items:
Manufacturer Item # 1: Men's headwear
Manufacturer Item # 2: Women's headwear
Manufacturer Item # 3: Children's headwear
Manufacturer Item # 4: winter accessories
Manufacturer Item # 5: Fashion hand bags
---

Dun-Mor Designs: 100% American made. Specializing in custom designed caps for corporate or private events.
---

Eco-Heads, Inc.: manufacturer of 100% certified organic cotton and natural wool headwear. Pre-embroidered, blanks or custom hats available for babies, kids and adults.
---

The Exclusive (Pakistan): they The Exclusive the manufacturer of Export quality Caps and Hats of all kinds and if you are interested to buy the said products, whether it relates to Army, Navy, Air Force, Civil or for advertising purposes, or for the fame of your company. They also feel pleasure to inform you that they are in this field since 1894, and still are doing marvellous and adaptable work in making such kind of things. They can also provide you the best services of all kind of things which are refused by others. Send your sample and get accordingly. Address: 27-khanam bazar Anarkali Lahore 54000 Pakistan Phone: 092-042-7351776 or 092-042-7351776 Fax: 092-042-7729615 Email: exclusive_pk@hotmail.com Contact: Waheed Ahmed
Manufacturer Item # 1: caps
Manufacturer Item #

2

: badges
Manufacturer Item #

3

: hats
Manufacturer Item #

4

: helmets
---

Fab Cators Overseas (India): they are manufacturer exporter of hats and caps, bags and leather jackets based in India working with lots of good brands in hats industry for lat 10 years have a capacity of 15000-20000 caps in a month. Address: 30/62 Punjabi Bagh New delhi 110026 India Phone: 01191115433733 or 011919810227675 Email: tarundewaan@hotmail.com Contact: Gaurav Dewan Or M.G Dewan
Manufacturer Item # 1: Ladies Fashion hat
Manufacturer Item # 2: Crochet Hats
Manufacturer Item # 3: Base Ball Caps
Manufacturer Item # 4: Bags
Manufacturer Item # 5: Pith Helmets
Manufacturer Item # 6: Scarves
Manufacturer Item # 7: Leather Jackets

Thank you for using the Apparel Search website.
Hat factories are a very important aspect of the Apparel Industry.
Learn more about headwear from our Hat & Headwear Definitions section. You may also want to learn about headbands which are also worn on the head. While you are reading up on the various types of headwear don't forget to research knit hats. Knit hats and baseball hats are very important categories to understand.
Find additional clothing factories, embroidery contractors, and trim suppliers:
Everyone loves a good hat.