In 2016 the majority of reading about fashion takes place online. Sure, the world still has paper magazines and newspapers, but it is hard to find a fashionista that does not read about fashion online. We read online news, blog posts, and also take in much of our style tips on social media. Here are a few top reading sources for 2016.
Before we proceed with our list of the this years best in class, it would be remiss of us to not point out that are absolute favorite source of fashion news is the Fashion Blog (yes, we happen to own that one).
If you want to read about fashion, we hope that you find below to be helpful.
Camille Over the Rainbow: Camille over the Rainbow was founded by Camille Charriere, who grew up in Paris, then moved to London to pursue a career in law and finance. However, her strong interest in the creative world led her to the fashion industry, working with both NET-A-PORTER and Matchesfashion.com, before going freelance. The blog, which opened in 2010, is a carefully curated insight into her sartorial universe, peppered by personal thoughts and travelling tips. COTR is internationally recognised as a destination for a mixture of emerging and luxury fashion. Since launching across multiple social media platforms, Camille has collaborated with brands from H&M and Chloe to Acne Studios, and has been featured by Style.com, VOGUE, ELLE and the Wall Street Journal, among many. Her repertoire now includes brand consultancy, social media strategy and capsule collection design.
In Detail (jewelry blog): Beanie is the founder and creative director of In Detail. From a bespoke diamond engagement ring, to a hand-tied friendship bracelet, every piece of jewellery has a story; In Detail tells these stories. The site's unique approach allows its followers to delve into the world of luxury jewellery via interviews with designers and tastemakers, editorial shoots, original street style imagery and trend advice. With exclusive access to established houses, emerging labels and a network of industry insiders, In Detail puts adornment in a lifestyle context, making the aspirational accessible.
en brogue (shoe blog): En Brogue is a blog that focuses on style and comfort, written by fashion editor Hannah Rochell. You'll find nothing on her blog but stylish flat shoes and inspiration on how to wear them, along with a few of her illustrations to boot. Her books En Brogue: Love Fashion. Love Shoes. Hate Heels and The Trainers Guide are available now from Waterstones, Amazon and all good book stores. Learn more about her book En Brogue: Love Fashion. Love Shoes. Hate Heels: A Girl's Guide to Flat Shoes and How to Wear Them with Style.
Wish Wish Wish: country girl Carrie Harwood, now based in London reports on fashion among other things. WishWishWish has worked with brands from across the globe as well as featuring in international publications. Harwood's casual style has a touch of retro at times. Park & Cube: Born in Seoul, raised in Warsaw and now London based, Shini Park is the founder of Cube Collective and writer behind the lifestyle blog, Park & Cube. The blog opened in November 2008, consisting a carefully curated edit of photography and personal thoughts on topics ranging from fashion to food. After graduating Central Saint Martins, Park now works as a digital consultant, graphic designer and photographer while running Park & Cube. Her book, Adorn: 25 DIY Stylish Fashion Projects (by Shini Park & Kit Lee, published by Hardie Grant) was released in April 2014.
WeWoreWhat: WeWoreWhat is a fashion blog Danielle Bernstein created to provide a daily dose of outfit inspiration from every corner of NYC. What started as a street style blog is now a personal style blog and her fashion diary.
The Blonde Salad: Chiara Ferragni was born in Cremona in 1987. She inherited from her mother the passion for fashion and photography and already when she was a teenager she became popular on the first online communities, where she shared photos she was taking with her friends. In 2009, when blogs were not yet the today phenomenon, she launched TheBlondeSalad.com, to express herself. The Blonde Salad is much more than a blog today , it's a real source of inspiration and style for millions people in Italy and around the world. Chiara Ferragni collaborates today with the major Fashion Houses and she appears in the most read magazines.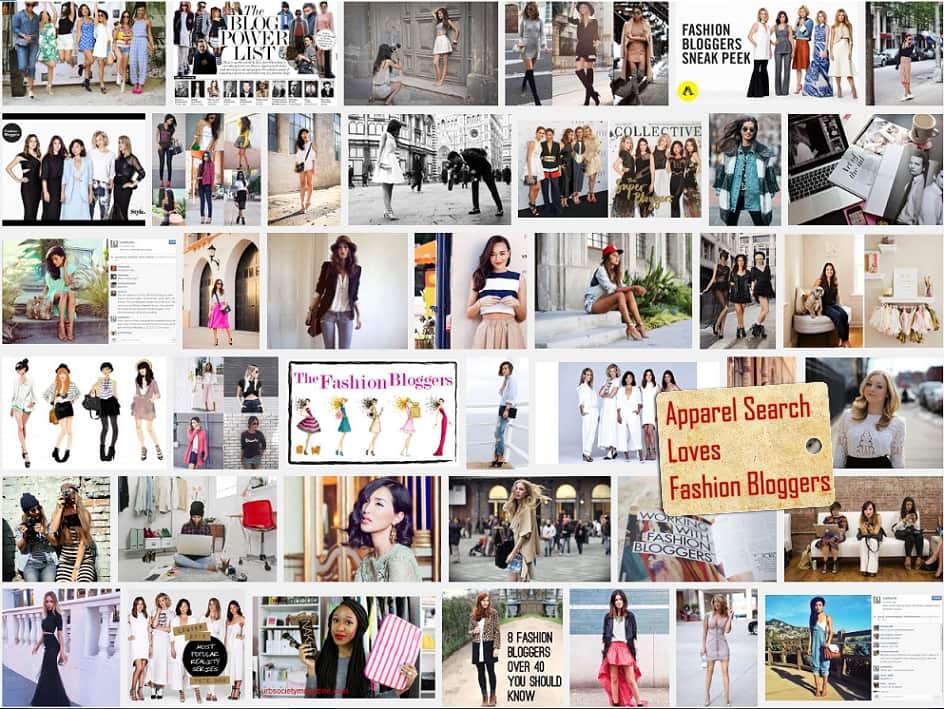 Looking for style inspiration, you may want to swing by the blog of Gary Pepper, Stella's Wardrobe, Wearing It Today and Street Peeper.
Vocativ is at the nexus of media and technology. They use deep web technology and go where others possibly can't to reveal hidden voices, emerging trends and surprising data. They turn exclusive insights into visual stories that offer our audience new perspectives and connect us more deeply to a changing world. And yes, they have a style section that reports on fashion.
Don't forget to read about fashion on our apparel industry blog. You may also want to visit our fashion news section for additional articles.
By the way, if you would like to write instead of simply read, you are welcome to create your own style blog. For those of you that wish to become writers on the internet, you may wan to read our previous post about how to create a fashion blog.