<![if !vml]>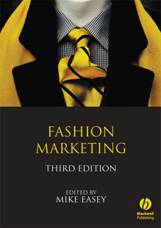 <![endif]>
Fashion Marketing Third Edition
Edited by Mike Easey

Clothing that is not purchased or worn is not fashion
(to paraphrase Armani)
Knowledge of marketing is essential to help ensure success and reduce the risk of failure in fashion. For the designer starting up in business, this book offers a guide to the major decisions that will enable you to fulfill your creative potential and be a financial success: What are the major trends we should be monitoring?; How should we set our prices?; What is the most effective way to get our message across about the new product range?; Which color-wash will be the most popular with buyers?
Marketing is now a firmly established element of most fashion and clothing courses. Fashion Marketing is written to meet students requirements and has many features making it essential reading for anyone involved in the fashion and clothing business:

deals with contemporary issues in fashion marketing

up-to-date examples of global good practice

exclusively about fashion marketing

a unique contribution on range planning with a practical blend of sound design sense and commercial realism

a balance of theory and practice, with examples to illustrate key concepts

clear worked numerical examples to ensure that the ideas are easily understood and retained

over 50 diagrams

a glossary of the main fashion marketing terms and a guide to further reading

a systematic approach to fashion marketing, not hyperbole or speculation.
The new edition has been updated throughout with new material on different promotional media, visual marketing and international marketing research; and new coverage of internal marketing, supply chain management, international marketing communications as well as the role of the internet.
See www.blackwellpublishing.com/easey for supporting pack for tutors, including PowerPoint slides for each chapter plus ideas and exercises for seminars.
Price: $44.99 / Illustrated / Paperback / 280 pages / ISBN 9781405139533
For further details of this publication, please visit:
If you would like to review this book please send a request with your full contact details to: profrevreqs@wiley.com
If you teach a course relevant to this title and would like a desk copy, please contact Laura Dolphin at:
laura.dolphin@wiley.com
Fashion Marketing : Third Edition
If you are a marketing professional in the apparel industry, you can join the Fashion Marketing Group at the Fashion Industry Network.
The book on this page is a good selection, but do not forget to also check the fashion book website for additional fashion books.